JetBlue Airways has teased the prospect of launching flights to Europe for years. Now, under the leadership of president and chief operating officer Joanna Geraghty, the carrier might be inching ever closer to introducing service to London from New York JFK and Boston.
"London is on the top of the list that is not served," Geraghty tells Runway Girl Network. "It's no big secret we've been looking at the A321LR. It's within our Airbus contract." JetBlue has orders for 85 A321neos, the first of which will be delivered this year.
Auxiliary fuel tanks would provide the additional range needed to kick-start European service, and the airline would require ETOPs certification. "It's something we are always looking at," said Geraghty.
She is convinced that JetBlue could easily handle any service upgrades required for long-haul, international flights. "We did an exceptional job with Mint service," she said in reference to the upscale, premium product offered on select JetBlue flights.
A foray into European markets could be a game changer, but Geraghty is already making her mark at JetBlue in a number of ways.
For example, ground crew members who worked in the sweltering heat at Orlando complained about working in long pants and long sleeve shirts designed to cover tattoos. So the employees voiced their concerns to the then-head of customer experience, Joanna Geraghty.  The policy was reviewed and the requisite changes were quickly made.
"Crew members need to be happy," Geraghty explained. "You take care of your people, they take care of your customer. Whether its pay, benefits, tattoos or nail polish color, we try to find solutions to make their work life better."
Geraghty began her career with JetBlue in 2005. As an attorney, she served as a vice president, handling litigation and regulatory affairs for the airline, and eventually became EVP customer experience. She was named president and COO in May 2018.
She joins a very select group of women who are in the C-Suite at airlines. A major challenge presented itself when Geraghty was promoted to her current role. The carrier needed to trim $300 million from operating costs by 2020.
"We realigned the leadership team to focus the right sources on the right work," said Geraghty. Currently, the airline still has about 200 people coming through training programs every other week, as new hires or to backfill vacant slots, she said.
On the horizon, JetBlue will see some significant changes in its fleet beginning in 2020. The carrier has 60 firm orders and 60 options for new Airbus A220s, previously known as Bombardier C Series aircraft, which will replace the carrier's fleet of Embraer 190 regional jets. "That aircraft is absolutely beautiful," said Geraghty in describing the A220. Capacity starts at 100 seats, but Geraghty declined to reveal what the JetBlue configuration would be.
Geraghty is a firm believer in an open door policy for team members, but admits there is a challenge when the workforce is scattered geographically. "You need to stay connected with your team. You can't lose that connection."
She recently unveiled a new program, 'Ask Joanna', which is posted on the airline's Hello JetBlue-branded corporate website. Employees can voice their opinions or have their questions answered. Thus far, the response has been positive, she said, but the challenge has been in managing the sheer volume.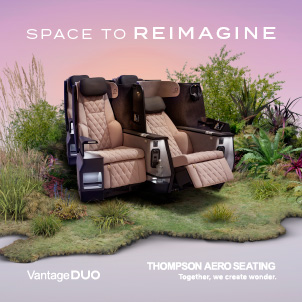 With an eye to the future, Geraghty has always been a supporter of programs aimed at promoting  studies in science, technology, engineering and math for young women. She serves as president of the JetBlue Foundation, which is committed to supporting aviation-related education and STEM initiatives.
"We are the only airline with a dedicated foundation for creating opportunities in STEM programs." Geraghty explained. The foundation has provided $1 million in grants to increase opportunities and to expose girls and young women to the wide and varied career paths in aviation. "It's a great industry – exciting and inspiring."
While women continue to rise in the ranks, there is still a paucity in the higher executive ranks, but with people like Geraghty and other professional women in the pipeline serving in management, operations, revenue management, finance and other leadership roles, the situation is likely to change.
Related Articles: