Passengers with disabilities, people with reduced mobility and other travelers requiring assistance are flying more and more. But how is the passenger experience for these passengers changing, and what new innovations are enabling airports, airlines and assistance providers to remove barriers to travel?
For many years, the passenger experience for most wheelchair users was either direct transfer to an aisle chair at the main boarding door of the aircraft if a jetbridge or shallow ramp was used, or to be taken up to another aircraft door in a scissor-lift airside vehicle, sometimes even a catering truck. At many (if not most) airports, however, the catering truck option is long gone, and operators have invested heavily in specially designed equipment.
As an indication of the rise in PRM numbers, figures from airport operator AENA provided to Runway Girl Network show a 41% increase in PRM travelers over the last five years for which data exists for the airport of Las Palmas on the island of Gran Canaria, a major European holiday destination. At LPA, the numbers of passengers with reduced mobility rose from 54,061 in 2013 to 75,992 in 2017.
To cover Las Palmas' 40 gates, of which 13 have jetbridges allowing for wheelchair transfer at the door of the aircraft, AENA currently operates 14 mobility vehicles. Six are ambulifts sized for mainline aircraft, which are essentially a modified catering scissorlift allowing level access. Given the number of regional aircraft and turboprops serving the airport, two further regional-specific ambulifts are also provided, as are six PRM-capable minibuses.
But what about getting passengers to their seats inside the aircraft? RGN asked John Morris, founder of WheelchairTravel.org and a wheelchair user himself, for his perspective of the most impactful recent design innovations for disabled passengers.
"The biggest development in PRM boarding of late is the introduction of the Eagle Lifter, a PRM hoist that can be used to safely transfer passengers with the most significant physical disabilities. I have seen the Eagle 2 in UK and Canadian airports, and know that it is also being made available by Qantas in Australia," says Morris. "A select few US airports have purchased the device. One of my readers convinced Qantas to provide the device at Hong Kong airport so that she could travel there. Without the Eagle Lifter, she is not able to transfer into her seat or fly."
Fundamentally, Morris says, "while the Eagle Lifter may not be necessary for all travelers with disabilities, it has the potential to dramatically increase the number of people with disabilities who can travel, particularly those with progressive conditions or muscle-wasting diseases."
The Eagle Lifter, designed and manufactured by Haycomp, replaces the need for both the aisle chair and for manual lifting by staff members in order to transfer the passenger to their seat.
Manual lifting can be problematic for general and specific reasons. Generally, having staff members — however well trained — manually lifting passengers with reduced mobility is less desirable than an automated or assisted lift because loss of grip or other manual handling errors can occur.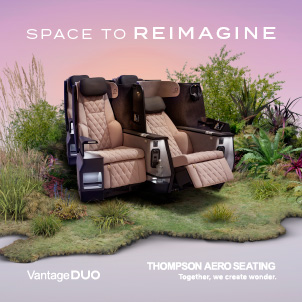 In addition, for specific types of disability, the inability of travelers to support the weight of their own head or other particular parts of their bodies increases the risk of injury during manual transfers.
The Eagle Lifter also allows passengers to be lifted over business class seats whose armrests or lower shrouds have not been designed to fully in order to provide level access.
(Listen to this month's RGN In Conversation podcast, where John Morris explains some of the level access issues with the Qatar Airways Qsuite and other doored business class products.)
Removing travel barriers for people with disabilities or passengers with reduced mobility, especially in the context of the skyrocketing numbers of those travelers, isn't just about new hardware to overcome existing barriers. It's about planning the way the passenger journey is created landside, airside and in the aircraft of the future.
Related Articles: