Lucky Air recently raised some eyebrows with its limited Chinese New Year brand placement promotion with McDonald's, but we shouldn't turn up our nose at this super-sized idea.
The "Golden Surprise" promotion was a limited-time event, taking place on select flights from January 18 to February 4, and coordinated around the Chinese New Year. The first themed flight was 8L9965 from Kunming to Sanya.
This grand-scale product placement was revealed on Twitter by Kai-Chin Shih, an aircraft interiors analyst for CAPA who also reports on the airline industry for his blog TalkAirlines. He discovered the promotion on Lucky Air's WeChat page.
"When boarding the themed flight, each passenger received a red envelope containing [a] McDonald's coupon and a small card. Inside the cabin, McDonald's decorations could be seen on the luggage bins, headrest covers, tables, and business class seat shells. Upon reaching cruising altitude, passengers participated in a trivia game hosted by the crew for a chance to receive gifts such as plane plush toys, McDonald's toys, aircraft models, and spring couplets. Each business class passenger also got a pair of spring couplets," Shih explained.
Moreover, he said, 34 McDonald's restaurants in Yunnan were decorated with the theme of a Lucky Air A330. "On January 19 and 27, at the McDonald's at Tropical Plaza Yunnan, there were also dance performances by Lucky Air crew and trivia games inside the stores."
To be fair, another Chinese carrier may have set the precedent. Last year, China Eastern partnered with Mars Wrigley on a Snickers brand placement campaign around the Chinese New Year, which positioned the snack as the power-food that travelers need to get through their journey.
Thomas Delabriere, who serves as vice president marketing and strategic demand for Mars China, told online news site Campaign that the confectionary company considered passenger satisfaction when negotiating the brand placement with the airline. "Basically when you look at an airline, they want to put travelers at the heart of everything they do, in terms of quality of service," he said.
In short, creativity is rewarded, but quality matters.
"The Chinese have some very interesting collaboration ideas," Shih told Runway Girl Network, though he added that the Lucky Air promotion was notable for a higher degree of visual appeal, which leads to talkability on social media including Weibo.
Many airlines can't get away with slapping a poster of a deep-fried roll on the seat shell of a business class seat. But opportunities for brand placement in the cabin should not be dismissed off-hand.
We've seen a number of sponsored aircraft liveries over the years, from consumer products to holiday destinations and Hollywood blockbusters, but brand placement can be far more subtle than billboard advertising.
Airlines are already practicing brand placement – whether or not they are being paid for the plug – each time they select cosmetics for their amenity kits, choose branded bedding for their lay-flat seats, or add special menu items to their inflight catering.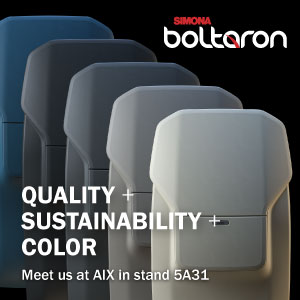 Product placement can also find its way into inflight entertainment systems – not just in advertising but in destination content, educational content, and even safety videos.
Air New Zealand's LotR and Hobbit safety videos were product placement. So too was the ANZ Sports Illustrated model safety video, though fallout from the latter serves as an example of how careful airlines need to be about the impact to their reputation of aligning with any brand.
The cabin space, like any other consumer-occupied real-estate, has great potential for advertising and retail. Because of the high costs of cabin equipment and maintenance, airlines will want to keep an open mind, get a feel for the types of brand placement that work best in their markets, and maybe stretch the envelope a little.
Who knows, they might get lucky and find a placement that works as sweetly and subtly as Delta's deal with Biscoff.
Related Articles: