Nearly five years after the tragic disappearance of Malaysia Airlines Flight 370, a new day is dawning for global flight tracking.
A SpaceX Falcon 9 rocket this morning successfully launched the final batch of satellites required for Iridium's second generation NEXT satellite constellation to be completed, and to ensure the US firm has multiple spares.
Though Iridium NEXT will support cockpit communications – including aboard the Boeing 777X – as well as cabin connectivity on business aircraft, the Aireon payloads hosted on NEXT satellites are able to track aircraft via space-based Automatic Dependent Surveillance-Broadcast (ADS-B) around the globe, including over the poles.
A joint venture between Iridium and various Air Navigation Service Providers (ANSPs), Aireon's tracking abilities have already proven to be "eye-opening to the ANSPs when they see traffic in their territories that they've never seen before", said Iridium CEO Matt Desch during a pre-launch media briefing.
Once the full 66-satellite constellation is providing data, management is confident that a number of holdouts – including, notably, the US Federal Aviation Administration – will sign on to Aireon. The FAA will first evaluate the service for aircraft flying in the Caribbean region.
"You can't understate the importance" that global, real-time tracking will have on safety, noted Aireon CEO Don Thoma. For instance, North Atlantic countries which have not been able to meet certain safety targets ever are "seeing a minimum 75% improvement in target levels" based on knowing where an airplane is in real time, he said.
"Now you don't have to wait 15 to 30 minutes before knowing where an airplane is at. Here, see immediately and intervene with the pilots."
The service will enable airlines to comply with the flight tracking recommendations made by ICAO in the wake of MH370; these went into effect in November 2018.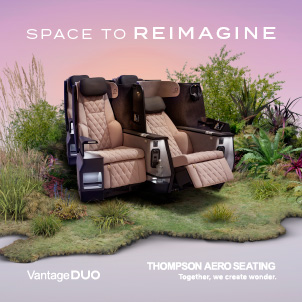 Aireon is also expected to save airlines billions of dollars in fuel costs because it will facilitate more direct air routes and optimal climbs, as well as allow for aircraft to be spaced closer together.
SpaceX's role in the historic launch of the NEXT constellation can't be understated. The Falcon 9 rocket proved so powerful it was able to ferry 10 satellites into orbit with each launch.
"It has been an honor to deliver 75 new Iridium NEXT satellites to orbit. Matt [Desch] and the entire Iridium NEXT team have been incredible to work with," said SpaceX president and chief operating officer Gwynne Shotwell in a statement released after today's launch.
"On behalf of all of our employees, congratulations to Iridium on achieving this incredible milestone."
Since the launches began, Iridium's legacy satellite constellation has been undergoing a one-for-one replacement with NEXT satellites via a choreographed in-space maneuver known as a "slot swap". Aged satellites are lowered into a storage orbit, the remaining fuel is removed, and  they eventually catch in the atmosphere and burn up.
Though a recent hiccup was observed in California, Desch said: "Our expectation is that most will burn up, but with any that enters, there is a possibility that something doesn't burn up."
Related Articles: