In a market driven by tight timelines for delivery, complex and often delicate certification processes and a high cost burden for development of new materials and parts, it is perhaps understandable that so many aircraft interiors are similar. But it is possible to deliver meaningful differentiation while keeping within a project timeline.
Designers at London-headquartered Acumen Design have spent decades developing unique aircraft cabin structures, from the original British Airways lay-flat seat that launched a thousand sleeper classes to the more recent United Airlines Polaris business class seat.
As part of the Etihad Design Consortium, Acumen worked on a combination of both structural innovations and color, materials and finish (CMF) customization that put Etihad Airways' Airbus A380 and Boeing 787 cabins on a new level. Programs on this scale benefit the industry as a whole – setting new standards that can transfer to other programs – but they take time to develop.
At the recent Red Cabin Innovation and Aircraft Seating conference in Hamburg, Runway Girl Network met with Acumen associate director Anthony Harcup, and brand development manager, Catherine Barber, to discuss how manufacturers can deliver customization in shorter timeframes.
Harcup says most airlines are less interested in a revolutionary redesign of the cabin and more interested in brand personalization and linking the experience from ground to air. To accomplish that, materials suppliers can engage with designers early in the process to share their innovations. In fact, they are seeing more suppliers taking this route.
"The most forward thinking companies are design-led. They really understand the requirements and the needs of the airline," notes Harcup. "The materials suppliers are amazing. There has been a huge change in the amount of people coming in with a range of samples … they'll come up with a really cool print, or a way of infusing a graphic into a plastic, and say, 'Don't you think that looks good? What could you do with it?"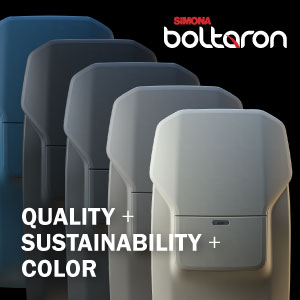 Barber believes the next step forward is to perfect the details that shape the brand experience. "Do everything possible to improve fit and finish and raise the standards of quality," she says. "It has to look beautiful but you have be able to rip it off and wash it and put it on again in five minutes."
The durability of custom textiles and surfaces is one of the big challenges of innovation in the aircraft cabin. The combination of materials and finishes can also alter the test performance of a final assembly, which can delay programs or even lead to a last-minute change in the specification. Designers have seen these scenarios play out and advise suppliers of gaps that present opportunities.
Says Barber, "When we see people and they come to visit us, we give them a free bit of consultancy and say, 'We are going to need materials that do this. You should be focusing on developing this product.'"
She tells RGN that she is sometimes pleasantly surprised by suppliers that seemed not to take her advice and later reveal a product that proves they were listening.
That said, designers welcome inspiration too."It's a dialogue," says Barber. "They do seek us out and that's wonderful because when we have a tight deadline we ring them up."
Another limit on innovation is manufacturers' need to build in adequate volumes that recover their research and development costs on new programs. Harcup believes there may be a need to change the production process, allowing for variations that can be implemented at lower-costs.
"This isn't the automotive industry. You're not selling to the end customer and giving them a choice of paint finishes," he says. "You're selling to a customer that wants meaningful differentiation. That's very rarely just accommodating a change of colors."
Acumen has seen some manufacturers embrace a customization-friendly kitting process that allows for unique shapes or design elements, with the baseline structure leaving more room for volume production.
"They set-up a low-volume manufacturing process to be able to support that level of customization," he says. "The closest you can get to building that in the business model – meaningful differentiation – that's where the magic lies."
Related Articles: