One man's loss is another man's gain. For Global Eagle, the news that Southwest Airlines is removing Panasonic Avionics' Ku-band connectivity kit from its Boeing 737s is naturally a remarkably positive turn of events, though the California company is honoring the gag order by not speaking about the issue. Likewise, Panasonic says it has no further comment beyond the statement provided by Southwest to Runway Girl Network earlier this week.
Global Eagle is, however, happy to discuss its rollout of inflight connectivity across the pond, on Air France's medium-haul fleet. Several Airbus A320 family aircraft have already been equipped with its new three-axis Ku-band antenna system, and an Air France A321 with hump recently broke cover (photo here).
Senior vice president, aviation solutions Alexis Steinman tells RGN that Global Eagle's "long-standing and well-rounded" relationship with the Air France-KLM group played a pivotal role in airline management's decision to offer Global Eagle Ku on the A320 family in partnership with France's Orange Business Services.
Global Eagle has been providing content for Air France-KLM for many years, supplying everything from games, applications and some GUIs for embedded IFE systems, to advertising in certain Air France lounges. Launching connectivity on the medium-haul fleet is "really the next frontier" and a "huge step in our relationship", says Steinman.
A trial of Global Eagle kit by Air France, conducted years ago, was "an important piece in demonstrating our capabilities", he confirms. But to be clear, the connectivity system now being installed is Global Eagle's brand new end-to-end solution, comprising "hardware, core software, passenger portals, [and] new antenna so it's really our next generation system".
The system is expected to deliver "incredible speeds" and what Global Eagle feels will be "the highest capacity capable in Europe", which is a remarkable claim given that the service will be judged against Viasat's high-capacity Ka solution (offered over Eutelsat KA-SAT), which admittedly suffers from coverage gaps; and Inmarsat's EAN when the latter finally launches.
However, the service on European flights – as presently billed by Air France – will only permit surfing for a fee, plus free messaging; it will not support streaming, as is offered on the carrier's Gogo 2Ku-fitted longhaul aircraft.
.@airfrance is finally ready to launch in-flight Wi-Fi. Starting with the widebody fleet (A330s and 772 first), it's rolling out a free messaging plan, surf plan, and stream plan.

22 longhaul and 8 shorthaul aircraft installed by end of 2018. Fleet wide 2020 #APEXexpo #PaxEx pic.twitter.com/PRdOAvHBF3

— Jason Rabinowitz (@AirlineFlyer) September 27, 2018
European hubs with a thick concentration of aircraft require "25 times more capacity" than what might otherwise be deemed sufficient, says Global Eagle's Steinman. Your author pressed Steinman to explain how Global Eagle will manage the feat. He says HTS capacity and a layering of capacity will serve as the foundation.
You've mentioned the coverage holes and issues in Europe, which are still [going to be there] for many years to come but also the urban areas are quite contended for Ka-band and those Ka spots. So really the right solution for this specific project is to layer Ku HTS capacity.
The ability to concentrate capacity for urban areas and fly to Russia, North Africa or the Middle East also helped steer Air France towards Global Eagle's Ku network "and it will very likely be the fastest inflight wifi in Europe", he adds.
Yet, just as it does with its other connectivity clients, Global Eagle is offering a connected entertainment solution, with "an extremely compelling entertainment offering" provided from day one on every aircraft, with live television also in the works. Global Eagle will have more to say on that front this year, but it believes the holistic offering will prove to be a big differentiator for Air France.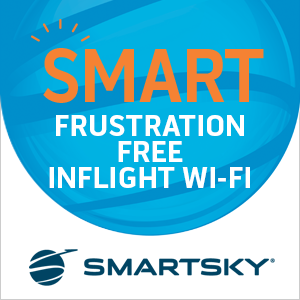 Because Global Eagle is fitting Airbus A318s, A319s, A320s and A321s, it has a mishmash of STCs, but Air France has a rather aggressive schedule, so we're told we should start to see many more equipped aircraft in the relatively near term.
Given Air France's efforts, one wonders if long-standing Global Eagle customer Norwegian intends to bolster its own connectivity offering in partnership with the firm. Steinman isn't at liberty to say much at this time, but Norwegian in parallel and roughly in the same timeline will have "some really interesting service enhancements and updates to their service rolling out".
It's clear that Global Eagle's HTS relationships in Europe are proving pivotal (CEO Josh Marks in April said high throughput capacity on Intelsat's Epic constellation and modems from Hughes would deliver more than 400 Mbps to aircraft in Europe, as reported by SpaceNews).
Global Eagle's decision to focus on providing inflight connectivity to narrowbodies and regionally-flying widebodies versus spreading itself and its satellite capacity thin on international widebodies – and its interest in "approaching each region and fleet as to what is best for the partner" – appears to be the right approach for the firm.
"We're not trying to push a specific solution; we're trying to find the best one," notes Steinman.
This contrasts to the model pursued by Panasonic, which developed a near global Ku network through a patchwork quilt of satellite partnerships, but announced last fall that it would pivot to selling Inmarsat GX for new business. Despite Panasonic's assurances that it is committed to its Ku XTS strategy, questions abound about next steps, including in business aviation.
To wit, during Astronics' third quarter earnings conference late last year, management noted that one former bizav partner is off of its Ku tail-mount inflight connectivity project, and that a new partner has joined. Was Astronics referring to Panasonic as the firm no longer pursuing this project, and Intelsat as the new partner (as part of the broader new SD Experience offering)? Neither Astronics nor Panasonic provided comment.
Related Articles: