Suggesting it has secured 20% of the narrowbody inflight connectivity market in North America, Viasat believes it can grow its market share by over five percentage points by September 2019.
The satellite operator and ISP, which counts American Airlines, JetBlue, and United Airlines as customers, reckons its share of the narrowbody IFC market in North America "has more than doubled in two years to 20% and could grow to over 25% by this time next year", said Viasat CEO Mark Dankberg during the firm's fiscal second quarter earnings conference call.
"We believe we've taken share across the board, and while establishing [a] reputation for performance, yielding exciting regional and global growth opportunities. We see more airlines coming to believe that full, fast and free Internet access is going to be the benchmark and we're the only service provider that can do that at scale."
Utilizing data from Flightglobal's Fleet Analyzer database, publicly filed documents, earnings call transcripts, press releases, industry announcements and Viasat management estimates, Viasat outlined its 12-month growth projection – and predicted diminishing market share in North America for competitors Gogo, Global Eagle and Panasonic Avionics – in a slide deck shared during its earnings call.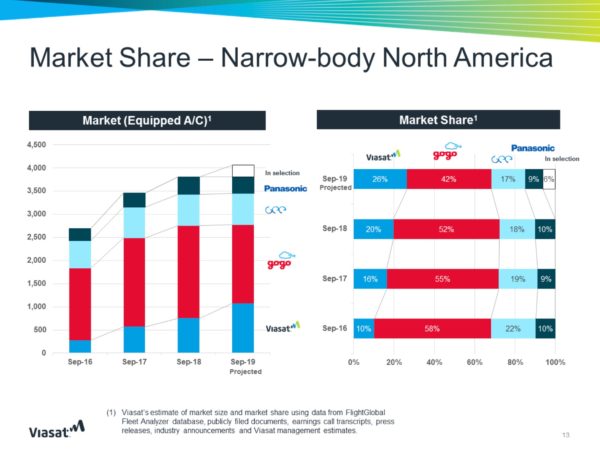 Viasat entered the commercial inflight connectivity market five years ago, and leveraged the bandwidth economics of its high-capacity ViaSat-1 satellite and two other Ka satellites (Wildblue-1 and Anik F2) to provide inflight connectivity to US operators. Its initial contracts with JetBlue, United and later Virgin America, gave the firm the opportunity to prove itself "and show what's possible", said Dankberg during the call. Virgin America was later acquired by Gogo inflight connectivity customer Alaska Airlines.
As of September 2017, Viasat's system was installed on over 500 aircraft. A year later – and with Viasat's new ViaSat-2 satellite online and supporting IFC, including over the North Atlantic (as pictured at top in light blue via American Airlines' inflight portal map) – the Carlsbad, California-based firm has grown "US planes and service by over 60% and earned prime contractor roles with all our customers, including a strong relationship with American Airlines, the world's largest", noted Dankberg.
By 30 September 2018, which marked the end of Viasat's fiscal second quarter, the company saw a total 898 aircraft in service with its solution, up 56% compared to last year.
Expansion of American contract
American Airlines' Tech Ops teams have been installing Viasat Ka inflight connectivity on current-engine Airbus A321s and Boeing 737-800s, as they de-install Gogo air-to-ground (ATG) connectivity on these particular twinjets. The US major's Boeing 737 MAX aircraft are arriving factory-fit with the Viasat system. And American recently selected Viasat to provide high-speed Internet and wireless entertainment for 100 new Airbus A321neos, with deliveries expected to begin in early 2019.
Viasat's relationship with American is set to further expand as the carrier is adding free live television (initially to Gogo 2Ku-fitted aircraft) which, Dankberg said, will add to the prime contractor services that Viasat provides to the carrier.
In addition to its streaming class of connectivity service, Viasat believes its vertical integration is also a key differentiator for the company, as it designs and builds its own inflight connectivity systems and terminals, and wireless IFE systems, and has extensive in-house engineering and operations, "and over time that's becoming more and more appreciated and valued by customers".
The company has relationships with satellite operators in Europe and Australia, which allows it to support Ka connectivity on aircraft in both regions, but its ability to exploit global opportunities is somewhat inhibited until its ViaSat-3 series of high-capacity satellites launch and enter service. Dankberg is nonetheless encouraged by discussions with international airlines. And indeed, Qantas has already said it plans to time the launch of its international inflight connectivity services to correspond with new longhaul aircraft to debut around the time of the ViaSat-3 launch.
Viasat on the global competitive landscape
Meanwhile, Thales InFlyt Experience's recent revelation that it is eyeing a global, high-capacity Ka network – which would compete with Viasat and Inmarsat Global Xpress, as well as the Ku-band connectivity landscape – is a bit of head scratcher for Viasat.
"We've known about this one for a while," said Viasat VP commercial mobility Don Buchman at the recent APEX EXPO, "and my first impression is – are they solving a problem that needs to be [solved] out there? It's kind of like Inmarsat/Panasonic – what problem is getting solved with that [strategic collaboration] announcement? Passenger [experience]? Capacity, or lowering the cost? And I didn't see any of that happening."
Buchman wonders if Thales' capacity will be "better than what's already in place".
If it's about bringing on better capacity – and better being a lot of capacity that's priced for the masses – and if you can't do that, then I am not sure what the purpose is, because … that is the compelling advantage, that's the compelling thing.

Basically, passengers and airlines that are using connectivity are using it for the purpose of getting a lot of it, and having access to it. And if you are going to make it more expensive or not as plentiful, then I am not sure what new thing they are bringing to the market.
From this journalist's vantage point, Thales seems to be effectively saying – 'I make satellites; I am an aircraft avionics provider; I am an IFC integrator and service provider; I see natively connected embedded IFE as the future; I am focused on nose-to-tail connected aircraft and ultimately eyeing autonomous aircraft. All of that is going to require broadband connectivity.' So, Thales may simply be putting the stakes down now because of its broader vision for the future.
But Viasat's Buchman is not entirely convinced there is enough aero business to go around if Thales jumps into the mix with a fully global network, on top of Viasat's efforts and Inmarsat's already announced plan to bolster Global Xpress with additional payloads. "Yeah, I don't [know] if there is enough to go around," he said. 
He suggested that Thales hasn't "publicly disclosed" what's in the SES-17 satellite in terms of capacity over the Americas from 2021, while Viasat has been "pretty public with ours", in that it is bringing a terabit with a ViaSat-3 satellite covering the same region. For its part, SES has previously suggested it doesn't plan to chase the title of having the world's most powerful satellite, as it doesn't make sense for its customers, as reported by Space News.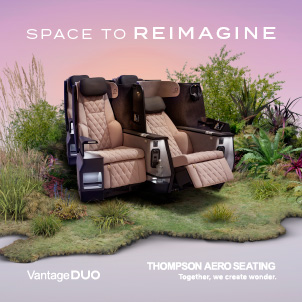 Meanwhile, Buchman confides that the new Inmarsat/Panasonic strategic collaboration was in fact a surprise to Viasat. "It was, yeah. We didn't know [and had] no inkling of that." The Viasat executive questions whether the pairing will produce a better connectivity offering for airlines and their passengers. "I didn't see that, I didn't see anything about more capacity being brought to the passenger. I didn't see about costs being lowered, I didn't really see any of those sorts of really important things that you need to bring into the market. Those are the problems that need to be solved."
As reported, Panasonic sees the arrangement as, among other things, a means of providing its embedded IFE airline customers with more IFC choice in the form of Global Xpress. And this too is part of the driver for Thales InFlyt as it works to offer its own Ka service, initially for Spirit Airlines.
Buchman said he understands the connected IFE proposition coming from both firms, but pointed out that "we also have a lot of airlines asking us to integrate with all of the IFE providers and so that's a very natural thing". He noted that Viasat has already worked with Panasonic – for the Panasonic IFE system with IPTV on the now Alaska Airlines-owned Virgin America – and, he confirmed, "JetBlue is asking us to do it for their new aircraft, that we're prime on for their seatback" being provided by Thales.
Is embedded IFE in Viasat's future?
Would Viasat ever jump into the embedded IFE space itself? Surprisingly, Buchman told RGN, "You know, if it made sense, but … we have to be solving a problem. We are only going to do it if we are solving a problem. If the problem has already been solved in the market and there is a solution, we will just integrate with the solution, and work with that solution provider. But if we think there is an opening then we would. Just like in connectivity, we saw an opening, right?
"We have been talking to you for a long time and it's always been … the friction was it wasn't that there was a lack of demand [for inflight connectivity], it was it was too slow and too expensive and that was the opening. We thought hey, probably 80% of people do want to be online, they just aren't because of these reasons. So, that is the reason we got into that market."
More broadly, Viasat feels rather more insulated from the financial difficulties being experienced in the IFC industry right now. "Well we do, right. Look at us; this isn't our competition. We're competing with $75 cable and DSL bills at home. So, we're making our investments for the masses," said Buchman.
"Our business model is a meta strategy, which isn't just focused on making investments just for aviation. We have got investments across the world," he said, pointing to the  recent announcement where Viasat is bringing capacity for the US government Senior Leader and VIP aircraft.  "That contract, the headline was $590 million dollars. We have community wifi that is happening, you know, in Mexico and Latin America. We have our core residential business. We have maritime. We have commercial aviation. So, you look at us, we're a different animal. We are basically looking at it from the broadest perspective that you can and bringing the best solution to each market. But the core of every strategy is capacity and the right cost."
That message is resonating with a variety of airlines, with all-business operator La Compagnie recently agreeing to equip its brand-new A321neo aircraft with Viasat high-speed connectivity, and Aeromexico selecting Viasat for its Boeing 737s MAXs, as reported by RGN in March.
"So both these contracts we couldn't have gotten without the coverage we've got from ViaSat-2. In addition, the investments we have made with Boeing linefit and working with Airbus to get the A321neos. And so, getting those investments in place, and getting the coverage in place it just kind of falls in [to place]."
At the end of the fiscal second quarter, Viasat recorded a net loss of $25.7 million on record revenue of $517.5 million.
Related Articles: