After a successful takeoff of the A330-800's first flight in Toulouse, Airbus met with gathered press to tout the economic and aerodynamic benefits of the newest member of the A330neo family.
While the A330-800, which is the neo version of the A330-200, could replace aged -200s and Boeing 767s in the market, Airbus has set its sights directly on the Boeing 787-8 as the competing aircraft for comparison.
In terms of cabin capacity, Airbus head of A330 marketing Crawford Hamilton explained that the A330-800 can fit more passengers than the 787-8, regardless of configuration, while offering lower fuel burn.
The airframer attests that the longer fuselage of the A330-800 gives the aircraft an advantage that offsets a narrower tail and still ends up with an up to 27-seat advantage over the 787-8, with a high-density 9-abreast configuration.
Airbus suggests it can offer a 9-abreast A330-800 cabin that would accommodate economy class seats around 17" inches in width, just as on the 787-8. For comparison, current 9-abreast A330s – such as the A330-300s flown by AirAsia X – offer a seat width of just 16.5", according to SeatGuru. So Airbus may have played with the angles and the sidewalls, as it said it would do for 10-abreast A350s.
The A330-800 cabin itself is the Airspace cabin, which was designed to create more lateral room, compared to older generation A330 models, just as the A330-900 and A350 cabins have been. That might make the 17" possible. But Airbus would not be drawn on the exact specifics today.
Even with an 8-abreast configuration – as is more standard on today's A330s – airlines can fit 18 more seats on the A330-800 than on an 8-abreast 787-8, notes Airbus.
"If we look at what we do with business class and first class and such like, for both aircraft it's about equal. But we have a cabin that is 2.5 meters longer [than the 787-8]  … which is approximately four rows of seating. We gain 36 seats there. With the same number of 9-abreast seats [we] get about three extra seats, but we have a slightly bigger taper at the end so we lose six there. We also have an under floor crew rest so we lose a few seats there as well. But it's more efficient than it was previously, because now we have a combined crew rests with pilots in a defined area," said Hamilton.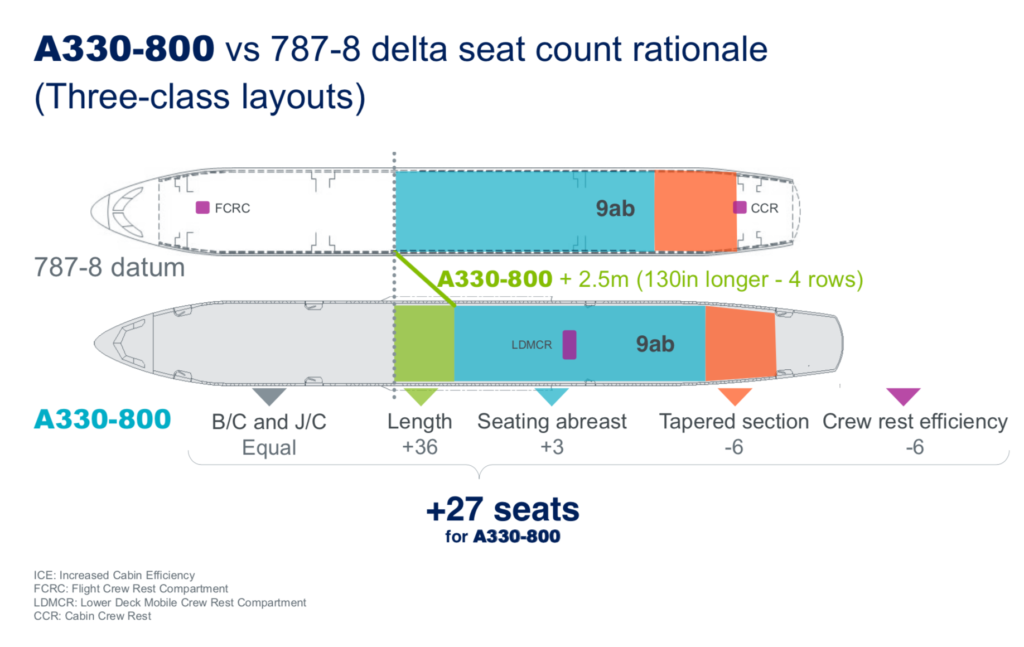 There are no announced customers yet for the A330-800 variant, though Airbus expects them. When Runway Girl Network asked whether customers should expect airlines to favor the 8-abreast layout that Airbus now describes as "comfort economy" or 9-abreast configurations, Hamilton replied: "In terms of the first [A330neo] aircraft into service, that's 8-abreast. But there are customers who have signed who have 9-abreast … and they will be delivered."
Hamilton could not reveal details about which customers favored 9-abreast seating, and said that cabin configurations are still being drafted and might change.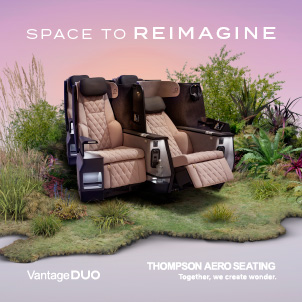 As mentioned, the A330-800 will be outfitted with the "Airspace by Airbus" cabin that has become the company's signature cabin. It includes a customizable service area, larger overhead bins, touchless features on lavatories and ergonomic galleys.
Some might argue that the extra inch (plus or minus) on the economy class seat will not make the most dramatic difference to comfort, and that the right structure can ease the squeeze, but in reality a 2-4-2 configuration is more comfortable.
It's not just about room, but familiarity. The 2-4-2 config allows more opportunities for single travelers to find a widow or aisle and for and couples to sit together. It also leaves room in the middle for families and groups.
A 3-3-3 configuration may fit more seats but fewer people will have their choice of companions and people's sense of space is affected by proximity to strangers. In terms of comfort, the 9-abreast 787 used by Airbus for comparison has not showered itself in glory in the eyes of passengers.
Airlines will need to examine their markets to see whether squeezing odds together is really worth it on longer flights.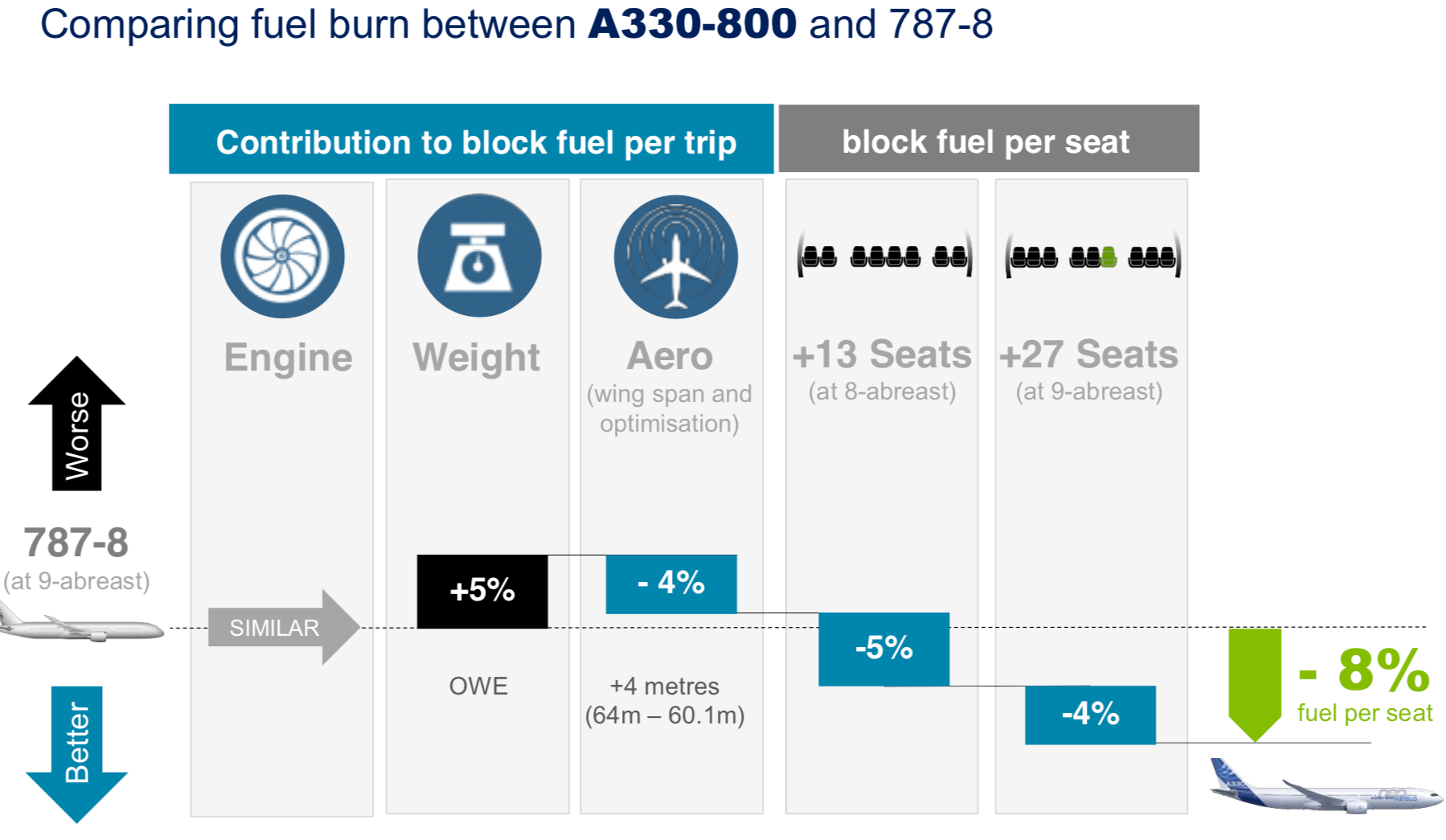 One thing that might make the difference as airlines ponder the best way to optimize revenue on this aircraft is cargo capacity on passenger configurations. Hamilton told RGN that the passenger variant of the aircraft can carry 10-15 metric tons of cargo. He said some A330neo customers have already discovered that they are picking up profitable cargo business to supplement seat revenue, especially on routes to and from Asia.
With the right plans in place, cargo can be profitable enough to pay for a little extra passenger room.
Some have raised concerns that 787 Rolls Royce engine troubles could trickle down to affect the Trent 7000 engines used on the A330neo. Peter Johnston, head of customer marketing at Rolls-Royce, said: "Engine deliveries are ramping up now. They have been slower than we wanted, really, because of pressure in the supply chain on industrial ramp-up, not because of technical issues that we are seeing on the [Dreamliner] Trent 1000 engines. Those are two separate topics."
Related Articles: