Premium travel within Europe is a funny business. Airlines still need it in order to fight for longhaul connecting traffic, but all too often it's an afterthought and the first source of cost-cutting rather than an attempt to provide a proper premium service. But what could a modern, forward-thinking airline do — within the bounds of a reasonable airline context — to truly win customers?
Let's start with the seats. As much as anyone would love to see proper business class seating within Europe, it's unlikely to happen in the near term. However, there's a lot of space between a 38" pitch recliner and the 30" of pitch that some airlines (British Airways, for example) offer in a no-middle-seat layout.
It seems to me that any decent Eurobusiness should be aiming for a minimum of 32" of seat pitch in the convertible business/economy zone. That's not just for knee room given the new generation of seats, it's to enable passengers to pull out a laptop or tablet-plus-keyboard and get things done.
I'm ambivalent about the side table that folds out from underneath the middle seat, though. While on the one hand it can be convenient, and certainly looks the part, it also means that you can't just pop your laptop bag in the middle seat during the flight to pull out and stow devices and documents as a cocktail arrives, as the meal is served, and so on.
Let's also talk about what happens on a turboprop, CRJ or E-Jet where seating is 2-2. Some airlines like Lufthansa start from the principle that Eurobusiness means "a spare seat next to you", where others like Finnair work on the basis that it means "no middle seat". On these aircraft, that means that the former kind of airline offers a 1-1 layout, while the second offers 2-2.
I'm very much on the Lufthansa side here: these regional aircraft are a crucial part of the network for Europe's network airlines, with numerous key non-hub business cities' dynamic market demand meaning they see these aircraft. Indeed, Finnair's policy has always surprised me given the length of some of the airline's E190-operated flights. The business class markets to and from these cities are often an equally crucial part of the financial equation, and providing a premium service on these smaller aircraft with their smaller galleys, smaller bins and smaller cabins is a tough enough sell without squeezing passengers in.
At this point, the lack of in-seat power across almost all of Europe's fleets seems almost shocking. Eurobusiness deserves at the very least high-power USB sockets, and full universal AC power would be even smarter to account for the wave of USB Type-C devices, especially the more demanding ones.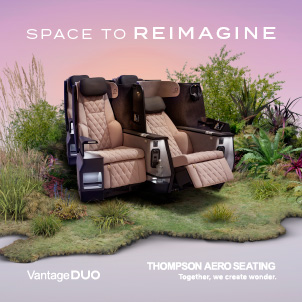 Entertainment, too, is lacking: seatback is practically nonexistent and the few forays into streaming IFE haven't overly impressed. We're continually shown how cost-efficient the box-in-a-bin solutions can be, and indeed airlines are missing out on offering options like intriguing, snackable shorts on the 30- to 120-minute flight sectors that characterize Eurobusiness. It's easy enough to make a streaming product complimentary up front, but it may well be that airlines are waiting for their inflight connectivity to arrive.
On which note, Europe's wifi is finally starting to arrive. Airlines need to bite the bullet and make it free in the pointy end as part of the package.
The food and beverage choices in Eurobusiness also need some work, especially as more airlines are providing better buy-on-board options in economy. Look at what many business class passengers will probably be having for lunch when they're not flying: a sandwich, wrap or salad from Pret à Manger or Starbucks.
On balance, it seems to me that given the cost of designing and catering a regularly changing set of doggy-dish dinners, the more compelling offering is to allow business class passengers free rein of the buy-on-board menu, like low-cost carriers such as Vueling and Eurowings offer.
This could be smartened up a bit: plate a warmed sandwich or appealing salad with vegetable crisps and a piece of cake, add cutlery and crockery — even add a specially created business class dessert or a little box of co-branded chocolates to either scoff on the plane or take with you — and that's already better than most of the Eurobusiness.
On the beverage side, it's all about the morning coffee and the afternoon free bar, but there's much room for creativity here too. Rather than just wheeling the trolley round, create a menu of easy-to-produce cocktails from what's already on the plane, perhaps with a little bartender kit to spice things up a bit. Add a little shaker of bitters to the inflight trolley to enable flight attendants to offer a pink gin, Old Fashioned or traditional Champagne cocktail, or even just a mini-bottle of crème de cassis to zhoozh up the usual sparkling wine into a Kir royale.
And that, really, is the key to Eurobusiness: some careful thought and planning for the soft product, mixed with a hard product that isn't completely a joke, and you're ahead of 80% of the market.
Related Articles: