Once the fabled "goodie bag", and then more focussed towards a few key items for onboard use, the airline amenity kit is seeing a resurgence as airlines realise the benefit of having passengers throughout the aircraft thinking positively towards their brand as they take an item off the plane and use it in their every day life.
"The challenge," says Roland Grohmann, chief executive officer & managing partner at inflight soft product powerhouse Formia, "is to get away from the traditional understanding of the amenity kit to see the potential it has in terms of giveaway."
And giveaway is the focus for much of Formia's most impressive latest work.
"Airlines are mastering the concept of the amenity kit as a gift to passengers, not just a functional aid on board," Grohmann explains. "The idea that it is the only memento of your flight you take off-board, gives it an enormous potential to portray the image of the airline and carry home a token of the trip."
(It may not be the only thing passengers take off-board, however…)
Indeed, Formia, renowned within the industry for its high-end amenity kits, including the highly successful Qatar Airways BRIC'S series that features on many an Instagrammed tableau, is driving innovation in the luxury giveaway space with an item in one kit that passengers are absolutely, positively not allowed to use on board: a scented candle from Lalique for Singapore Airlines, a 190g version of which retails at sixty-five euros.
The idea is that passengers can open and sniff the candle, then tuck it away in their bag to use either at home or at a hotel, and has been well received. Formia received an Honorable Mention in the Best Onboard Amenity category of the International Flight Services Association Compass Awards this year for its set of Singapore Airlines Lalique first class cabin amenities.
But it's not just that: Saudia's Furla clutch bag can be reused or regifted, while Malaysia Airlines' Cerruti kits include a keyring.
"The link to "home' becomes key in blurring the edge between home and journey," says Grohmann. "It is no longer only an extension of the use of inflight amenities at home, but a total new angle as the highlight of the gift is not meant for use during the flight."
But it's beyond re-using a case for an iPad, or as a cable wrangling bag within luggage. For Swiss, "We offered a Winter collection amenity set that included, on flights into Switzerland, a wool beanie hat, and a neckwarmer, winning several innovation awards at the time," Grohmann notes.
Part of the puzzle is ensuring that a brand in a giveaway is of the appropriate level of attractiveness for the market. Not all premium customers are the same, and many items have different meanings in different cultures.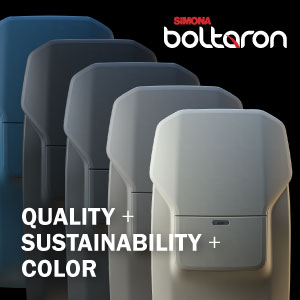 Indeed, an ultra-exclusive brand that a passenger in a more workaday business class may never have heard of may mean less to them than a better-known brand with which they're familiar and have a positive if not aspirational opinion.
So what does the brand itself get out of it? "The brand lends its name and image to endorse an amenity program whilst being associated to another brand, which is the airline's name," Grohmann says. "It is a key factor for success that this association has mutual benefit and creates positive synergies for both parties whilst adding value to the passenger."
As the gift trend expands at the very pointiest end of the plane, though, passengers in premium economy and even economy can look forward to some trickle-down. Indeed, at your author's front door sits a reusable shopping bag that was part of a Lufthansa premium economy. It seems that reusability — still not a reliable option even in business class — may well be the watchword for this expanding segment.
Related Articles: