Marc Van den Broucque, Managing Director at cabin crew training simulator designer and manufacturer Spatial sees growing demand in markets around the globe with the introduction of new aircraft types and the entry of new airlines to meet rising passenger numbers.
Spatial, which is based out of Dubai in the UAE, recently opened a US office to help bridge the time-gap and better serve North American customers including Spirit Airlines, WestJet and Alaska. The company is also seeing high demand from independent training centers, especially in growth markets, like Asia, where there is a large number of new regional and low-cost entrants.
Spatial's Cabin Emergency Evacuation Trainers (CEETs) can be placed either on a static raised platform or on a programmable motion platform to simulate turbulence and crash dynamics. They include CGI videos of various flight conditions and emergencies which play out of the windows and doors of the simulator. There are also immersive sound scenarios, lighting and environmental variables and fuselage motion. This requires a lot of individual programming and electronics installs, all of which the company does in-house.
"There is a lot of work that goes into them. It's one thing to build the fuselage, but just the cabling in a cabin training device can weigh over one ton," Van den Broucque says.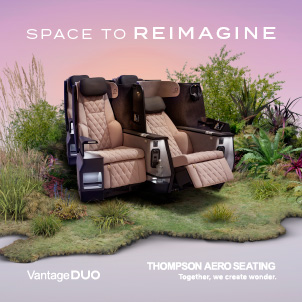 Spatial controls most of the manufacturing, electronics, programming and assembly of its simulators in-house. The over 100 employees at its facility in Dubai count craftsmen, machinists, electricians, programmers and even an in-house sewing shop to replicate airline interiors. They build parts based on the same engineering specifications as the planes they are replicating.
Spatial obtains licensees and data from OEMs. While these parts don't meet regulatory requirements, they have to last through more frequent use. Spatial has trialled additive manufacturing (3D printed parts) to make some components, but it is only recently that the technology has caught up with the demands on this equipment.
"An aircraft cabin is a tool," Van den Broucque explains. "It is subject to a lot of abuse. But the technology has now moved on [with additive manufactured parts] that are nearly as strong as aluminum."
The company introduced a "virtual slide" deployment video simulation for its door trainers which, Van den Broucque says, has proven popular with customers. It shows how a slide/raft would deploy in various locations, including during a water landing and when the equipment is inadvertently deployed at a jet-bridge.
Van den Broucque believes that technology can eventually enhance training for the human factors complications of real-life scenarios, like passengers ignoring crew instructions.
"It's a really interesting area. There is no question that this is a problem. How do you train people to cope?" he says.
As Runway Girl Network contributor Paul E. Eden learned first-hand when he visited the cabin crew training simulator manufacturing facility of EDM in the UK, CEETs recreate cabin emergency conditions so realistic that occupants have a visceral reaction. By practicing procedures in more immersive conditions, crew learn to remain calm and to jump into action if there's ever a real emergency.
"Increasing the realism in these scenarios is a firm focus," Van den Broucque says. "This is one of the areas where people are starting to think about virtual reality … The technology isn't quite there yet to allow you to do it really well, but for us it's one of those areas that we are keeping a close eye on for the future."
Van den Broucque believes that advanced augmented reality features introduced on CEETs would be far more effective than VR. For example, in future, AR systems like Magic Leap could project images of passengers rushing the door with their luggage.
Related Articles: