American Airlines has selected Viasat to provide high-speed inflight Internet and wireless entertainment for 100 new Airbus A321neos, representing an expansion of the US major's relationship with Viasat.
The airline's Tech Ops team is currently installing Viasat's high-capacity Ka-band satellite-supported connectivity system on current-engine A321s and Boeing 737-800s, as it de-installs Gogo air-to-ground (ATG) connectivity on these twinjets. Its Boeing 737 MAX aircraft are also arriving factory-fit with the Viasat solution.
Delivery of the re-engined A321neos are expected to begin in early 2019 (under American's newly revised A321neo delivery schedule). Viasat will also provide logistics support and network monitoring for its connectivity systems on the A321neos.
Financial terms of the deal were not disclosed.
Viasat secured the fresh arrangement with American after the end of its fiscal 2019 first quarter, a period during which the satellite operator and inflight Internet service provider (ISP) achieved a net loss of $34 million on a 15% year-over-year increase in revenue to $438.9 million.
Adjusted EBITDA of $45 million for the quarter reflects higher fixed operating expenses associated with the service launch on Viasat's new, highest-speed ViaSat-2 satellite, inflight connectivity ramp costs, and sales and marketing costs as the firm expanded its ViaSat-2 service offerings into new vertical and geographic markets, explained the Carlsbad, California-based company in a statement released on 9 August.
During a conference call to discuss Viasat's earnings results, chairman and CEO Mark Dankberg highlighted aero as a strong segment for the company, noting that Viasat's orderbook with commercial airlines continues to grow in an "intensely competitive environment".
Viasat believes it is "separating itself from the pack" in the eyes of airlines, passengers and third parties, including Internet, media and commerce companies which will be increasingly drawn to sponsorship opportunities due to Viasat's bandwidth advantage and airtime costs, according to Dankberg.
Viasat activated 122 additional new commercial aircraft during the fiscal first quarter (the majority were retrofits for American Airlines) and reached 757 in-service aircraft during the three months ended 30 June. Some 200-plus aircraft are now carrying Viasat's second generation kit, which can support service over ViaSat-2 and the forthcoming ViaSat-3 class of satellites. The second generation equipment is also designed to be backwards compatible with Viasat's first-generation spacecraft – ViaSat-1, Wildblue-1 and Anik F2.
JetBlue, which last year handed prime ISP positioning to Viasat, has opted to migrate to the second generation kit. Asked by an analyst if Viasat subsidizes these kinds of migrations, Dankberg said the firm works out arrangements on an airline-by-airline basis but in general is selling Gen2 kit as an upgrade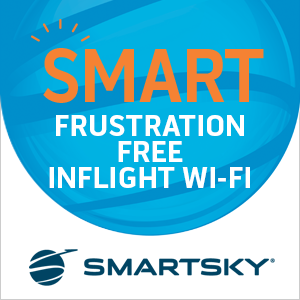 Outside of its new order with American Airlines, Viasat expects to fit an additional 850-plus aircraft with connectivity under its existing contracts with airlines. Customers include El Al, Finnair, SAS, Qantas and others.
For the duration of the 2019 fiscal year, Viasat believes inflight connectivity installs will be accomplished roughly at the same rate "or increase assuming that things continue to go well", said Dankberg.
"Install rates, really, is an artifact of multiple things – one is the extent to which we're doing retrofits versus new aircraft. So for instance, one thing we've been pretty successful at is getting new orders for linefit 737 MAXs with a number of fleets, and of course those will roll out at the rate that those are delivered. And the same, too, will be for the new American A321 orders," he continued.
"The retrofits – those will tend to go faster and we have a big bunch of retrofits that we'll work through over the course of the next year."
Related Articles: