We have seen some absolutely delectable tableware in the skies, and new Eco-friendly options are icing on the cake, but what if airline tableware was also edible?
When Hong Kong Airlines launched its Los Angeles to Hong Kong A350 service, it also delighted passengers with a new business class tableware range designed though a collaboration between onboard products designers CLIP and homeware design brand JIA. This ultra-modern collection of chinaware, glassware and cutlery takes inspiration from nature while representing the airline's unique brand.
"The design of Hong Kong Airlines' new tableware are inspired by the Bauhinia x blakeana (Bauhinia flower) – seen on Hong Kong Airlines' logo and also the flora emblem of Hong Kong," said JIA founders Mr. and Mrs. Christopher and Kay Lin. "For example, the bowl and appetizer plate resemble the shape of the Bauhinia flower's petal, while the design of the red butter dish was inspired by the shape of seeds."
One of the most charming elements of the new tableware line are the salt and pepper shakers in the shape of Dim Sum – Ha Gow (prawn dumpling) and Siu Mai (pork dumpling) – which the airline smartly encourages business class passengers to pinch.
These Hong Kong Airlines condiment complements look good enough to eat, but what if airline tableware were edible?
That's not quite as ridiculous as it sounds. As airlines work to eliminate waste and bring more Eco-friendly service items on board, they may want to take inspiration from the latest developments in edible and compostable glasses, dishes, cutlery and straws.
Take LOLIWARE's line of Biodegr(edible) cups. These 100% plastic-free, gluten-free, gelatin-free, BPA-free, non-GMO, all natural, non-toxic, FDA approved cups come in a variety of flavors – Yuzu Citrus, Tart Cherry, Matcha Green Tea, Vanilla Bean, as well as an unflavored "natural clear" version. They are made of seaweed with coloring and flavors derived from fruits and vegetables. They are the product of earth-friendly thinking by designers Chelsea Briganti and Leigh Ann Tucker of New York.
These glasses may be too pricey to produce at this time to be viable for airlines to offer on board, but LOLIWARE drink combinations might make interesting additions to bar service at airline lounges. The LOLIWARE ladies have even taken on the plastic challenge with a new line of straws as tasty as candy. These edible solutions are also hyper-compostable, which means that they can be tossed out as food waste.
This is a design to watch as mass production could make it more affordable. It should also get creative juices flowing.
Another "edible" solution is the line of oven-friendly dishes from Biotrem in Poland. These are made from wheat bran. While they can be eaten, they are not designed for flavor, rather they are intended for quick composting.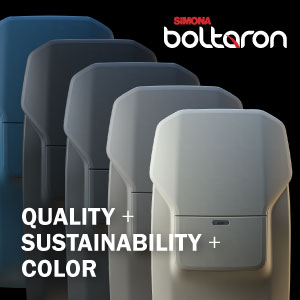 Biotrem also offers cutlery made from a combination of wheat bran and PLA plastic. The company claims that its products will naturally decompose within 30 days of use. Like LOLIWARE, the price point may be too high for airlines at this time, but Biotrem is targeting the food service industry directly with industrial mass production. As a nice touch, Biotrem offers custom branding.
Airline suppliers are already wise to the benefits of food-based food-service products. WK Thomas offers a range made from biodegradable and compostable bagasse – a natural product made from sugar cane fibers. While these products are sturdy enough to handle cold and heat, and can be used in freezer or microwave, they vanish into soil in as little as eight weeks.
High-design rotables can be quite tasteful when they are made of lasting materials, but single-use service ware that is easily disposed of and leaves no trace behind is a very appetizing notion.
Related Articles: