Panasonic Avionics Corporation (Panasonic) has appointed Catherine L. Razzano as Chief Compliance Officer.
Catherine will be responsible for overseeing Panasonic's compliance with laws, regulatory requirements, policies and procedures, and will report directly to the General Counsel of Panasonic Corporation of North America (PNA) with a dotted line reporting structure to Panasonic's Chief Executive Officer, Hideo Nakano.
She joins Panasonic  from General Dynamics Corporation where she held the position of Assistant General Counsel and Director from 2010. Her responsibilities included counsel on business and legal strategies, budget management for the legal department and serving as lead counsel to the company's Government Relations Department.
At General Dynamics, she also focused on the company's compliance with anti-bribery laws, export controls, economic sanctions and other trade embargoes, anti-boycott regulations, anti-money laundering laws, and third-party intermediary agreements and due diligence requirements.
Prior to General Dynamics, Catherine served in a number of senior legal roles including at Cadwalader, Wickersham & Taft LLP where she was a Senior Attorney for six years, and Clifford Chance LLP where she was an Associate.
Hideo Nakano, Chief Executive Officer of Panasonic Avionics Corporation, says: "It is my great pleasure to welcome Catherine to our team at Panasonic. She brings with her extensive legal experience that will be instrumental as our business continues to evolve and move forward."
Commenting on her new role Catherine Razzano, Chief Compliance Officer of Panasonic Avionics, says: "This is a very exciting time to be joining Panasonic, and I look forward to working alongside my colleagues to ensure the company's policies are robust in today's business environment."
Amongst her academic achievements, Catherine holds a BA in International Relations with a minor in Spanish from Boston University. She also completed her Doctor of Jurisprudence qualification at The Catholic University of America, Columbus School of Law.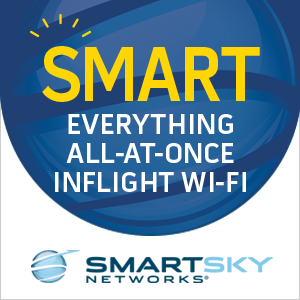 About Panasonic Avionics Corporation
Panasonic Avionics Corporation is the world's leading supplier of inflight entertainment and communication systems. The company's best-in-class solutions, supported by professional maintenance services, fully integrate with the cabin enabling its customers to deliver the ultimate travel experiences with a rich variety of entertainment choices, resulting in improved quality communication systems and solutions, reduced time-to-market and lower overall costs.
Established in 1979, Panasonic Avionics Corporation, a U.S. corporation, is a subsidiary of Panasonic Corporation of North America, the principal North American subsidiary of Panasonic Corporation. Headquartered in Lake Forest, California with over 5,000 employees and operations in 80 global locations, it has delivered over 14,500 IFE systems and 2,000 inflight connectivity solutions to the world's leading airlines.
For additional information, please visit www.panasonic.aero
Featured image credited to istock.com/JakeOlimb