Forecasting a $4.6 trillion twenty-year market for commercial aircraft services, Airbus is clearly angling for a greater slice of the aircraft lifecycle pie than the $5.8 trillion it predicts newly delivered aircraft in its size categories will be worth over the same period. The airframer cites over $3.2 billion and an 18% yearly growth so far in its work within the services market.
Airbus senior vice president for customer services Philippe Mhun revealed the airframer's predictions at the Farnborough Air Show, and the company's numbers were a substantial growth from last year's headline forecast message, which predicted that "over the next 20 years the total industry aftermarket services spend will reach around $3.2 trillion".
The passenger experience segment of the services market will be worth $900 billion over the twenty-year forecast period, Airbus says, with the greatest opportunities in booking services, connectivity and cabin upgrades — in that order. Cabin crew training and inflight entertainment round out the passenger experience sector.
Airbus' Philippe Mhun did not break down that passenger experience figure during his presentation, and the numbers were not contained in notes on the slides, Runway Girl Network confirmed.
Responding to an RGN request for harder numbers, an Airbus spokesperson was unable to provide detailed figures, but provided the following breakdown:
Airbus' 2018 Global Services Forecast for passenger experience services amounts to $0.9Tn cumulative over the 20-year period and includes:

Booking services;
Connectivity;
Cabin upgrades;
Cabin crew training;
In-Flight-Entertainment.

Note: The above is ranked in descending order, and the first three comprise the largest proportion of the $0.9Tn.
In terms of figuring out a rough idea of how that might look proportionally, under the heading of "cabin & systems upgrades" in its previous services market forecast in June 2017, Airbus predicted that "over the next 20 years the upgrade market will be worth US$180 billion, driven in part by high competition between airlines who value the 'passenger experience' as a differentiator (comfort, connectivity etc.), as well as systems upgrades. Notably, 38 percent of this market will be Asia Pacific."
Airbus did not elaborate on its precise definition of booking services, but its 2017 partnership with US-based merchandising content platform Routehappy and iflyA380 travel inspiration and passenger experience app from earlier this year would seem to fit the bill.
The European conglomerate is already in on the cabin upgrades segment, citing its work for both Qantas and Singapore Airlines to refit the carriers' A380 aircraft, as well as American Airlines' A320 upgrades.
The passenger experience segment fits into a new three-pronged approach to the services market from Airbus.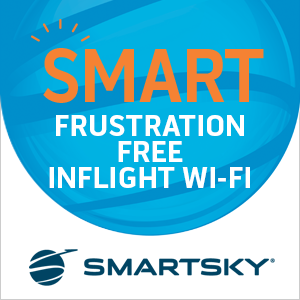 The first segment is a kind of MRO-plus arena that the airframer calls "easy to operate", and which consists of design and production, training technicians, spares and tooling, maintenance, systems upgrades, painting, secondhand market services, passenger to freighter conversions, and end of life aircraft dismantling and recycling. Airbus expects this to be worth over $2.2t over the next 20 years, but that number does not include design, production, dismantling or recycling. Last year, Airbus predicted a 20-year $1.85t figure.
The second segment is flight operations, including pilot training, where Airbus repeated the view — widely held in the market — that the industry will need more than half a million pilots trained over the next two decades. Airbus estimates that this is a $1.5t opportunity. It has been ramping up its own pilot training efforts.
The third segment, Airbus says, is the passenger experience, which Airbus expects to be worth 900 billion dollars over the next twenty years: some $45b averaged annually. Airbus' numbers, it must be emphasised, do not include aircraft smaller than 100 seats. Rather conveniently, this means it does include the newly renamed A220 (formerly Bombardier C Series).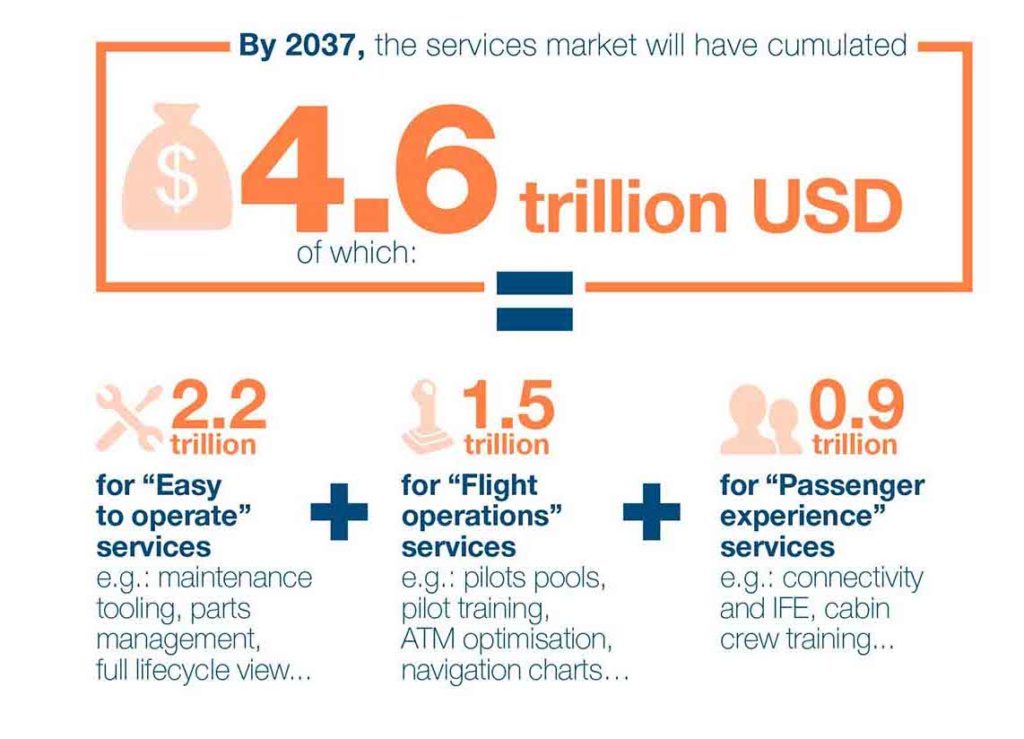 Related Articles: