My seatmate on a recent flight from Seattle to Reykjavik was, like me, on his way to Hamburg, Germany to attend the Aircraft Interiors Expo.
He was a frequent flyer more accustomed to flying business class, he told me, but for this trip he was flying in the economy cabin to save the company money and was on Icelandair for the first time. Not one to take chances, he had turned to the annotated seat maps on SeatGuru for advice and insight on choosing the best option among the available economy seats.
I'd consulted Routehappy, with its flight scores and amenity listings, and we both congratulated ourselves for snagging seats with a little extra legroom near an exit door, but still not too close to the lavatories.
While we had both done our research, we agreed there was still an element of chance left to where we'd find ourselves seated on the plane and what our seat "experience" would really be like. But, once in Hamburg, there was chatter about a new product from Spanish technology company Renacen that promises to take all the guesswork out of the seat-choosing process by offering passengers a super-immersive "you are there" look at every seat on the plane.
Renacen's product – called 3D SeatMapVR – is just that: a tool that offers passengers the option to get a 3D, 360-degree virtual reality view of the aircraft cabin during the booking process and a close-up look at details such as the seat dimensions, exact location, amount of legroom and even the material covering each seat.
"The idea to create 3D SeatMapVR came to our CEO, Diego Cachero, after a bad experience flying in an emergency exit seat that was not what he expected, because he did not have more information about his seat during the booking," explains Renacen COO Joaquín Alviz Martín. "He thought that it would be great to be able to 'experience' the seat before actually booking it."
After testing a few 3D prototypes, Renacen put a dedicated team of 3D designers on the project and found a launch airline partner, Emirates, which hopes to have the program go live for passengers to use in the next few months.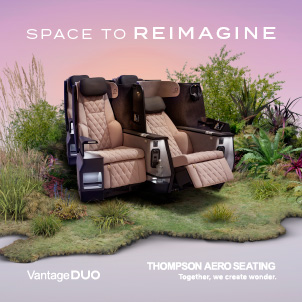 Right after 3D SeatMapVR received the Visionary Concepts Crystal Cabin Award at this year's Expo, several other airlines contacted Renacen about integrating the product into their platforms as well but those, of course, can't be named until the deals are made.
For passengers, 3D SeatMapVR seems like a no brainer: while the product can work with all kinds of devices (PCs, tablets, smart phones and virtual reality glasses), no apps need to be downloaded, as the software lives on an airline's web page. There, Renacen says, it not only helps customers "better know the seat, the plane, and the surroundings", but also makes passengers "fly more confident" and reduces complaints because airlines can "manage user expectations in a whole new way".
While letting passengers know exactly what to expect (or not) with that economy class seat, Renacen's software also offers airlines a unique upselling tool that can offer tantalizing "wouldn't it be nice to sit here?" views of emergency exit seats, premium and business class seats and, of course, those swanky Emirates fully enclosed first class suites with Bulgari amenity kits, moisturizing sleepwear, and reclining seats with a zero-gravity setting.
Related Articles: