Inmarsat, the world's leading provider of global mobile satellite communications, has signed a contract with China Transport Telecommunication Information Group Company Limited (CTTIC) to build a local SwiftBroadband-Safety (SB-S) satellite communication operation platform in China. In addition, Inmarsat, CTTIC and Aviation Data Communication Corporation (ADCC) will jointly provide the advanced SB-S aviation safety service to the fast-growing Chinese aviation industry.
Under the partnership, Chinese airlines will now have access to a comprehensive package that integrates Inmarsat's Classic Aero and next-generation IP-based SB-S services. This will enable them, for the first time, to process all their data in China and fulfil the Civil Aviation Authority of China (CAAC)'s Airline Operations Centre (AOC) voice mandate and flight tracking requirements.
The collaboration will leverage the unique capabilities of CTTIC's Beijing satellite access station, ADCC's experience in providing flight datalink services in China and Inmarsat's proven expertise in providing market-leading satellite communications services to the aviation industry.
Captain Mary McMillan, Vice President of Aviation Safety and Operational Services at Inmarsat, said: "We are proud to be part of this partnership, which represents a major step into the future for the aviation industry in China. Our Classic Aero and SB-S platforms will enable CTTIC and ADCC to provide the most advanced satellite communications services wherever Chinese aircraft are flying, whether over the ocean or land."
Song Zhen, Vice President of CTTIC, said: "This is a milestone agreement, as CTTIC, ADCC and Inmarsat are strong leaders in their respective markets. This partnership combines our individual strengths to provide China's aviation industry with market-leading connectivity services for optimised aircraft operations."
Zhu Yanbo, Vice President of ADCC, said: "We are delighted to continue our relationship with Inmarsat, supporting the growth of safety and efficiency of China's aviation industry. We are also excited about the future possibilities that these services deliver."
Inmarsat's Classic Aero service is used by more than 90% of the world's oceanic aircraft for communication, navigation and surveillance. The company's next-generation SB-S platform, which was recently introduced into commercial service, is the first and only global, secure broadband platform for operations and safety communications. It offers airlines unprecedented visibility into their operations to improve operational efficiency and profitability.
The commercial service introduction follows a successful in-flight evaluation on Hawaiian Airlines' Boeing 767-300 aircraft and installations on the airline's entire Airbus A321neo fleet. SB-S is also in flight evaluations with Shenzhen Airlines and United Airlines, and has been selected by Airbus as a Light Cockpit Satcom (LCS) solution on its A320 and A330 families. It has undergone successful evaluation by the US Federal Aviation Administration (FAA)'s Performance-Based Aviation Rulemaking Committee (PARC) as a platform to provide direct data link communication between pilots and air traffic control (ATC). It received the prestigious 2018 Jane's ATC Award in the Technology category.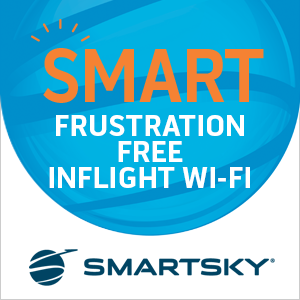 Inmarsat is transforming the global aviation industry by bringing connectivity to every aircraft and flight route in the world. Inmarsat is the first and only satellite communications provider, which using its own network, capable of bringing high-speed IP connectivity to the cabin and the cockpit.
About Inmarsat
Inmarsat is the leading provider of global mobile satellite communications services. Since 1979, Inmarsat has been providing reliable voice and high-speed data communications to governments, enterprises and other organisations, with a range of services that can be used on land, at sea or in the air. Inmarsat operates around the world, with a presence in the major ports and centres of commerce on every continent. Inmarsat is listed on the London Stock Exchange (ISAT.L). For more information, please visit www.inmarsat.com.
The Inmarsat press release newsfeed and corporate updates are on @InmarsatGloba