French composites manufacturer Equip'Aero Technique and Rockford UK have revealed a new electrified composite material which can be used to build hard components like aircraft seat tray tables. These are capable of powering electronic devices and transmitting content to passengers.
Rockford specializes in woven cable assemblies, including flat cabling that can be manufactured using a range of materials including Kevlar, Nomex, PEEK, Nylon and Polyester, while supporting applications from power to high throughput data transmissions. Its partner, Equip'Aero Technique, has developed an alternative to the common Nomex honeycomb sandwich, using a new foam sandwich solution, which allows a greater range of shapes and curves, while delivering weight and cost savings.
We met with Rockford's sales and marketing director, Chris Parsonage, during the Aircraft Interiors Expo in Hamburg to better understand how this new composite works. There we learned that the company is also working on alternative electrical fabric applications which would support other smart seat features.
"[Equip'Aero's] foam-filled composites are incredibly lightweight – 30% to 40% lighter than a traditional composite structure," Parsonage said. "To attach cables to [honeycomb] composites, they tend to drill holes, glue metal postings and then attach fixings and attach cabling to the composite structure. We came up with the idea of embedding cabling inside the composite structure so that it's completely hidden. It's cheaper and low-cost to install; aesthetically it is also a little more pleasing."
The companies built the working electrified seat tray that they brought to the Expo in 12 weeks. "We've completely embedded electrical cable inside the composite structure, and it is a USB high speed cable. So, as well as powering your tablet, you can actually send high speed video through the [tray table]," Parsonage said.
Rockford is exploring other applications for the electrified foam composite. "If you are designing a seat, or a monument, or overhead bins, or LED lighting systems, and you wanted to either lower the costs, or create more space by weaving the cable inside, we're looking at embedding different types of cables into the composite structure," Parsonage said.
Rockford also weaves cables into fabric, which allows them to deliver completely flat high-capacity cable. "We can take a fiberoptic cable, a high speed cable, a signal cable and maybe a power cable and weave them into a completely flat profile," Parsonage said. "We can either embed that within the composite or…we can weave the Kevlar thread or yarn into a completely flat cable…take 20 round cables and make them into a completely flat fabric, and use Velcro to fix it in place."
The electrified foam composite structure is currently completing flammability trials which are required for final approval for use in the aircraft cabin. Rockford is optimistic that they will pass because Equip'Aero has a decade of experience producing composites for aircraft structures.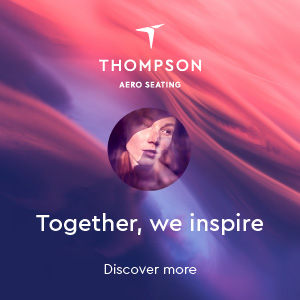 Rockford is also studying electrified threads which could be woven into cabin textiles. These might enable seat sensors to check passenger wellbeing on board. The company is currently studying the flammability impact of those.
Lightweight and flat electrical conductivity and data transfer solutions will increase in demand as a growing number of digital and electronic applications are introduced into the cabin.
Other creative PED power/data ideas were shared at the Expo. Airbus and Altran won a Crystal Cabin Award in the Materials & Components category for their joint printed electrics development, which uses conductive inks capable of transmitting data and current.
Astronics, meanwhile, demoed its latest wireless charging mechanism for premium seating at the event. It has long been innovating in this regard for economy class as well.
Related Articles: