Boeing Commercial Airplanes marked a major milestone on Sunday, 25 March, delivering to Singapore Airlines the airframer's first internally-designed commercial jet series manufactured outside of the Puget Sound region of Washington.
The first of 49 regionally-configured 787-10 Dreamliners landed at Changi Airport in Singapore late Wednesday morning. This delivery also made Singapore Group the first company to operate all three Dreamliner derivatives. The airline has announced that Perth and Osaka will be the first destinations served by this type.
During the ceremony attended by over 3,000 Boeing employees, guests, and international media, Boeing CEO Commercial Airplanes Kevin McAllister remarked on Boeing's 45-year relationship with Singapore Airlines dating back to the early days of the 737 (with Malaysia-Singapore Airlines) and most recently an order for the 777X and 787-10 which was commemoratively signed at the White House.
"This combination of all three 787s [types] will allow Singapore Airlines to put the right plane on the right route or their growth," said McAllister.
Following McAllister, Singapore Group CEO Goh Choon Phong commented on the unseasonably frigid air, but said, "Nothing beats the warm hospitality me and my team have received from Boeing [North] Carolina assembly," after which he thanked each work group that developed the aircraft.
Phong said the delivery of the aircraft is an honor, calling the plane a work of art, along with an important element in their growth strategy.
Boeing currently produces the three Dreamliner derivatives at what it calls "Rate 12", or 12 aircraft per month, with plans to increase production to 14 monthly in 2019. Plans are already being put into place to facilitate that increase, including a third generation automated stringer builder. Stringers are the backbone that adds rigidity to the carbon fibre barrels of the 787 aircraft. Boeing spokespeople refuse to disclose exactly how many planes are produced at each site.
Inside Singapore Airlines' new aircraft, the cabin is fit with Business and Economy cabins meant for "regional" flights, but would be considered long-haul layouts in the domestic US. The newly-introduced Business cabin has 36 seats, produced by Stelia Aerospace. The seats are arranged in rows of four, in a 1-2-1 configuration, offering each passenger direct access to the aisle.
Each seat has a lie-flat function and a large 18-inch screen to enjoy IFE programming by Panasonic's eX3 system. The IFE system can be controlled by finger touch, or by using the tethered remote control next to the seat. Passengers also have the option of signing in to their Kris Flyer account in order to upload a playlist of their favourite programmes or continue a show they were watching on a previous flight.
The Economy cabin has 301 seats, designed and built by Recaro, including a six-way adjustable head rest. The cabin is configured in rows of nine seats, arranged 3-3-3.
A Singapore Airlines spokesman says, "Economy seat width is 18". Business is 20" and up to 26" with armrests lowered. Economy seat pitch is 32" [and] 44" in Business." However, RGN has sought additional colour on how an 18″ width was achieved in Economy, requesting measurements for each triple-seat frame, each seat between the armrests, each armrest, and the aisle.
The screen size at these seats is 11.6 inches with high-definition viewing. The seats have a slouch-recline function, with a bottom cushion that pivots forward while the seat back reclines.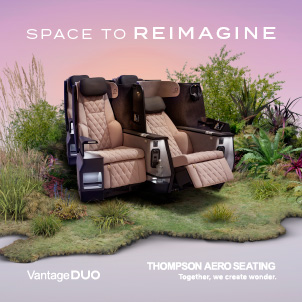 The seatback features a USB outlet, headphone outlet, and a fold-down cup holder. The tray table folds in half to accommodate either a drink or a full meal tray or laptop computer when fully extended.
In terms of a premium economy product, Phong said the demand is larger for long-haul flights, explaining why we will not see it on the 787-10, which is also void of crew rest bunks.
"The -10 is making possible a variety of missions that were previously not viable, because it is so much more efficient," he said.
He also said there have been no issues with the Rolls-Royce powered 787s already in their fleet, which other carriers have experienced. Rolls-Royce also powers Singapore's 787-10 with the Trent 1000-TEN.
Related Articles: