As the blisteringly fast installation of 2Ku inflight connectivity on the bulk of Delta Air Lines' domestic narrowbody fleet continues apace, not everything is going as smoothly as the involved parties had hoped.
An internal memo sent to flight attendants on 24 February by Joe McDermott, who oversees Delta cabin maintenance, highlights 2Ku's reliability issues and details a Delta action plan which sees the carrier becoming more involved in 2Ku maintenance.
The Gogo 2Ku system is currently installed on more than 400 Delta domestic aircraft. "There is no question that Wi-Fi performance, specifically 2Ku, has been disappointing in recent months. In some cases there have been outages that took over 30 days to be corrected," states the Delta memo.
Some of the memo's assertions about Wi-Fi reliability are corroborated by multiple reports on social media of installed but inoperable connectivity in recent months.
Hot take: @Gogo 2KU hasn't worked for me on any flight this year and @Delta needs to cut and run from this partnership. Poor FAs have to (unfairly) bear the brunt of customer dissatisfaction and complaints.

— Two If By Air (@twoifbyair) February 24, 2018
During its fourth quarter earnings conference call on 22 February, Gogo revealed that an unexpected issue arose during the high-pressure deicing process of aircraft. Gogo said deicing fluid had seeped under the radomes on a small number of aircraft and caused the antennas to get sticky. It said an easy fix had been agreed.
In a follow-up comment to RGN, a Gogo spokesman explained via email that the fix entails "a very small modification to the adaptor plate that prevents this from happening" and that all tails will have the modification complete by the end of the first quarter. "More importantly, on the tails that are not effected [sic], 2Ku is performing exactly as expected," he added.
Delta's memo says the deicing fluid issue required the carrier to install new "bulb seals" to prevent the ingestion of the fluid into the radome. However, seemingly in contradiction to Gogo's statement, the memo also suggests that "deicing fluid may be causing some of the issues, but it is highly unlikely to be causing this level of outages and degraded antennas. We now have Gogo sharing their reliability data so that we can identify other issues with the antennas to get them addressed."
Traditionally, Gogo repairs its installed Wi-Fi systems during overnight downtime when other cabin maintenance is completed. But this method is no longer cutting it for Delta, as its memo calls 2Ku "fragile and difficult to maintain".
Consequently, TechOps has stepped in to assist Gogo in troubleshooting and diagnostics of 2Ku, with the McDermott memo saying TechOps "is involving itself in multiple aspects of Gogo's operations. Some of these are on a temporary basis and some will be permanent."
Unlike the older Gogo air-to-ground antennas on Delta narrowbodies, 2Ku requires near ideal conditions for maintenance, forcing Delta to set hangar space aside for antenna replacements. Ground stands are also being designed for antenna swaps, as winds of more than 15 mph restrict the airline's ability to remove the radome, and precipitation prevents outdoor work as the antennas cannot get wet, notes the memo.
At the same time, TechOps has begun working directly with component manufacturers in order to design improvements into the 2Ku hardware, while Gogo is increasing its stock level in order to better facilitate antenna replacements.
Delta's decision to have its own TechOps team intervene and design improvements and changes to the hardware shows a lack of confidence in Gogo to resolve these ongoing issues alone.
Gogo chief operating officer John Wade tells Runway Girl Network:
While we respect that internal memos leaked to media often become news, we also know that those memos without proper context and framework often don't paint the full picture. We stand by what we said before, like all new technologies, we expect a certain amount of troubleshooting to get the system performing the way we engineered it and we are working through those issues.

During the height of the cold weather, we discovered an issue with deicing that's affecting performance on a small percentage of 2Ku equipped aircraft. We know that when our technologies don't work the way they should, Delta and their passengers are not happy. We also know this is particularly problematic for front line employees who have to live it each day. A fix is being implemented as we speak for those aircraft affected by the deicing and will be complete by the end of Q1.

To be clear, though, anyone suggesting that 2Ku can't and won't live up to the performance standards we set is not well informed.
The Gogo 2Ku system utilizes dual ThinKom-manufactured mechanically rotated flat panels and is unique to Gogo at this time. Consistent with an earlier statement to RGN, ThinKom CTO Bill Milroy says reduced antenna performance due to "splashed on deicing fluid" is the primary issue seen at ThinKom. "[I]t resolves itself as the fluid evaporates, and in any case an effective/simple fix (to prevent intrusion of the fluid) was defined and is in the process of being implemented."
As of 24 February, outages are "back down below 12 aircraft" with inoperative Wi-Fi systems, none of which have been offline for more than 10 days, but the number of affected aircraft "is still unacceptable", states the memo.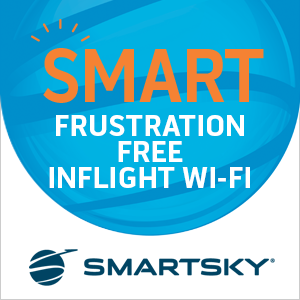 RGN sought additional comment about the broader reliability issues suggested in the memo. A Delta spokeswoman said today: "Customers expect that when we say there's Wi-Fi available onboard, it's as reliable and available as what they'd experience on the ground. We have that expectation too – ensuring that in-flight Wi-Fi is reliable and stable is a top priority. While there have been some challenges, we are working with Gogo to implement a solution for impacted aircraft, and we anticipate the deicing modification will be fully rolled out by the end of March.
"We are also continuing to partner with Gogo to equip our aircraft with 2Ku technology and identify new ways to further enhance Wi-Fi reliability, access and stability over the long term, just as we would with any partner and new technology."
Delta understands there are challenges to rolling out a brand new inflight connectivity system. But it also sees opportunities to eliminate the high costs and hurdles commonly associated with acquisition, installation and certification, while empowering mobile operators to extend their services into the cabin. As such, the carrier has separately partnered with Airbus, OneWeb, Sprint and Airtel on a so-called Seamless Air Alliance. Gogo is also involved in the alliance. Details of the exact plan are still somewhat vague. RGN will update readers as we learn more.
Additional reporting by Mary Kirby
Related Articles: