ThinKom Solutions, whose Falcon-Ku3030 antenna system was white labeled by Gogo as 2Ku, says it is working closely with current and emerging MEO and LEO operators – including O3b and OneWeb, respectively – in support of its development of high-performance user terminals for fixed, mobile, and aeronautical applications.
While all-electronic phased array solutions "seem to get all of the press", according to ThinKom, the firm believes its Variable Inclination Continuous Transverse Stub (VICTS)-based antenna technology (which is mechanically steered) is "very well positioned" to support service via these constellations, in addition to leveraging GEO as it does today.
"Talking generally, the antennas we are shipping now, 2Ku being an example, have the agility and bandwidth and capabilities required to launch service on OneWeb. The one thing that is missing is the modem," states ThinKom chairman and CTO William Milroy, who previously worked at Raytheon and before that, Hughes Aircraft Company.
"So generally, an iDirect or Gilat modem will not work with the OneWeb service. It's public information that it's a Qualcomm chip-based system … I can't say too much for the aero version, but it doesn't have special needs. You need to be able to switch modems or add a modem but the antennas, as an LRU, all have the capability and are software upgradeable – no hardware changes – to launch service on OneWeb."
Milroy's comments are in line with those made by Gogo CTO Anand Chari, who has suggested that some mild touching will be required to make 2Ku compatible with a shared GEO/LEO network such as that proposed by Intelsat and OneWeb. The new modem technology is envisaged as a drop-in replacement "and for the most part, the antenna is interoperable", said Chari in 2016. 
Where's Rockwell?
But how does ThinKom's hopes for supporting OneWeb's aero service mesh with the terminal work already underway at Rockwell Collins?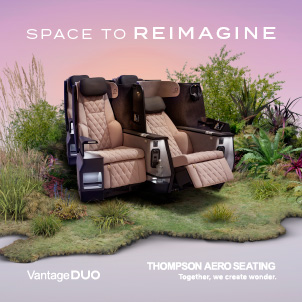 You'll recall that Rockwell Collins in 2015 signed an MOU with OneWeb "to be the exclusive developer and provider of satellite communication (satcom) terminals for OneWeb's global aviation high-speed broadband service" as well as to be an authorized value added reseller. In the fall of last year, during the APEX EXPO in Long Beach, Rockwell Collins unveiled its new phased array antenna to support OneWeb's aero service, as well as other networks. At that time, Rockwell Collins told Runway Girl Network that it had still not forged a formal agreement with OneWeb, noting that the MOU was "about ready to end and we are going to reinstitute that and strengthen our agreements with them going forward, with OneWeb".
ThinKom's Milroy says, "It's certainly public that Rockwell is supporting OneWeb; there was the MOU. We know the Rockwell Collins folks, and have a lot of respect for them." But he adds, "We wouldn't be moving forward with this if we didn't think we have a clear path to make this happen."
Acknowledging that "it's a bit off base for aero", ThinKom has nonetheless worked with OneWeb staffers as well as OneWeb founder and executive chairman Greg Wyler on the ground user terminal "from the outset", insists Milroy. "We have followed and are up to speed on the architecture and technical details; [we] feel like we have all the information, and our ground user terminals are using our same VICTS technology as in our Ku3030, white labeled 2Ku for Gogo. It's a little tangential, but it's a good endorsement that what we're saying is correct."
A solid start in commercial
RGN understands that Gogo 2Ku is rated internally by #PaxEx data firm Routehappy as being among the best inflight connectivity services in the sky, alongside ViaSat Exede.
With respect to some of the positive passenger reviews emerging about 2Ku, Milroy says ThinKom is "proud of what 2Ku has been able to achieve. We don't deserve all the credit, but deserve much of the credit."
Receiving accolades from Gogo and 2Ku customer Delta Air Lines – and simply getting the hardware out in the field – has aided Hawthorne, California-based ThinKom in spreading the word about its broader antenna portfolio. "We're accruing over 1 million hours now on our systems," says Milroy, adding that the technology is "proving we can work on flights way up into the arctic, not something you associate with phased array". [Note: RGN agrees with Peter Lemme's prior posts that the use of "phased array" to describe the ThinKom VICTS technology has led to some confusion.]
Why isn't the low-profile 2Ku system linefit offerable at the major airframers; is its unique design the main issue? ThinKom management says Arinc 791 compatibility is not a problem. "We'll all be shocked and disappointed if [it's] not linefit offerable on Airbus and Boeing," says Milroy.
On the weight front, he notes, "If we're comparing ourselves to the Honeywell [GX] brochures, I think we might be 5% or 10% heavier; not saying that's not a big deal but when you roll in the drag, we're hundreds of pounds lighter than effective drag weight of the typical gimbaled flat plate antenna." ViaSat's Don Buchman counters this assertion as it pertains to radome drag (traditional humps versus low-profile 2Ku), telling RGN recently that the firm has "done all of those aerodynamics. It's not even measurable, from what we've seen. All of our analysis says that."
Investing in the future
There is some exclusivity in the Ku-specific Ku3030 technology which ThinKom provides to Gogo. Though Milroy won't specify the exact details of the arrangement, he says broadly, "I'm not surprised there is a lot of curiosity, but it's true that [in] certain products in certain markets there is exclusivity."
He also notes, "We don't own any stock in Gogo and they don't own any stock in us."
Eager to leverage its achievement with the Gogo 2Ku program, ThinKom sees "a lot of other opportunities" for growth that are not covered by exclusivity. To that end, the firm is offering its 'Ka2517' Ka-band antenna (first teased in 2015), to the commercial sector. Ka2517 is significantly smaller and lighter than Ku3030.
"We do have a launch customer, the US Air Force, so that [Ka2517] antenna has been adopted and we competed with all the usual suspects [for install on] the E4-B fleet, that's the doomsday fleet. Our antenna has been adopted for that aircraft as the primary high-speed communications source. It's a 747, and a nice endorsement. That's essentially our off-the-shelf Ka system," notes Milroy.
ThinKom has invested a "considerable" amount of funding to develop its Ka antenna line. "That was purposeful. We're hoping to be able to make some announcements relative to [fresh] adoption soon," says Milroy.
But the general theme that electronically steered antennas are better remains frustrating to management. Milroy admits he takes "umbrage" with the notion that electronically steered antennas are more suitable for LEO and MEO constellations. He suggests that RGN's recent report about the disappointments pertaining to the timeline for bringing cost-effective phased array/metamaterials antennas to airlines underscores how electronic solutions are not necessarily ready for primetime in the price-sensitive commercial space.
"For sure, others are working in electronically scanned antennas, probably the best way to go for fighter jets, which are less price sensitive and [can] fully exploit agility, but in those we're talking a factor of ten times too expensive. There is no free lunch there…"
Moreover, he suggests, people assume that the notion of "no moving parts" means an antenna system is more reliable. "What's kind of amazing to us is that generally stuff we're doing now" with ThinKom antennas already meet the spectral efficiency needed for a hybrid aero terminal, but "we're being compared to what a Phasor or Kymeta marketing materials claim they will be doing in the future. What's everyone waiting for?"
Folks do come to us and say, 'what happens when electronically scanned antennas become available, won't that hurt your business? Because it's new and available in future, does that mean it's better?' We try to move the conversation to these quantitative discussions [see graphic below and 'spectral efficiency' comparisons in the pdf here KU3030vsGimbaledFPA_SpectralEffComparisons].

That's our burden to bear. Now that we have the product, we'll be more proactive on the advertising and messaging side. Everyone thinks electronically scanned arrays are newer, smaller; if that's not true, it's up to us to prove it.

This will be our coming out year to get the word out.
ThinKom's VICTS-based antenna technology can support aero operations at Ku-band, Ka-band, Q-band ….all the way through W-band (94 GHz), a key "future-proof" capability for next generation GEO, MEO, and LEO constellations, suggests Milroy.
Exactly how the LEO and MEO launches will progress remains to be seen. "I think everyone expects OneWeb, SpaceX, LeoSat, Telesat … I think everyone will agree that not all of them will get launched, but as an antenna supplier we're in the 'don't shoot us we're generic' [category]. As long as there is some LEO or MEO satellite system up there, it's good for us. We're well positioned for that.
"From a ThinKom standpoint, we want to be as attractive to as many constellations. I think V-band has a ways to go. [But] if industry goes to higher frequencies, we couldn't be more delighted; we already have products. We've flown the VICTS system in 94 GHz … so if that's where the market ends up going, we're ready and prepared."
Related Articles: