Copa Airlines, subsidiary of Copa Holdings, S.A., (NYSE: CPA), and member of the global Star Alliance airline network, begins 2018 with good news for its passengers, reaffirming its leadership and commitment to punctuality.
This differentiation factor was evaluated by renowned aeronautical analysis companies  Official Airline Guide of London (OAG) and FlightStats, which named Copa Airlines the "Most Punctual Airline in Latin America", the "Second Most Punctual Airline in The Americas", and the "Fourth Most Punctual Airline in the World".
Regarding this important achievement, Pedro Heilbron, president of Copa Airlines, said he was "very proud to receive these awards, which are the result of the dedication and commitment of the entire Copa Airlines team, who despite facing difficulties outside of the company's control in 2017, consolidated punctuality as one of our main factors of differentiation in the competitive aviation industry in Latin America and the world."
In relation to how passengers benefit from these awards, Heilbron said "the recognition confirms our priority and interest in meeting the needs of our passengers, who rely on us every day to arrive to their destinations on time."
As a result of this work, FlightStats, a leading company in aviation data and air travel services, which thoroughly observes the performance of airlines worldwide, awarded Copa Airlines for the fifth consecutive year as the "Most Punctual Airline in Latin America" in its 2017 On-Time Performance Service ranking, where it registered an index of 86.56%.
Similarly, according to the figures provided by OAG after analyzing information on 57 million flights, Copa Airlines achieved a punctuality index of 86.39% in 2017, that place it as the "Most Punctual Airline in Latin America", the "Fourth Most Punctual in the World". OAG considers the performance of the airlines based on cancellations, as well as arrivals and departures within 15 minutes of the scheduled time.
FlightStats classifies the scores based on the tracking of approximately 99,000 flights per day, operated and serviced by thousands of airlines and airports. Last year, more than 36 million flights were processed. The winners are chosen based on the analysis of flight status and arrival data from more than 600 world sources, including direct air operations data, airline data from the Global Distribution System (GDS), civil aviation authorities, airports and third parties.
These achievements symbolize and consolidate the commitment and interest of the airline have with passengers, who increasingly seek and demand a company that takes them to their business appointments, dream vacations and meeting with loved ones on time.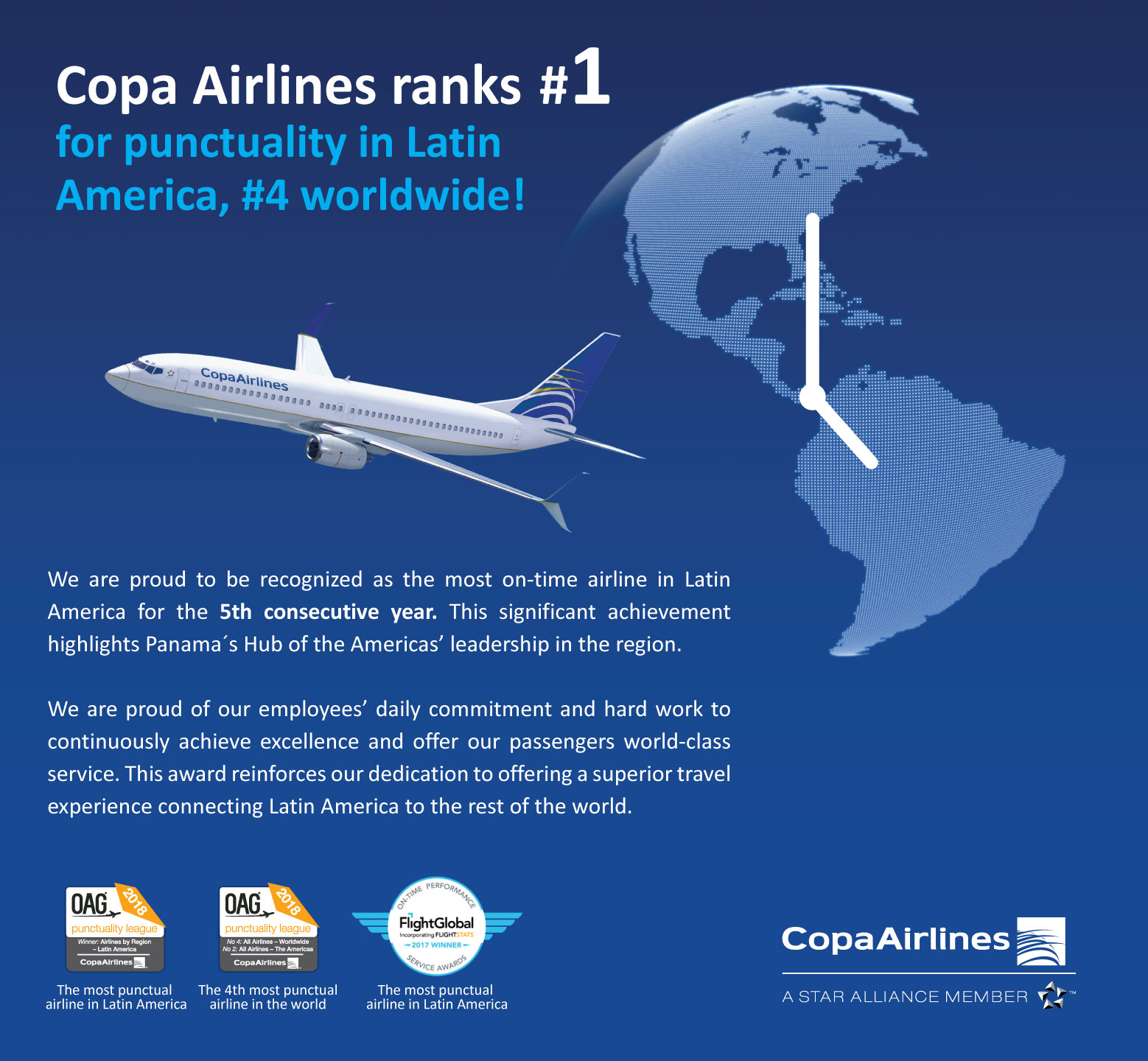 For more information about this year's awards, visit:
https://www.oag.com/2018-airport-airline-on-time-performance-report
https://www.flightstats.com/company/media/on-time-performance-awards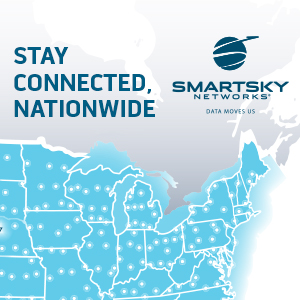 About Copa Holdings, S.A.
Copa Airlines and Copa Airlines Colombia, subsidiaries of Copa Holdings, are leading Latin American providers of passenger and cargo services. The airlines offer service to more than 70 destinations in 31 countries in North, Central and South America and the Caribbean. During Copa Airlines' 70 years of continuous operations, the Hub of the Americas in Panama has become the leading hub on the continent. Copa operates one of the youngest and most modern fleets in the industry, consisting of 100 aircraft: 77 Boeing 737 Next-Generation and 23 Embraer-190, and has an on-time performance of approximately 90 percent, one of the best in the industry. Based on its 2017 on-time performance, Copa Airlines has been recognized by FlightStats as the most on-time airline in Latin America for the fifth consecutive year, and ranked No. 4 worldwide by OAG. In addition, Copa received the award for "Leading Airline in Mexico and Central America" at the World Travel Awards and earned three Skytrax 2016 awards: "Best Airline in Central America / Caribbean," "Best Airline Staff Service in Central America / Caribbean," and "Best Regional Airline in Central America / Caribbean." Copa is a member of Star Alliance, which offers passengers more than 18,450 daily flights to 1,300 airports in 190 countries. Copa also has code-share agreements with United Airlines, Aeromexico, KLM, Lufthansa, Avianca, Iberia, GOL and TAME. To make and manage reservations, purchase tickets through secure online transactions in seven different currencies, check in online, print boarding passes, and get information about travel policies and immigration requirements, visit www.copa.com. Visit www.ConnectMiles.com to learn about enhancements and updates to Copa Airlines' passenger-loyalty program.
Featured image credited to istock.com/JakeOlimb