Aircraft avionics specialists and inflight connectivity providers are using 3D printers to rapidly prototype components for antennas and other systems, but some stakeholders are eager to go further with the technology in a bid to drive out weight and cost.
Thales Group, for instance, last year opened a 3D printing plant in Morocco. At present, the center is developing parts for Thales Alenia Space, but Thales Group is investing in additive manufacturing for in-house parts used in aerospace.
Manufacturing and validation testing of avionics parts is already underway, the firm reveals to Runway Girl Network. "By 2018-2019 Thales expects that it will have the required maturity level for manufacturing a validated, repeatable, and reliable series of parts for aviation," says a spokesman.
"One example of a potential avionics part that can be developed using this method is an antenna mount."
Thales ultimately aspires to create a 3D metallic printing production chain that meets the needs of both the Group and its customers. And Morocco is serving as a strategic part of this global delivery platform.
Additive Manufacturing is also an area of near-term interest for antenna supplier ThinKom. The company, whose Ku3030 antenna was white labeled by Gogo as 2Ku, currently uses 3D printers at its Hawthorne, California-based facility, but the machines are primarily employed for prototyping of individual components, rather than fabrication of an entire integrated antenna.
ThinKom believes its Continuous Transverse Stub (CTS) and Variable Inclination Continuous Transverse Stub (VICTS) antenna technology and architecture "is unusually well-suited for Additive Manufacturing (AM) techniques", says CTO William Milroy, as its apertures are totally passive (no discrete RF components) and are comprised solely of air and aluminum (no substrates, PWBs, interconnects, pick-and-place components, soldering, bonding, etc.).
As such, he says, "a very simple (inexpensive) metal AM process ("sintered-aluminum" for example) would be perfect for us."
The only challenges and impediments to immediate adoption, adds Milroy "are related to (sintered) surface roughness (we like relatively smooth surface finishes to keep RF losses low, particular at frequencies of 30 GHz and above) and maximum printable size/area….though the AM industry is aggressively addressing both of these topics, so we are very optimistic!"
Satellite operator and Ka-band inflight connectivity provider ViaSat admits it is also "pretty excited about 3D printing".
"We think, even for our traditional antennas, if we could get to a 3D printing model, you've shaved off cost and weight. And those are two big elements for an airline because the heavier an antenna is from any of us, then the installation becomes heavier, so if you can get that cheaper and lighter, you have less there and then it helps you with manufacturing and time to market," he says.
"There are still some leaps that have to be made there around materials for this industry but we see a lot of promise."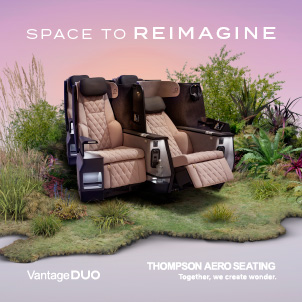 ViaSat is also eyeing a future where phased array antennas are commercially viable for its residential and ultimately aero connectivity customers.
"So we have work we're doing R&D-wise. For us it's a big thing, even for the homes. We'd like a cheap phased array so that we can have self-installs. So I'd love someone to be able to buy their ViaSat residential service, go down to Costco, pick up a solution, come home, nail it to the wall, it's a phased array, get it pointed generally south and then it just requires a satellite and you're up. That would be a dream. And so, that same technology is what we'd want to put into an aircraft as well. Because you're consumer electronics and you're basically getting the cost and the performance down to a level that makes sense. A lot of work to do," says ViaSat's Buchman.
Meanwhile, Casio's 2.5D printer called Mofrel could make a splash in aircraft interiors prototyping. On display at the recent CES exhibition in Las Vegas, the technology can create the textures of leather, textiles and other materials realistically on paper.
Casio says the work of creating design prototypes is greatly simplified with Mofrel. And it has positioned Mofrel as bringing exciting innovation to design in such areas as automobile interior decoration. This is an area where we're also seeing increased cross-pollination and collaboration with the aircraft interiors world.
Mofrel is described in the video below.
Related Articles: