It's often surprising how few airlines produce, commission or even partner with travel content creators, both to encourage travel to their network destinations and to provide a relatively evergreen slate of travel-related — and often, crucially, "snackable" — content for inflight entertainment.
Japanese airline All Nippon Airways, however, stands out from the crowd. "As more non-Japanese customers are flying with ANA, our entertainment strategy is to provide contents that are interesting for not only Japanese passengers, but also foreign travelers and passengers from different age groups," a spokesperson for ANA's Products & Services Strategy division tells Runway Girl Network.
Two key programmes, SKYEYE and SELECTRAVEL, are part of ANA's Taste of Japan initiative, which shows off the rural highlights of Japanese cuisine through both inflight meals and videos. "The first phase mainly promoted each of Japan's 47 prefectures, introducing the local food and ingredients, as well as sightseeing locations," the airline explains. "We have successfully concluded this first phase, and now moved on to the second phase in which we introduce Japan by dividing the county into eight regions, and plan to unveil the specialties and attractions of each region."
The first entertainment programme, SKYEYE, visits each of Japan's 47 prefectures, with the host either an ANA staff member from the area — embodying the principle of /omotenashi/, the traditional Japanese concept of hospitality — or alternatively a local celebrity. In the episode covering the well-known apple-growing prefecture of Aomori in Japan's far north, Miss Apple 2015 Kanako Hiranuma hosts, with dubbing into English.
Often, one or more of the popular local yuruchara cartoon mascots will be involved — in Aomori's case, Takamaru-kun, the hawk mascot of Hirosaki Castle, pops up throughout the episode.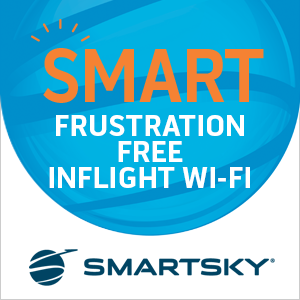 "The series began from September 2013," the airline explains. "There were many scenes filmed from the sky using multi-copters (drones), while filming with drones was still not so common at that time. The purpose was to let the program give customers (regardless of their origins) a new experience to view the beautiful scenery of Japan."
Drone and ground photographers make for an appealing and unusual set of views when introducing landscapes and landmarks to visit, with other segments covering local delicacies, artisanal crafts and a variety of topics of interest to visitors.
The tone and style are charming, quirky and whimsical — if unusual for most western audiences — providing a useful bridge to the different pacing, tropes and presentation of Japanese television.
It's gone down well with passengers too. "We have received many positive comments throughout the years from both Japanese & non-Japanese customers," the airline says.
Indeed, your author learned about the handcrafted nodding-head papier-mâché traditional /akabeko/ cow that serves as a good luck charm in the episode covering Fukushima prefecture, and one now graces his mantlepiece after a visit to Aizu-Wakamatsu.
SELECTRAVEL, meanwhile, is new for 2017, with the first episode released in December.
The show is presented by two international speakers of Japanese, dubbed for the overseas audience. "As the number of non-Japanese customers on board is constantly increasing, we thought of a new program that would further awake their interest," ANA says.
Each presenter travels from point A to point B via a different route with a different theme: Otaru to Hakodate via a "luxury" and a "reasonable" route a third as expensive, for example, or a choice of "exciting" and "scenery" trips through Hokkaido's centre.
Covering local attractions and must-eat dishes that make up a lot of the draw of regional Japan for both domestic and international visitors, the show also provides helpful local transport information, like a guide to Hakodate's tram pass.
Acknowledging the growing focus on Instagram and other photo-based social media, there's also a segment geared towards helping viewers to improve their smartphone photography.
Languages are expanding too, ANA says, with programmes "now in Japanese, English and Chinese. We will consider to include new languages based on customer feedback."
With multiple ways for the airline to showcase its destinations — and to associate itself in the minds of passengers with a warm welcome — ANA's ongoing content programme seems set to continue to evolve.
Related Articles: