SmartTray® Rail & Bus, LLC, announced today, it will unveil its "no wires" integrated PED holders in passenger seats and tray tables for use in rail and bus masstransit at the upcoming UMA MOTORCOACH EXPO 2018, San Antonio, Texas, January 6-10, 2018.
Each year nearly 2,000 industry professionals and vendors gather at UMA's EXPO to see the latest advances in masstransit technology designed to improve travelers comfort, experience and customer loyalty. SmartTray will be offering product demonstrations of its latest product designs that wirelessly charge travelers personal electronic devices in SmartTray® device-friendly intelligent tray tables and passenger seats as well as its non-powered PED holders.
"Todays' travelers expect to be able to use their mobile devices to keep in touch, work, and watch movies when traveling," said Nick Pajic, the President & CEO of SmartTray Rail & Bus, "therefore, making it easy, safe, and convenient is top priority for mass-transit operators," added Pajic.
SmartTray® tables allow hands-free operation – no fatigue from holding smartphones and tablets onboard; "no wires" wireless charging; tablets and smartphones are always within arm's reach and in full sight; gripped firmly in SmartTray's patented PED holders lowering the risk of falling off tray tables during vehicle unexpected turns or stops.
"SmartTray patented tray tables performed without a single failure in one of the most extreme weather conditions on the planet for nearly two years," said Jay Esty, Chief Operating Officer of SmartTray. "Swapping out traditional food tray tables with SmartTray device friendly tray tables is simple, fast, and the most costeffective, practical solution to meeting today's travelers demands," added Esty.
SmartTray products are tested for a minimum of 40,000 operating cycles, install in minutes per passenger seat, and are virtually maintenance free. Available for immediate deployment for aftermarket and linefit applications.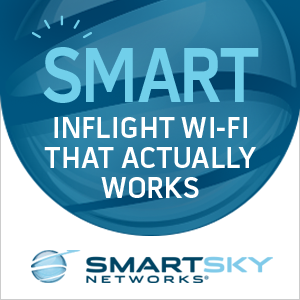 ABOUT SMARTTRAY
SmartTray® International, LLC, SmartTray® Rail & Bus, LLC, and SmartTray® Automotive, LLC, work with companies around the globe to integrate and deploy SmartTray patented powered and nonpowered PED friendly tray tables for use in aerospace, rail, bus, automotive, and marine transportation. SmartTray mobile-device friendly tray tables facilitate hands-free use of portable electronic devices without taking up usable space on tray tables. SmartTray® tables provide enhanced ergonomics, better space management, and improved comfort and convenience over conventional tray tables. SmartTray® International, LLC, SmartTray® Rail & Bus, LLC, and SmartTray® Automotive, LLC, are privately owned. For more information, please visit: www.thesmarttray.com.
LICENSING
SmartTray International, LLC, is the owner of all granted utility and design patents, including pending patent applications in the USA and internationally. SmartTray is actively pursuing licensees for rail, bus, automotive and marine transportation applications. SmartTray® is a registered trademark of SmartTray International, LLC, U.S. Trademark Registration No. 4,831,166.