Few who watched the recent BBC Blue Planet II episode depicting the plight of a mother pilot whale mourning her dead calf, which had likely been poisoned by discarded plastic, could fail to have been moved.
According to the Ellen Macarthur Foundation, by 2050 the world's oceans will contain more plastics than fish, unless our use of this convenient but notoriously slow to degrade material reduces.
One company seeking to reverse some of the damage that has been done is Galileo Watermark. It has developed a range of cosmetics for use on board aircraft which is packaged in plastic that has been recovered from oceans and waterways, and repurposed.
The cosmetics range is being marketed and branded as OCN, and Galileo is in "extensive discussions" to find an airline launch customer.
The company is also working on a range of textiles made out of discarded fishing nets and inflight meal service items made from recovered ocean plastic. Galileo aims to launch these two ranges in the second and fourth quarters of 2018, respectively.
"For over two years we've been determined to try to find a solution to not only the industry's reliance on virgin material but also the accumulation of plastic within the ocean, waterways and on our beaches and coastal areas," Galileo Watermark's head of aviation, Kenny Harmel, tells Runway Girl Network.
"From here, we reached out to a number of organizations around the world committed to preventing plastic from entering the marine ecosystem, as well as trying to aid collection and recycling efforts for plastic already there."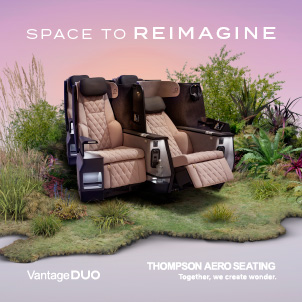 In order to collect the ocean plastic, Galileo works with foundations, charities and local authorities involved in beach clean-ups around the world. Its aim is to develop "localized solutions on a global scale". So far, it has established operations in the UK, North America and Australia.
Galileo will organize, transport and consolidate the collected material, and will use a network of recyclers and pelletizers to turn the recovered plastic into vessels for its inflight skincare range.
The products inside the recycled containers are designed to be "as natural as possible" to ensure that should they wash into waterways and oceans, they would be "harmless", he adds.
Galileo is describing its OCN range as "a first" for aviation, but points to similar initiatives that have been carried out in other sectors by manufacturers including Proctor & Gamble, Method and Adidas.
"Almost all plastic that has been manufactured is still on our planet, so it is crucial that we not only re-evaluate plastic usage but also that we see existing plastic as a resource, rather than waste, and give it another lifecycle, instead of just making more," says Harmel.
Galileo is also keen to ensure that the ocean plastic used to make its cosmetics containers does not end up back in the ocean. As such, it is "collaborating with a number of organizations responsible for collecting waste from airlines" to implement a "closed loop" solution, says Harmel.
However, he admits that this is challenging, particularly with international air travel, because industry regulations mean that "certain waste is treated as high risk and sent for incineration, or buried in landfill".
Galileo is hopeful that its actions will "put pressure on others within the industry to reduce the extent of virgin material within their supply chain, and seek more sustainable alternatives", says Harmel.
The company wants to collaborate "with anyone that is keen to make a difference and use ocean plastic within their supply chain", and will work with agencies and foundations to raise awareness of the issue.
Harmel says he hopes to make an announcement on a launch customer for the OCN range soon, and is "open to discussions with anyone that may be interested in lessening the impact they have on the environment".
Related Articles:
Featured image credited to Galileo Watermark