An information challenge for passenger experience is just cresting the horizon for airlines, seatmakers, inflight entertainment suppliers and their inseat power system sub-suppliers: helping passengers figure out whether the new generation of USB 3 Type-C sockets will charge their device on board.
These new sockets give airlines the option to provide a greater amount of power than over the older USB 2 standards using the rectangular Type A sockets we see today via direct current (DC) rather than having to convert it to alternating current (AC) for a standard 110-volt electrical power outlet. It's certainly an attractive option for carriers.
In its latest Boeing 777-300ER configuration, Emirates, for example, has installed the USB Type-C shaped sockets in addition to Type A. Passengers will be able to directly charge a wide variety of personal devices, ranging from smartphones to laptops, which now have USB Type-C charging capabilities. The challenge is that this list includes some of the most power-hungry laptops around. The latest fifteen-inch MacBook Pro's charger, for example, ships with an 87 watt power adapter, which is more than three times the amount of wattage available in Emirates' latest business class seat.
Patrick Brannelly, Emirates' divisional vice president for customer experience – inflight entertainment & connectivity, explains to RGN that the carrier's USB-C sockets have "a maximum of 27 watts of power from the single remote USB-C in First and Business, limited by the DC power from the SPM [seat power module, referred to as the seat power box or remote power module by certain manufacturers]."
"If two devices are used," Brannelly notes, as in the economy class seatback integrated USB sockets, "then it will deliver 15W USB-C and 12W maximum USB-A."
"As for an iPhone," Brannelly says, which requires "about 10 watts, and an iPad 12 watts, USB-C should be fine."
As part of the discussion, RGN asked Brannelly whether the seats would power an average modern laptop, giving the popular and widely used MacBook family from Apple as an example. Says Brannelly:
MacBook, MacBook Air and MacBook Pros chargers provide power through the range of 29 watts to 87 watts. I would say the MacBook with 29 watts power requirement would power up and work fine through inseat USB-C but may not charge effectively if it is used at the same time at full load.

For the MacBook Pro 13-inch's 61 watts and the 15-inch's 87 watts, inseat AC outlets with the Mac provided power adaptor will work better.
"This is complicated," Brannelly admits, suggesting that for passengers it may be "clear as mud".
Brannelly suggests, however, that "users are getting used to the fact that 'fast charge' doesn't work from every socket. I've been using USB-C for two years and if I use the adapter that came with the phone I get a full load in about 45 minutes." Other sockets or chargers, of course, will work differently.
In-seat power stakeholders weigh in
"USB-C is still relatively new but is quite flexible," digEcor chief executive David Withers tells Runway Girl Network. "As vendors migrate from USB-A they are initially implementing "hybrid" solutions that utilise existing seat hardware, minimise investment and address the lower power elements of the standard. This is helping to speed up time to market. The consumer market is much slower to migrate to USB-C than many thought so it's not surprising our industry is taking a cautious approach."
Currently, IFPL vice president of business development David Thomas summarises, "typically, based on current systems you would need to convert 28V DC to USB Power Delivery, which can range from 15 watts to 100 watts, but this would be limited by the capability of the power supply an system architecture. USB default power is 15 watts; above this you would need to use the USB Power Delivery standards. Current on board power architectures would require significant modification to be able to support USB PD to 100 watts."
Astronics' director of business development Dennis Markert notes, however, that "we have not seen nor been advised by the major smartphone, tablet and notebook manufacturers that they will actually be manufacturing PEDs that require the full 100 Watts" contained within the USB Power Delivery (PD) standard using a Type C connector. "What we see is a requirement in the neighborhood of 60 watts, so this is our target power level for on aircraft Type C system."
Astronics' latest Type C system, Markert confirms, offers 60 watts at each outlet.
The three vendors have different perspectives on the level of understanding and engagement among airline customers, however. "We have over 220 direct airline customers and understanding Type C as a new Power Delivery specification varies," Astronics' Markert says, noting that USB PD "is a consumer specification and it will take some time for all of the airlines to gain a full understanding. Even the consumer market is still learning."
IFPL's Thomas concurs, acknowledging that "this is a reasonably complex subject and airlines are only starting to investigate this issues and understanding the technical, regulatory and commercial trade off."
David Withers of digEcor is more positive, however, suggesting that, "Our customers are well aware of the passenger power options available to them and the benefits and challenges with the different solutions. USB-C will only become a major element of airline investment when consumer electronics require it."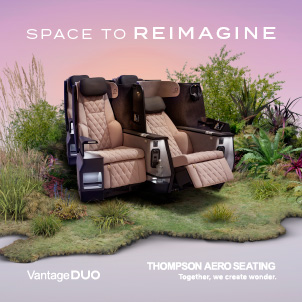 Looking to the future, once the information problem is addressed, Withers also predicts that "the other major issue for USB-C is the long term reliability of the connector: it will get damaged and need regular replacement."
Smart airlines that want to give passengers the information they need to make a decision about whether to pull out the full charger or whether to simply plug straight into the system have a number of options, ranging from simple etching or printing of "Max 15W" or similar, through to a system of colour-coding akin to the blue-tongued USB Type A sockets, which never really took off.
Part of the problem in the airline context, though, is the fact that power is supplied through IFE systems, whose manufacturers largely use components from sub-suppliers. Clear specification on the part of airlines — and the ability of suppliers to see that executed smartly — will be increasingly key to ensuring happy passengers with charged devices on board.
Related Articles: