Panasonic Avionics is tackling inflight connectivity quality-of-service issues on United Airlines' eXConnect Ku-fitted aircraft with the holy trinity of its new Newtec modem, better satellite coverage and lots more capacity.
The company has been the focus of unfavorable reports, with both United management and its passengers expressing their discontent about the Ku service, which is present on longhaul flights, as well as Airbus narrowbodies.
David Bruner, who serves as VP, global sales & marketing at Panasonic Avionics, tells RGN: "United is very serious about providing excellent Internet connectivity and wireless entertainment for their passengers. The number of Internet and wireless entertainment users has grown dramatically over the years and more capability is needed to meet United's customer requirements. The upgrade is in process now and proceeding quickly for the entire Panasonic-equipped fleet."
He continues, "The new system provides United with the industry's greatest satellite modem capability, best in class satellite coverage and massive amounts of new satellite capacity all over the world. Panasonic believes United's passengers are going to be extremely pleased with United's investment in this new high-performance connectivity system."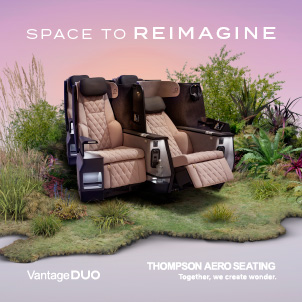 Panasonic is not relegating the Newtec modem upgrades to United, of course. Bruner says roughly 70% of Panasonic's eXConnect customers have already opted to upgrade to the new modem, which is described as being capable of supporting speeds in excess of 400 Mbps. The IFEC giant expects to see 100% adoption within 24 months.
"We do have some airlines that have retirements coming up so they're all trying to judge what makes sense," says Bruner. "We're working with airline customers on making those decisions but for most of them it's a swap of the box for a satellite modem."
Nearly all airline customers will also benefit from the new capacity coming on line.
"You'll see in the next 12 to 24 months significant changes roll through because all of these satellite investments we committed to three or four years ago are coming into effect right now," says Bruner. "In 2018, depending on what airline you are [flying], 82% to maybe as high as 88% of your total route structure will be under High Throughput Satellites (HTS), so the only ones that won't will be perhaps southern oceans, something like that. But even in those areas we're doubling and tripling capacity so I think it will help. I think you'll see a more robust experience."
The Eutelsat 172B satellite, which entered full commercial service last month, is one example of a HTS which will dramatically improve service. It is the first satellite with Ku spotbeams that have been specifically optimized for inflight connectivity across the Pacific.
Once the throughput is there, it will "stimulate demand" and give airlines the option of offering lower prices, bigger MB packages of data and some complimentary service to higher-status frequent flyer members, suggests Bruner.
"Every airline has a slightly different way to classify passengers by status and I think you'll see more of that take place once they don't feel like they have a capacity throughput problem. Particularly as our 80 airline [customers of eXConnect] start to ripple through and get their upgrades. Those that have purchased the upgrade will have that capability and start to encourage more utilization."
Related Articles: