Airbus' recent focus on bringing cabin upgrades in-house is part of a shift in how the airframer sees its role in servicing — rather than just supporting — the aftersales market, with its eyes on lucrative maintenance, repair and overhaul (MRO) business. Vice president of upgrade services Xavier Bertran sat down with Runway Girl Network to explain the carrier's vision in the wider context of the interiors market and the changing scope of an airframer.
The move, which spans the Airbus portfolio of aircraft, is particularly noteworthy given that there is a relative oversupply of MRO capacity thanks to increasingly reliable aircraft with commensurately longer service intervals — and often fewer engines as the result of the transition to twinjet flying.
"We're putting much greater focus now," into the overhaul market, Bertran told RGN, "because in fact as we increase in service aircraft, the demand is increasing…" Quite simply, Airbus is seeing more and more customers willing to update systems and other interiors. "So there's a real market traction and our role and our mission is really to keep those in service aircraft really up to date. This is really our role."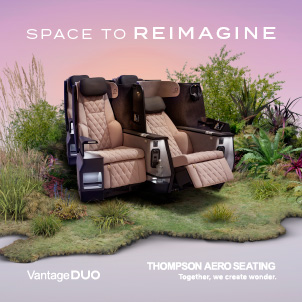 RGN asked Bertran whether this work was being drawn into the Airbus family because aircraft interiors industry suppliers haven't been delivering to the time, specification and quality that customers would want – a reality underscored again recently when Zodiac Aerospace confirmed to RGN editor Mary Kirby that it is shuttering its Seats California business and consolidating it with facilities in Texas and Mexico, following a FAA airworthiness directive affecting regional aircraft seats, and more broadly, production delays that it believes are now in hand.
"For sure, and I think we have a responsibility to make sure that that ecosystem is working properly, and that that industrial space is actually stepping up to the challenges they're facing. And the challenges are big. I think that in the future that's going to be a major driver," Bertran said.
For the cabin industry, Bertran continued, "times where you were a little manufacturer and you were doing your things in your corner, these times are coming to an end. You need to be serialized, industrialized, while delivering quality, durability — this is what I'm hearing from customers. Quality, durability, reliability, robustness. This is becoming more and more increasingly important."
It's not necessarily about the size of the manufacturer, though. "I've seen conglomerates which have the same problems as small companies and vice versa, so I don't think size is such a critical issue. It really depends on expertise, confidence, how you set yourself up, and the way you conduct your business."
Delving more deeply into Airbus' role, Bertran told RGN that it's partly driven by the number of aircraft on the market, even with the roughly contemporaneous glut of MRO operations.
"Typically," he said, "we come into play earliest three years after, latest maybe fifteen years, so if you look back at what we've done, at how many airplanes have been delivered, you can very, very quickly see the reasoning why today we're in that position where we are. And on upgrades, we've been growing fairly well, between 10% and 20% year-on-year so far, and you just have to look back on that and you can see that the driver is there, and it's really that driver, plus I see a lot of customers really trying too hard to compete better in the market. Differentiation, economics, more passenger seats — when we come out with a novelty solutions like extra seats or anything, then that is taken by the market."
The context from an airline perspective is that carriers are "always driven by improving, basically by trying to optimize economics by themselves," Bertran explained. "They've been largely driven through that. The question of affordability versus 'what can I do to improve the layout and improve my economic situation?"
Beyond that, airlines are motivated "to meet the competition they're driving, and then lately there's also been quite a few customers which are trying to bring in [the] latest connectivity solutions on board, latest wifi, and this type of innovation into the cabin. And here we're dealing with the aircraft which are between eight and twelve years, so that's the timeframe where now we see these things coming through."
All aircraft currently being produced by Airbus are included. "On A330s, this has always been quite a good market for us, in terms of cabin reconfiguration, there's always been customers coming in wanting to change things and so on. We've seen a much increased growth in A320s, largely driven through innovation in product, so extra seating. This is really driving a lot of the projects we're doing at the moment," said the Airbus executive.
Airbus has a natural niche for the A380, too, with the airframer's recent selection by Qantas and Singapore Airlines to refit their superjumbos both a vote of confidence in the aircraft and in Airbus' refit solutions to upgrade the fleet.
"Qantas believes in the aircraft, they have confidence in the aircraft, and what we've done is to support them and serve them in optimising the way they gain benefit from that aircraft," Bertran said. "I think that's a very valid project and a very valuable opportunity for both companies, and that's what's driving us to find that agreement and say, 'yes, let's do it.' That's what's happened in a very short time, so that again is a good demonstration that Qantas was very quick on the ball to say, 'Yes, this is what we want to do.'"
With respect to Singapore Airlines, the carrier's "trust in our retrofit competencies is a positive sign for the development of our services business, in particular in the fast growing Asia-Pacific region," said Laurent Martinez, head of services by Airbus, in a statement.
The key for Airbus will be to ensure that its own management of its upgrade services is up to time, spec and budget — and that its own suppliers are too. Helping to keep Airbus on its toes, no doubt, are clear competitors in the refurbishment space including Lufthansa Technik (which carries a big stick), as well as the suppliers which are pitching mid-life retrofits like the Lufthansa Technik and Diehl improvements on Airbus' Space-Flex,  Zodiac's A320 ECOS cabin with swing bins, and new space-saving lavatories in various aircraft.
But Airbus wants some of that pie too.
Related Articles: