Air Canada is nothing short of thrilled to be rolling out Gogo 2Ku satellite connectivity on its widebody aircraft, and is assuring passengers that the service will not use consumption pricing, a model being adopted by many other operators around the world.
During a late November briefing to unveil the new Air Canada Signature Suite lounge in Toronto Pearson, company president, passenger airlines Benjamin Smith said passengers "are looking for" high-speed Internet connectivity on Air Canada's longhaul flights "and in Canada many of our competitors are transpacific and transatlantic carriers so the bulk of them do not have this feature in their product offering".
Said Smith:
We just got certification in Canada, which is a little more difficult than getting that in the US. So we will have our triples [777s] done in the next two months and we'll have 787s within two or three months right after [that]. The A330s we'll have done [before the end] of this year. So our entire international fleet will have 2Ku, which we are excited about.
Air Canada has, of course, been rolling out Gogo 2Ku on its low-cost carrier division Rouge's Airbus A319 fleet, as first reported by RGN. The airline offers flat-rate pricing for both its Gogo air-to-ground (ATG)-fitted domestic aircraft and 2Ku-fitted Rouge jets. Passengers can pay for the wifi either on board or pre-flight, with Gogo describing the Rouge 2Ku passenger experience for a one-hour pass thusly:
Gogo expects that users of this pass on Air Canada Rouge satellite-equipped aircraft will typically experience download speeds of 250 Kbps-3 Mbps for the first 150 MB downloaded and upload speeds of 100-400 Kbps for the first 50 MB uploaded. After the first 150 MB downloaded, Gogo expects that these users will typically experience download speeds of 200-400 Kbps, and after the first 50 MB uploaded, Gogo expects that these users will typically experience upload speeds of 100-200 Kbps. We expect that these users will typically experience latency of 600-1000 ms.
Notably, while Rouge passengers appear to be throttled by Gogo after the first 150 MB downloaded, they not allocated a set amount of megabytes for the flat rate.
Gogo is also providing a complimentary Gogo wifi benefit to members of its Altitude loyalty program, a move very much in line with the type of arrangements that Gogo CEO Michael Small has suggested 2Ku, specifically, is well-primed to support.
Caps off to you
Paying customers of 2Ku-powered Internet on Air Canada longhaul flights will not be capped "like you find on other carriers", company VP, product Andrew Yiu assured.
Such caps at other carriers, by the way, are becoming increasingly eyebrow-raising. Australian Business Traveler  reports that Malaysia Airlines will offer MB packages of Panasonic Avionics Ku – at Kbps speeds – on its A350s, which surely speaks to the cost of providing global satellite connectivity to passengers. See also TAP Air Portugal's candid comments about cost, as it readies to offer Panasonic Ku on new A330neos.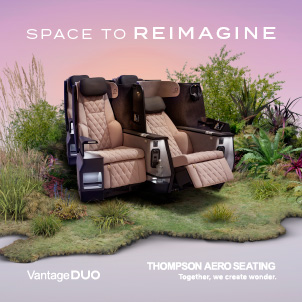 A journalist attending the Air Canada briefing lamented, "I have fallen into that trap of buying data for the whole flight not realizing it is capped and then using it up in the first hour or so." Responded Air Canada's Yiu: "You won't have that issue on our program. There will not be a cap." The finer details of the carrier's longhaul Internet pricing will be revealed in time.
Air Canada competitor WestJet does not cap its Ku-band connectivity, which is provided by Panasonic. But most of Panasonic's airline customers have been moving to MB packages to prevent bandwidth-hungry individuals from consuming the pipe and degrading the experience for other passengers.
In a recent interview with RGN, Panasonic VP, global sales & marketing David Bruner noted that "the airlines' cost go up based on MBs consumed so most of them are transparent to the customer on that basis".
Some of Panasonic's customers "think there is a perception improvement by not stating any limitations", though connect time can be based on the number of MBs being used, even if it is not explicitly laid out. "It all works out to be near the same but slightly different marketing packaging of the service."
The details of the financial arrangement between Gogo and Air Canada are, naturally, not publicized. And while some analysts are curious about Gogo's Ku satellite transponder costs through 2021 and thereafter (as outlined in its SEC filings), Air Canada's Yiu told RGN that the carrier is comfortable with Gogo's positioning in the market. If Air Canada is willing to pay to ensure passengers have unfettered access to the Internet, that's good news for #PaxEx.
Additional reporting by Becca Alkema.
Related Articles: