Narrowbody operator flydubai is pushing the boundaries of Boeing 737 passenger experience with a new cabin for its Boeing 737 MAX 8 aircraft and a gargantuan order for up to 225 more Boeing 737 MAX aircraft to drive expansion.
The carrier previously had 76 Boeing 737 MAX aircraft on order. The MAXs will feature ten Thompson Vantage fully flat beds (of which two have direct aisle access in the throne configuration) and a fully featured economy class cabin with Recaro CL3710 seats behind. Aircraft A6-MAX is the carrier's first delivery, which was made in August, and which entered commercial service in a pattern of short hops to Muscat and Kuwait in addition to the longer haul leg to Bangkok.
Both cabins in the MAXs feature Zodiac RAVE on-demand inflight entertainment systems, and flydubai spokesperson Elizabeth Maclean confirmed to Runway Girl Network that the carrier will take RAVE fleetwide on the Boeing 737 MAX — a massive order for RAVE, which replaces the erstwhile Lumexis as Flydubai's supplier of inflight entertainment.
The flydubai MAX 8 is a harbinger of the future passenger experience options that will be offered by carriers operating premium narrowbody fleets or subfleets. The airline's existing 61 Boeing 737NG aircraft offer a mix of all-economy aircraft and two-class configurations with recliner seats, and the addition of the longer-range MAX 8's upgraded passenger experience will change the state of play for flydubai — and its markets, with flydubai's Elizabeth Maclean confirming to RGN that Bangkok will be the first destination for the MAX 8.
This map emphasises just how much of the world is within range of a flydubai 737 MAX, particularly developing economies in Asia and Africa, where nascent markets in tertiary or even quaternary cities could be served well by connecting on a narrowbody into Dubai and onwards to another flydubai flight or on Emirates, with which flydubai codeshares.
Many of these smaller cities in developing economies don't have the overall demand to support an Emirates flight — not least because the smallest aircraft the larger carrier operates is a Boeing 777 — but business travellers and the growing numbers of discerning leisure passengers are demanding better passenger experience.
Flydubai's Vantage seats, with their 78-inch bed length, full set of business class plugs and sockets, 46"-high shells with adjustable privacy screens, and 15.6" inflight entertainment monitors are clearly a step forward.
But even in economy, flydubai is batting above the average with fully featured Recaro CL3710 seats, which are more usually found on full service airlines' longhaul services, together with an 11.6" IFE screen. The only downside is the pitch, at a shorthaul 30", despite flydubai's suggestion that this is "generous".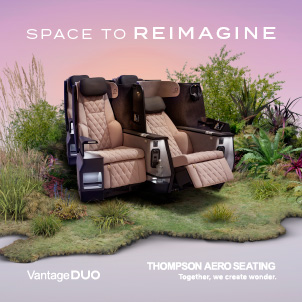 "More than 50 of the first 175 airplanes will be 737 MAX 10s," Boeing noted when the deal was announced at the Dubai Airshow, and indeed this larger version will provide new opportunities for flydubai, Boeing senior manager of product marketing Bob Michael tells RGN.
"The fuselage will be a stretch of 66 inches compared to the MAX 9, which means two additional rows of business class seats. It will be able to execute 99 percent of the single-aisle routes being flown today," says Michael.
The MAX 8, meanwhile, is a range boost over the similarly sized 737-800, Michael notes, generated "primarily from the CFM LEAP-1B engines and the AT [advanced technology] winglet. This additional range capability means that airlines have the option to open up new routes and offer new point-to-point service to customers. In addition, the MAX has a 40 percent smaller noise footprint thanks to advanced technologies and better design. This is something both passengers and airport communities will notice."
A capacity boost option will allow flydubai to narrow the gap between its narrowbodies and Emirates' widebodies, adding capacity either in business or economy. With the partnership between the two government-owned and Dubai-based carriers likely to deepen over time, the capacity gap between flydubai's 737 MAX 10 and Emirates' recently announced Boeing 787 order is shrinking noticeably.
Image Gallery:
Related Articles: