It's been a favorite of many fliers for 47 years, but on Tuesday, 7 November, United Airlines marked the official retirement of its last Boeing 747 – the humped jumbo jet known as the "Queen of the Skies" – with a farewell flight between San Francisco and Honolulu that recreated the airline's first 747 flight on the same route back on 23 July 1970.
As you may imagine, paid or invited as a guest, each of 374 passengers on this final 747-400 flight felt, as more than one passenger described it, "Like getting Willy Wonka's golden ticket," and many gladly accepted United's invitation to 'go 70s retro' for the flight.
A pre-flight gate party set the scene with a farewell cake, a timeline of the 747's milestones, 70s music, and plenty of props for taking retro photos.
In-flight, the Friend Ship retro-ness continued, with flight attendants dressed in vintage uniforms, passengers smoking (fake) cigarettes and drinking (many, many) Mai Tai and Grasshopper cocktails, and a 70s-inspired menu that included dishes such as a salad served with bottled (as in, the bottle needs to be passed around) Trader Vic's Javanese dressing.
Among the passengers was Thomas Lee who, at 17, flew with his family on the 747's first commercial flight: a Pan American World Airways flight from New York to London on January 22, 1970.
"It was spectacular and colorful and I remember everything about it. And now, 47 years later, here we are on United's final 747 flight," said Lee, who now designs aircraft interiors and has also flown inaugural flights on the Boeing 787, the Airbus A380 and A350, and the Bombardier CSeries planes.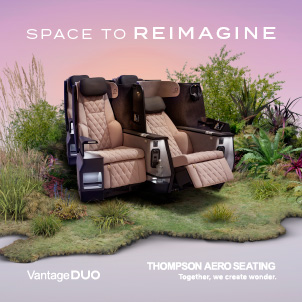 Also on the flight: Carol Smith, dressed in one of the uniforms she wore while working as Pan Am flight in the late 1960s and into the 70s, and Michael Green and Brian Engleman, from Palm Springs and San Diego, respectively, who showed up in matching 1970s polyester outfits swearing they'd never met each other before.
"The iconic 747 is a remarkably special aircraft that signaled a new era of air travel and was equally recognizable and beloved by our customers and crew alike," United Airlines CEO Oscar Munoz told passengers before the flight.
"While today is bittersweet, we'll continue to honor the Queen of the Skies' game-changing legacy of connecting people and uniting the world with our next-generation of long-haul aircraft."
Munoz didn't take the flight, but greeted passengers as they boarded and scanned their tickets.
While the take-off from San Francisco was delayed a bit due to a small glitch that almost required a trip to the maintenance hangar (which most everyone on board would have considered a bonus), once the plane did leave for Honolulu those on the left side of the plane were treated to a stellar view of the Golden Gate Bridge.
During the flight from San Francisco to Honolulu, passengers swapped 747 flight memories, compared retro outfits and entered a contest to see who could get closest to guessing the exact moment the plane would reach the halfway point of the journey.
Along the way, one man proposed to his girlfriend (she said yes) on the upper deck of the plane, which, in the 'old' days was the cocktail area, with a spiral staircase leading to it.
"The 747 was the first jumbo jet and were just dazzled by it," said Wilda Gerideau Squires, who supervised the flight attendants being trained to work on United's 747s.
"We weren't even flight attendants then, we were stewardesses," she said, "And we had to do our on-the-job training during the inaugural flight."
Among the other invited guests on United's 747 farewell flight were many of the carrier's top fliers, including Tom Stuker, who has logged more than 18 million miles on United and Bob Martinson, of Chicago, who has flown about 400,000 on United this year.
Martinson estimates he's flown on 747s "about 150 times," and at first turned down United's invitation to fly on the farewell flight because only an economy class seat was available. He reconsidered and said yes when a business class seat opened up.
And then there was Miguel Guerra. He's the current record holder for the most flight segments flown on United in 2017: 534 so far, with more than 600 segments likely to be logged before the year ends.
While obviously well-traveled (his 500+ plus, mostly short-flight segments tally up to more than 800,000 miles a year), before the 747 farewell flight Guerra had never had the opportunity to fly on a 747.
"I missed the announcement when the seats first went on sale but was finally able to get an economy ticket that was then upgraded to business class," said Guerra. "I'm really glad, because this is a historic moment for United and I'm proud to be part of it."
Image Gallery:
Related Articles: