At the end of last year, Panasonic Avionics threw down the proverbial gauntlet, making clear its intent to snatch bizjet Ku connectivity business from ViaSat with a proposition that would see itself, antenna provider Astronics Aerosat, and value added reseller Satcom Direct work together to deliver Ku connectivity to the sector.
But then things went a bit quiet. While Inmarsat's Jet ConneX partners loudly touted Ka connectivity at the recent NBAA showcase in Las Vegas, and Gogo revealed plans to launch tail-mount Ku next year with "nominal speeds of 25 Mbps", Panasonic's lack of connectivity messaging to business jet operators was notable to RGN.
Despite a request to Panasonic for an update, your author was in the dark about the state of play until recently, when Astronics revealed during a 3Q earnings conference call that the program had encountered some schedule slides which have since "come to an end".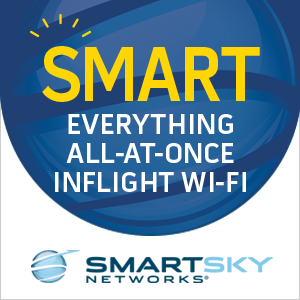 "An antenna by itself doesn't do anybody any good. You have to have a network along with it. We're teamed with a couple of prominent companies. Panasonic, one of our near and dear customers, is providing the network and we're working with a third company called Satcom Direct, a very prominent marketer and consultant to this industry. So, long story short, nothing can be sold and done until all three companies are ready to go. It took longer for our wagons to be hitched up and coordinate for the launch of this thing than anticipated," said Astronics Corp CEO Peter Gundermann. He did not go into detail as to whether one or more legs of the stool was responsible for the delay.
Astronics has already had some successful demonstrations of the tail-mount Ku connectivity system (Panasonic previously said the first install was on a Gulfstream IV. Meanwhile, Panasonic has gone quiet on the details of its XTS extreme throughput satellite plans). But according to Astronics' Gundermann, the tail-mount system is now officially for sale. Initial sales of substance are expected in the fourth quarter with the product expected to be a good contributor in 2018 with "a pretty sizable piece of business planned for that effort".
Widebody weakness. Narrowbody strength?
But this is not the only program to encounter timing challenges for Astronics in the third quarter. During the three months ended 30 September, consolidated sales were down $5.5 million or 3.5% from the same period last year as "chunky pieces of business" which Astronics thought it would realize in 3Q – including related to a foreign military program – slid into the future. Collectively, about $20 million worth of business moved to the right.
In addition to antenna sales, Astronics expects a variety of initiatives will turn the headwinds it fought in prior quarters into tailwinds. While the widebody market for in-seat power has "bottomed out" for the time being, Astronics believes narrowbodies will "grow strongly in the near future" and help to offset continued widebody weakness. "We think that's going to change and flip around next year."
Astronics recently revealed in a press release that it has been selected by six major North American airlines to install in-seat power systems on up to 1,400 narrowbody and regional jet aircraft. However, Gundermann clarified that some of these arrangements are "a little out there and some are preliminary". Astronics thinks "it's very likely" that the lower end of the estimate, roughly 700 aircraft, will happen in the next three years and probably consolidate into two years.
The company is also doing some work internally to improve margins. While price reductions built into long-term agreements with major customers have had an impact on margins, Astronics is compensating by reaching new "efficiency agreements" with its supplier base.
Adding Telefonix PDT
Astronics has high expectations for 2018. Its initial range of $675 million to $750 million in revenue "suggests organic growth in excess of 10% over 2017, led by a rebound of our in-seat power and antenna product lines and recent orders for semiconductor test equipment", said Gundermann in a statement. This range does not include contributions from Astronics' recently announced acquisition of IFEC hardware firm Telefonix PDT, which is expected to close before the end of the year. The outlook also doesn't include a number of substantial opportunities for Astronics' test segment that it expects will be determined by year-end. "As such, we anticipate we will revise our 2018 revenue range upward before the year begins."
Telefonix's portfolio will be highly complementary to Astronics, stressed Gundermann.
Telefonix is a company we're quite familiar with in the sense that we have been working with them, around them and near them for some period of time. There's a highly complementary product fit in some of the things they do and some of the things we do in the area of cabin entertainment.

We do power, antennas and certain communications protocol capability and they make things like file servers and wireless access points (WAPs) and data loaders and modem controllers and together we believe we will have an unmatched broad product offering for this industry and enable customers to have a one-stop-shop if they choose to do that, of significance. And we think that will be a competitive advantage over time.
Gundermann estimates that Telefonix has some products with a "very, very high market share, like we are, 90% or higher, and others are new, and taking share away from more established companies".
In the commercial sector, Telefonix competes with Kontron with servers and WAPs (and to a certain degree with entrenched player VT Miltope). And it faces a raft of competition in the portable wireless entertainment arena. See its portable product pitch at the recent APEX EXPO in Long Beach.
Related Articles: