If you thought All Nippon Airways' (ANA) coolness factor peaked in 2015 with the debut of its out-of-this-world C-3PO, R2-D2, and BB-8-themed liveries, or last year with the launch of its hipster-traveler-focused Welcome to Experience Class campaign – which featured everything from a dedicated Experience Class website to Spotify IFE playlists curated by Electronica kingpin DJ Steve Aoki – think again. Because the largest carrier in Japan is taking its popular Experience Class concept to next-level awesomeness with the launch of what can best be described as Experience Class 2.0.
"The continuation of our US campaign is designed to inspire US travelers to consider Asia as their next travel destination and, more importantly, to choose ANA, a five-star airline with unparalleled hospitality and service, as the carrier to take them there,"  Tadashi Matsushita, ANA's head of PR & communications for the Americas, tells RGN.
He continues, "Last year's campaign success has led us to announce a new celebrity partner, actor Scott Eastwood, who will help shed light on ANA's premium travel experience to Asian destinations. ANA will also continue its partnership with DJ, producer, and Guinness World Record's most-traveled artist Steve Aoki to further introduce US audiences to Japan through a new content series that will highlight Aoki's top places to visit in Tokyo."
A newly refreshed microsite, ANAExperienceClass.com, will also house editorial articles that offer an insider's guide to Japan with food, style, and culture content that provides a glimpse into Japan's rich history, and modern culture which have made the country a popular, must-visit destination.
Geared primarily towards hip, adventurous millennials and baby boomers traveling to Japan for work or play (or sometimes both), Matsushita says that the campaign will also include a significantly amped-up social media presence as well, with everyone from luxury travel influencer Scott Eddy to jet-setting actress/fashionista Zoe Saldana sharing their ANA experience with fans and followers online.
"We hope to bring to life the authentic culture of Japan and Asia through food, fashion, and culture – from the experience onboard our aircrafts to on the ground in Asia – because we truly believe the travel experience should be as enjoyable as the exciting destination that awaits," says Matsushita. "We will do this through all new social media partnerships with influencers who will travel to various parts of Japan and Asia on ANA, and document that experience across their social channels."
"We [also] have a video that will launch later this winter that will live on our newly refreshed microsite. We can't reveal too many details [about it] at this time, but it will offer US travelers a new perspective about the ANA inflight experience."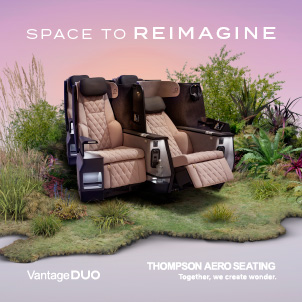 Also carrying over from the previous campaign is ANA's refreshingly egalitarian focus on the passenger experience of travelers in all sections of the cabin.
"We believe 'class' isn't about where you sit – it's about the overall experience of modern air travel [and] ANA is continuing to redefine the meaning of 'class' by putting experience at the center of everything we do," explains Matsushita.
"Experience Class also embodies our belief that the journey is as important as the destination, and our commitment to providing our travelers with a unique, immersive experience from the moment they set foot on the plane. The Experience Class campaign is born out of the concept that at ANA, we believe that no matter who you are or where you sit, everyone should be treated with the same standard of service."
Related Articles: