A day in the life of Heather Popadych always starts with a lot of coffee and an action list. There's a running joke at Panasonic Avionics that Popadych, who works as sales manager, Global Communications Services, has a list for her lists. But the combination of these two things "keeps me focused on my daily goals", she tells Runway Girl Network.
And staying focused is essential when your career trajectory is on fast forward. Boasting nearly a decade's worth of marketing experience within several industries before being hired in October 2012 by Panasonic Avionics' marketing communications department, Popadych was promoted in just under two years to her current position, which entails supporting the industry heavyweight's global sales team with pursuits related to the fast-growing inflight connectivity sector.
The job requires her to stay flexible, as her responsibilities and role have evolved a lot in the last year. "My favorite part of the job is the freedom to find business opportunities and then come up with creative ways to solve them," she says. "Panasonic operates much like a start-up (although we're a very well established and mature company); there are endless possibilities to succeed and create change. These impacts aren't instantaneous, but I've learned that by overlapping persistence and patience, results are always nearby."
As it relates to job promotions or changes, Popadych believes the opportunity to move up at any organization is driven by value. "Anyone can fulfill their 'to-do' job list – but my greatest impact at Panasonic isn't in checking the box, but in going above and beyond," she says. "I read a quote once by Wayne Dyer that states, 'Go the extra mile, it's never crowded.' I've found this to be true and would like to continue to build my professional career on this concept."
She also goes the extra mile for others, having worked with fellow women executives at Panasonic Avionics' Lake Forest, California campus to launch a Lean In Circle, inspired by the action point in Sheryl Sandberg's best-selling book, Lean In: Women, Work, and the Will to Lead. "It doesn't matter what industry or organization you work for, if you're motivated to develop your career, you need support. The Lean In Circle was one way that we could give back to Panasonic employees and help them grow, create community and advance their career," explains Popadych.
Each month the Lean In Circle averages about 50 attendees and, interestingly, usually 20% are men. "Since this group gives everyone at the company a chance to learn and grow, we've had a very positive response," she says.
The peer group aims to give Panasonic Avionics employees the tools and resources for understanding topics like mentorship. "In fact, we just held a Lean In Circle on this topic. The key takeaways included taking responsibility to cultivate mentor relationships and look for ways to mentor others. When you think about it, we all have important tribal knowledge or industry information that we can share. If we're always waiting for others to provide a formal program, we will miss out on the opportunities to give back," says Popadych.
The Lean In Circle has been "a WIN-WIN and we hope to grow it to the other Panasonic locations in the future", she adds.
As a woman in industry, has Popadych faced any occasions where she felt as if her voice was not being heard? She confides: "Throughout the span of my career, I've experienced instances where I was overlooked for promotions and treated as inferior. By my age, most tenacious men have titles that far supersede mine, but I can't focus on these factors, since comparison is the thief of joy. After reading a book called, The Leader That Had No Title, I became more adamant that you don't need one to make a difference. Sure, titles hold authority and power, but to me, the real definition of a leader is when people follow you because they want to, not because they have to."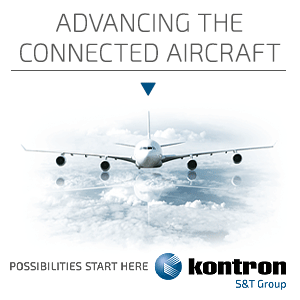 She credits her dad for teaching her the value of self-development and growth. "Although he had no formal training or education, he never let that stop him from being successful. I'm grateful that I got his tenacity and drive." A former professor turned mentor, Vance Caesar, also helped her realize her full potential, by stressing the importance of fostering authentic relationships by earning people's trust. "Bottom line, relationships lead to success, so cultivate them."
Though Popadych spent years in marketing before joining Panasonic, and later received her MBA from Pepperdine University – "one of the proudest moments of my life", she says – the Panasonic executive can relate to the intimidation factor of entering the aerospace or technology field with no professional experience. "In fact, I was turned down at several aerospace companies before I was hired at Panasonic, and the notable concern was industry experience.
"I'm proof that an aerospace/engineering degree isn't a prerequisite for success and hope that young women would be empowered and brave enough to break any stereotypes that are placed upon them."
While higher education also isn't a pre-requisite for success, obtaining the MBA was an important decision that tested Popadych's perseverance and strength. "I learned early on from my father, the value of being a 'student for life' and how you shouldn't stop learning with a diploma. My journey for self-improvement and growth continues every day. I'm grateful to use many of the insights and knowledge from my Pepperdine experience at Panasonic."
Popadych has high aspirations for herself and her career including leading an organization at the Chief Marketing Officer (CMO)-level someday. "While I have a long journey before achieving this level of responsibility, I'll continue to find ways for increasing my business acumen."
Related Articles: