When Stellar Entertainment lost five major clients in a row a few years ago, some inflight entertainment industry stakeholders wondered if the veteran Sydney, Australia-based airline content service provider (CSP) was down for the count. But weathering what he calls the "rough patches" is all in a day's work for Stellar chairman, Rob Lynch, who celebrated Stellar's 43rd year in business recently with some high-profile wins.
In September, Stellar client Virgin Australia took home an APEX award for 'Best Video Curation' and last week at the inaugural Inflight Asia-Pacific Awards in Singapore the carrier followed that up with a win for 'Inflight Airline of the Year' with Stellar taking top honors in the Content Provision category. Not bad for a bloke who got his start in radio more than half a century ago.
"I've been in this industry a long time, about 55 years," says Lynch. "I started in radio as an announcer and did that for about five years and then I saw an ad to provide boarding music for Qantas while I was the program manager of a radio station and I thought, well, I could do that. Back then there was only boarding music, there was nothing else, so I put in a quote and we got the job … and that started the inflight entertainment business."
Stellar built a solid reputation over the ensuing years as a forward-thinking boutique CSP. Lynch notes with pride that Stellar was the first to introduce iPad-based IFE in-flight. But while Stellar is known for offering exceptional customer service and has a knack for artful curation, Lynch says even he was surprised by the seismic changes the IFE industry has undergone of late. "About four or five years ago, Global Eagle (GE) came into the IFE market, which has changed it dramatically."
Global Eagle acquired a number of CSPs and now holds a dominant position. "We're now down to only about four or five CSPs while there used to be about 10 or 12 back before GE started," notes Lynch.
The Stellar chief has strong opinions about what he says transpired, telling RGN:
GE started by price cutting and, ultimately, when you cut the price you cut the service. So we went through a pretty rough period that changed everything because our business model was a boutique service based on very good customer service, a lot of attention to detail as far as the product goes, and as far as the relationships go, and that kind of disappeared when money became the overriding thing. So, we lost about four or five clients in a row who left us to get a lower price.

But the difference between us and our competitors is that we are a family business, number one, so we don't have stockholders, we don't have people we have to report to or a certain regime. We had no bank loans at all. We were debt free when we lost those clients, so we were able to survive. But had we had bank loans and had we had to answer to shareholders we may not have made it, quite frankly.
Global Eagle declined to comment.
Responding to the threat of a CSP giant, Stellar decided to double down on its boutique approach for its remaining clients. "[First] we had to re-look at the industry that we were in and work out where it had gone and why all of a sudden we were failing," says Lynch.
"We did that and we tightened the belt. We lost five clients but we retained ten, and then we decided that we would take a closer look at our strategy, and we did that and it's working. So, yeah, it was something that we didn't see coming and when it happened we were quite shocked by it, but fortunately we had loyal customers and they stayed with us. Now, I'm happy to report, it's come full circle and there are some really great airlines out there that realize that there is a difference and we're finding that the doors are starting to open again."
The trend appears to be shifting for other stakeholders as well, as even new players are emerging in the CSP space (West Entertainment, which has attracted a flood of industry veterans of late, immediately springs to mind).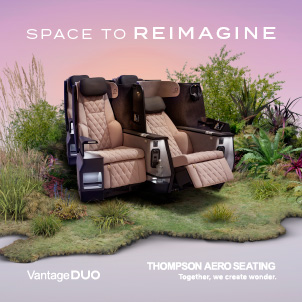 Lynch reiterates that much of Stellar's turnaround is credited to its continued focus on bringing unique, boldly original content to airline customers. "I mean, when you think about it, if you want to compare it to food in a restaurant, you know, if you go into a restaurant and it's just got a huge amount of food, that's just not as appealing as getting four or five beautiful pieces of food on a deluxe special menu, where they're putting a great deal of effort into providing small morsels of really exceptional food. And I think that you could probably use the same analogy with content."
He continues, "I travel a lot … and you get on airplanes these days and, depending on the airline, I'm finding it very hard to find something to watch unless I go into art house, documentaries, special programs, Netflix types things … and I think this curation has kind of changed the 'let's just put on as much content as we can and not really care about it' approach, and that's what we're winning awards for. Our curation. Our research. Our search for inaccessible material. We're putting the time and effort into coming up with some real gems and this is appealing to the traveling public, so, there's been a bit of a change."
And according to Lynch, Stellar's "deluxe special menu" approach seems to be paying off, particularly in the Middle East and Asia.
We've also recognized that we are, geographically, in a really sweet spot. We're in the middle of where all the best airlines are and that's the Middle East and Asia-Pacific. I mean, 50% of my staff are Asian and no other CSP can say that and they're Asian because we really want to understand our customers who are also Asian. I mean, I don't really want to criticize the American carriers but Boeing makes beautiful airplanes, but once they make the airplane and they give it to a Middle Eastern or an Asian carrier they turn it into an airline and they're our customers.

The American traveling public seem to be quite happy not getting a high-quality IFE product whereas the Asian and Middle Eastern carriers are very particular, very strict, very hard task masters. They want the very best of everything, whether it's the caviar, the champagne, the lie-flat seat, or the entertainment. So, we've got to work hard.
Currently working on enhancing its digital marketplace-style pixL platform and developing new ways to simplify the increasingly complicated music procurement process for its airline clients, Lynch says that when it comes to keeping Stellar stellar in the years to come, award-winning content curation is just one piece of the puzzle.
"Everybody thinks they can run a radio or TV station and a restaurant and they are probably the three hardest things in the world to run – successful radio stations, TV stations, and restaurants. But everybody thinks that their taste is everyone's taste and that's not the case," he says.
"When I was the program manager at a radio station my friends used to constantly ask: 'Why don't you play this? Why don't you play that?' What they missed out on is the fact that you have to look at your target audience, you have to actually understand your customer, which, in our case, is the airlines, and you have to understand who their customers are and then you have to make something that would be bespoke and would fit them.
"So, it's not just what you like and it's not just what the producers of movies think will work, it's more about putting in a lot more time and effort and having experts do it rather than amateurs. So, a lot of work goes into it and … when it comes to understanding our customers, you know, we're in Beijing, we're in Hong Kong, we're in Singapore, we're in Kuala Lumpur. We have a presence in all these markets and being in these markets we meet producers, we meet content owners, and we go to a lot of the trouble of staying in touch and no other CSP does that."
Related Articles: