It's fair to say that Airbus' Space-Flex galley-lavatory combination has not won universal acclaim. Airlines that have installed the product have seen complaints from cabin crew on the galley side of the equation, while the tiny lavs are not only make manoeuvring difficult even for able-bodied passengers, but many don't recognise that there is indeed a second lav behind the flight attendant jumpseat mounted on the door.
Industry stalwarts Diehl and Lufthansa Technik (LHT), however, think that they have managed to improve upon Airbus' original Space-Flex galley-lav with a retrofit option that Diehl chief customer officer Harald Mehring tells Runway Girl Network "is lighter, it's more price sensitive, so it's cheaper — so it's more efficient." That efficiency means at least twelve more passengers, with "max pax" numbers rising to 151 on an Airbus A319, 192 on an A320, and 226 on an A321 in all-economy configurations.
"It's a completely new approach," Mehring says, although 'completely' may be over-egging the pudding slightly. LHT and Diehl have made some key advances, however, with Mehring pointing out "the cabin attendant's seat: we do that with a camera here. So you get rid of that attendant seat" that is fixed to the door: an experience that is neither pleasant for the flight attendant nor obvious to passengers when searching for a lavatory. The Lufthansa Technik-provided infrared camera means that a rear flight attendant does not need physically to surveil the aisle from a forward-facing jumpseat.
Mehring also notes that "we have the two toilets. Normally they are thin, so it could be a problem for people to utilize these, so these are quite [a bit] bigger compared to the [Space-Flex] products in the market."
Indeed, while RGN didn't get out the measuring tapes, the Diehl-LHT lavatory mockup did feel larger and easier to move around in than the Airbus linefit versions — and the way the conversion from twin lavs to a single facility for passengers with reduced mobility works also seemed less complicated and with greater autonomy (and dignity) for a wheelchair passenger in particular.
The retrofit galley-lav was the focus of the two companies' offerings at the recent  Aircraft Interiors Expo Americas in Long Beach, which was itself notable. Diehl and LHT see such a market opportunity in the Americas that they selected that expo to launch the product, rather than the more usual and much larger Hamburg version of the Reed Expositions event.
"American airlines tend to utilize their aircraft longer than others. If you look at average ages of aircraft fleets in the US markets, they are about 15 years," Mehring says.
Some of these airlines are less concerned with the fact that the Diehl-LHT solution requires a supplementary type certificate than, perhaps, leasing companies would be. Lessors prefer everything to come with full stamps from the original equipment manufacturer. For American carriers, this preference is partly because of the age of the fleet — frankly, they may already have STCs for cabin retrofit or inflight connectivity, among others — but also because US major operators in particular look set to run their existing fleet until they retire them to the boneyard, whether or not they see interior refits during major overhaul checks.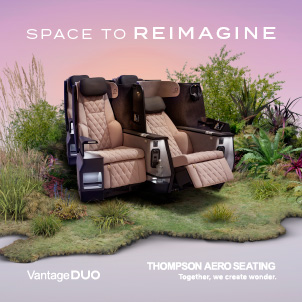 During RGN's interview, Mehring noted that a key question for the adoption of the combined galley-lav product is "the duration of the flight. I would say, if it's four hours and more, maybe [the combined facility] is not the right option." Of course, few airlines in the Americas split out their transcontinental or Latin American mid-haul fleets operating four- to six-hour services from their shorter hop operations, yet it seems unlikely that these carriers will eschew the extra twelve revenue seats per aircraft.
Mehring also highlighted that the US carriers have not, largely, undergone fleetwide economy class slimlineisation processes like their European counterparts, pointing to a key market opportunity echoed by the other smaller seatmakers that were exhibiting in Long Beach.
The crux for Diehl and Lufthansa Technik on this refit option will be whether Airbus responds by putting together a refit package for its "official" Space-Flex product. The airframer has been taking more cabin maintenance, repair and overhaul work in-house recently, and may see this as a threat to work it rightfully perceives as its own.
Diehl and Lufthansa Technik, too, run the risk of falling out of favour in Toulouse — though the companies would seem to believe that the benefits of winning airline contracts outweighs that risk.
Related Articles: