As the inflight connectivity industry ratchets up speeds and bandwidth for traditional satellite applications, not every airline will be able to make a business case for full inflight broadband. Lufthansa Systems is working on a solution to deliver some of the benefits of connectivity to those airlines, while Lufthansa Technik is working on reducing the supplementary type certificate barriers to entry. And from a strategic point of view, the two Lufthansa Group members are clearly working closely together to up the attractiveness of portable wifi in a busy market.
On the connectivity side, Lufthansa Systems is working on hooking up a battery-powered Iridium modem connecting to the NEXT low-earth orbit satellite constellation to its "box-in-bin" BoardConnect Portable inflight streaming solution, enabling inflight messaging and live e-commerce. On safety, meanwhile, Lufthansa Technik can now hook up a BoardConnect Portable box to the aircraft power, saving money on batteries and also improving safety by securing the device and reducing the number of batteries on board. The power solution was first teased in advance of the APEX EXPO in Long Beach.
"For right now, I see a huge demand for portables because every airline wants to try it out," Lufthansa Systems' director of project & certification for BoardConnect inflight entertainment and connectivity, Jan-Peter Gaense, tells Runway Girl Network.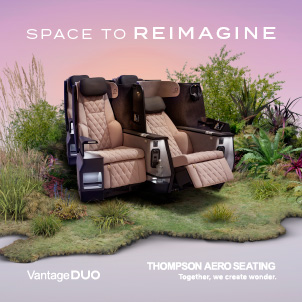 Gaense says Lufthansa Systems wants to maintain this momentum by moving into light connectivity with BoardConnect Portable. "We have a little box over there, which is an Iridium NEXT modem that we want to pair with Portable. It's also battery powered, so no certification required. All of a sudden, at really low cost, you can at least offer wifi streaming and messaging services."
"Not more," than that in connectivity terms, Gaense says, "because the Iridium NEXT bandwidth will never be enough to offer browsing and streaming." But as a way for an airline to dip its proverbial toe into some of the benefits of connectivity, and particularly in regions where messaging services are the dominant form of social media, the case is compelling.
Yet, Lufthansa Technik head of connectivity programs Lukas Bucher tells RGN, "one of the big worries for airline is the battery operation. It comes at a cost because someone has to recharge the battery, replace the batteries, and there is a consistent worry that batteries can catch fire."
"Yes, we do everything we can, and it's as safe as it possibly can be," he continues. "We work with airlines, and adhere to EASA guidelines. We're all singing the same song in that regard. But a risk remains, and would be stupid to ignore that risk. What we came up with at Lufthansa Technik is what we call Portable Power & Safe. It's an STC-free installation that will power the portable from the aircraft power. Probably, looking at how much it costs to do battery operation, it would be between 12 to 18 months as the return on investment for an airline."
Air Europa is launching the Power & Safe solution, and it's a smart move from Lufthansa Technik, differentiating BoardConnect Portable from the vast majority of the "box-in-bin" offers on the market, which are as numerous as they are largely similar. 
The STC-free claim isn't 100%, however, Bucher says. "It depends on the aircraft that it's going on. Typically, it can be a minor modification. But it depends on where do we have power, where can I plug it in, and what you need to do specifically? On the ones where we have tried it, our launch customer airline, we don't need an STC. But there can be instances where more severe modifications are required. Typically, the bottom line is, minor modifications."
Related Articles: