The hit musical La La Land was made available to airlines just days after winning six Academy Awards and just two months after being released in theaters. This "early-early window" of availability, which enabled airlines to quickly show the film to passengers via inflight entertainment systems, was the result of a unique partnership between Global Eagle and Lionsgate.
Global Eagle EVP media and content Walé Adepoju, and Neal Rothman, president of Global Eagle's Entertainment in Motion (EMI) business, which handled distribution of the film, gives us the low-down about how it orchestrated the arrangement.
Runway Girl Network: Talk to me about the genesis of Global Eagle's deal to bring La La Land to airlines so quickly. When was it set in motion, whose idea was it, and how did it all come together? 
Walé Adepoju: The real brains behind La la Land's early launch is Neal Rothman who runs our content distribution businesses. It was a herculean task given the number of variables involved. Neal and his team had to coordinate with our partners at Lionsgate and the airlines whilst [also] ensuring that our post-production facility at Global Eagle could get the film ready for distribution across the wide variety of IFE platforms flying today.
Neal Rothman: As the film started getting substantial acclaim, I felt that March would be a good release month for airlines both with respect to our release schedule in general and particularly to position it as close to the Academy Awards as possible. We conferred with our partners at Lionsgate, who produced the film, and eventually came to an agreement that allowed us to release it to the airline market in March.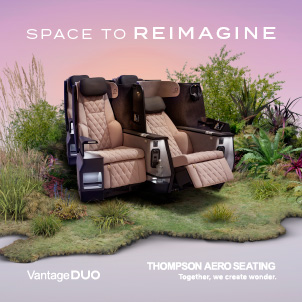 RGN: Hollywood hasn't produced an original movie musical hit in ages. What made you decide to 'roll the dice', so to speak, with La La Land? And when did you know this was the film to bet on during award season?  
NR: La La Land was starting to get buzz in the fall as a potential contender for end-of-year awards, and when I saw it prior to its release I knew it would be a perfect airline movie – incredibly well made, family friendly, very appealing leads, amazing music, etc. I also predicted it would be a very commercial film once it opened in theaters, so it just seemed obvious to focus on the film given the potential appeal to airlines worldwide.
RGN: Striking while the iron is hot is hard to do, especially where Hollywood studios and airlines are concerned. And although you guys hit an IFE home run with La La Land, this seems like kind of a risky business model. What if, for example, you had inked a similar deal with a film that was totally snubbed by award season voters? How can you protect yourself against backing a film that might not connect so powerfully with Oscar voters next time? Or is it always a gamble? 
NR: I can't comment on the specific business model in place for La La Land. But, in general, the business model for independent distributors is a risky one. Not always, but many times we are forced to pick which projects to back before the films are even made. As a result, it is imperative that we have a good sense of not only which films work in the airline market and which don't, but also for the projects themselves – how the finished film is likely to turn out based on the script and the actors, director, producers and financiers involved.
RGN: Speaking of peering into the future, do you guys have any similar early-early window release deals in the works for this year? I know it's still a little early in the season, but can you give us any clues as to which upcoming Oscar-bait titles you think might really connect with passengers this year? 
NR: We have a number of titles that we feel and expect will be an integral part of the conversation with respect to next year's Golden Globes, Oscars, and other awards shows, but it's too soon to speculate on specific titles and release dates. But I will say that several of the films for which we already have trailers, including Stronger, All the Money in the World, Wonder, The Wife, and The Music of Silence were very well received by our clients at the recent APEX EXPO.
RGN: Good to hear. I'm curious, with release windows shortening every year, do you ever foresee a time when films might hit IFE screens the same day they hit theaters? Or shortly thereafter? And if not, where do you see the trend toward earlier window IFE release dates going down the road?  
NR: It is very unlikely to happen on films that get a wide theatrical release, for a variety of reasons. It's possible you might see this however on smaller titles. The biggest impediment right now is the long lead time required to encode titles in various formats, deliver them to the hardware companies for integration and QC, and then load them onto the planes. It is very difficult to achieve all that in time for a day-and-date release in IFE. However, we are working on various tools to help with faster uploading.
RGN: And finally, I would imagine they loved it, but how did airlines and audiences respond to the early-early window release of the film? 
NR: The feedback we received was uniformly positive, and it was a big performer for us and Lionsgate.
Related Articles:
Featured image credited to Jason Rabinowitz