How crucial are control and customization options of an airline's web portal?  "We went from seven minutes to thirty seconds when going online" by replacing it with a simple seat number and last name login, Finnair's inflight e-commerce and IFEC manager Harri Valkama tells RGN.
There's also a free hour of Internet for passengers in business class or extra-legroom economy, as well as Gold (oneworld Sapphire tier) frequent flyers, while Platinum (oneworld Emerald) get the full flight connectivity for free.
Finnair was able to streamline the login process, Valkama explains, because it already does quite a lot of work in-house. To wit, it took one of the first opportunities to customize the skin and user interface of Panasonic's eX2 embedded IFE system, and did the same for eX3. And now the airline is reaping the knowledge and customization ability as it adds inflight connectivity, currently over Panasonic's Ku-band system on widebodies, and soon over ViaSat's Ka-band system over the Eutelsat KA-SAT satellite on the narrowbody fleet. 
(Finnair confirmed to RGN that it has full confidence in the ability of the ViaSat-Eutelsat partnership to deliver what it wants for its passengers in the short-term, before ViaSat lofts its full set of ViaSat-3 satellites into orbit.)
The control of the inflight connectivity portal – and indeed the entire IFE experience – is in-house, "and we use partners to some extent, but the knowledge is in Finnair", customer experience development director Tiina Vesterinen explains in Finnair's headquarters building, with Valkama noting that "it's a multi vendor team that is onsite here and we control the development."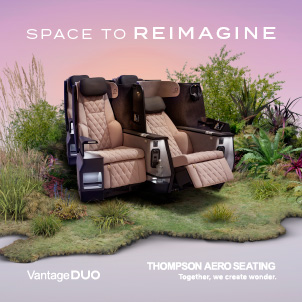 In the future, that development will lead to significant customization opportunities for IFEC, Vesterinen says. "Of course, we have a lot going on there. Some of it we will tell later on this year. But for example, in our inflight digital channels, we are looking into – and we already have – some of the personalizing [of] the content there based on the customer."
Valkama notes that the process "has been a long road. First of all you are able to customize according to the destination because that's the only information you have from the passenger at that point. So that's mass customization. But now we are moving towards the more personalized services [via all IFEC systems adopted by the carrier]. So when we identify the passenger, then we can tailor the different services, like [the] entertainment side or shopping, or our own services — if we know where you are going, what kind of reservation you have, is your luggage on board, those kind of things. So we are moving towards more data level personalization."
It won't quite be on-demand custom-loaded movies, Panasonic ZeroTouch style yet, though, Valkama notes. "This is a little bit hypothetically speaking because we don't have those kind of features implemented, but if we are thinking about those kinds of features, it would probably be that if you are a Thai person, we would show the relevant content for you. We are basically not able to load different kind of content to different kind of routes. It's the same entertainment package for all of the routes. "
The key blocker, Valkama says, is that "the process is so old. There are new tools coming, but we basically get once-a-month the media package, and it's like two critical hard drives and we need to put it to the media loader then we need to take it to the technical department and they start to load it. So when we could utilize the connectivity to log the content, it's totally different." So in essence, Finnair will do like flydubai intends, and that is to use connectivity to refresh IFE content in-flight.
Finnair is currently pulling national broadcaster YLE's news directly over the Panasonic connection, "basically because we have opened up the Panasonic ecosystem and we are able to load whatever we want to the aircraft," Valkama says. "But of course then we need to use the bandwidth and it's, well it's costly, and a little bit limited.
"And it also limits the customer experience," Vesterinen puts in. The YLE news feed is text-only.
In terms of Panasonic Ku performance, Valkama noted of its currently connected widebodies, "aircraft number one to seven we have dual panel antennae there, and onward from number eight we have single-panel antennae, and currently we have the BC-01 [older modem] for the whole fleet. But we are going to do the retrofits starting next year for the BC-03 [Newtec modem]. That basically enables the high-throughput satellites and extra high throughput satellites." 
Finnair hasn't yet decided whether it will swap out antennae at the same time, Valkama notes, highlighting that "the dual-panel antennae has been working very well, so we haven't had any major issues with it. But single panel antennas [are] quite new and there was a kind of rough start."
"Some hiccups in the beginning," Vesterinen puts in.
"But now it has been working quite well," Valkama says of single-panel compared with dual-panel, "and we really can't see any performance difference between those two."
Finnair clearly has major plans for its connectivity, and as a small airline with highly-connected travellers and a driven digital agenda, it remains an airline to watch in this space.
John Walton was a guest of Finnair in Helsinki.
Related articles: