Though a softening in widebody business has seen Astronics' earnings decline in recent quarters, the company is powering forward with new work on single-aisle aircraft. It has secured contracts to provide its 110V and high-output USB power outlets to "six major North American airlines" covering 1,400 narrowbody and regional jet aircraft, and it has revealed a new dock style wireless charging solution to Runway Girl Network for … wait for it … economy class, as well as other travel classes.
"If you get on an airplane and look around, who is charging? Everybody, not just first and business," said Astronics Advanced Electronics Systems president Mark Peabody, before showing RGN a new wireless charging mechanism incorporated into the SmartTray personal electronic device holder. The solution is an answer to the "hold and power" question that both Astronics and SmartTray have sought to address since inking an exclusive partnership in 2015.
"If you had asked me" whether wireless charging would be coming to economy class a year ago, "I would have said I imagine it will be up in first and business because it's a larger space. But people who have been coming to talk to us have been talking, in many cases, the Y [economy] class," said Astronics director of business development and technical services Dennis Markert.
"Surprisingly, we have it the tray table already as a concept design," he said. And in the SmartTray, as demoed below.
In recent years, wireless charging has been showcased on a variety of premium seating concepts, including the Panasonic Avionics/Rockwell Collins (former B/E)/premium seat collaboration Waterfront.
But if executed properly, the ability to offer wireless charging in economy class – either atop the tray table or via the SmartTray PED holder or akin – would be a benefit for economy class passengers, who struggle with finding outlets when they're positioned under the seat, particularly in snug seating configurations (thankfully, newer designs see sockets installed in the seatback).
"There is a lot of interest" for wireless charging, confirmed Markert in one of two separate conversations with RGN at last month's APEX EXPO in Long Beach. "People are all coming in and talking about it. It's a new technology, they're really interested in it, and want to see where it's going to go."
"Look at Ikea: they're building it into furniture now. You go into Starbucks, you can charge while you're there. It's just — it's becoming a norm," he later added.
Astronics is quite rightfully bullish about the broad opportunity of providing wireless charging across travel classes, whether as part of premium class furniture or in tray tables. Until the release of the iPhones 8 and X, there were few signs as to the direction in which the biggest player in the personal electronic device industry, Apple, was going, before it chose the Qi standard. Now Astronics is gearing up to roll out its first wireless charging product next year.
"Everybody waited, holding their breath, for iPhone 8 and what kind of charging stand it would have. Apple tends to do something different. We elected to move forward and take that risk with our wireless charging system," explained Markert. "They're one of the most innovative companies in the world. That's the thing they hang their hat on, and so we never know what they're going to do next. The fact that they've chosen Qi as their wireless approach says, I think, they're going to try for a while to be an industry standard."
Broad take-up of wireless charging on aircraft will, of course, take time, though the retrofit market (versus OEM linefit) is expected to move first. There are always safety considerations, and you need to meet "the OEM and the environmental requirements, all that", stressed Peabody.
Even so, Astronics is bullish on the prospects, with Peabody saying:
What's going to happen is the acceptance rate and proliferation of devices that have wireless charging is rapidly ramping, exponentially. Over the next year to two years, I think what we'll see on the ground is proliferation of charging spots. It always happens: what you see on the ground is what you expect in the air not long after. The airlines are looking at, 'okay, how to I shorten the cycle time between the expectation on the ground, and the expectation in the air?' One of the things that's happening is connectivity, and the throughput on connectivity also is rapidly changing. I think that the experience is getting closer and closer to what you have on the ground through a connectivity standpoint, and so the expectation is that power will be the same."
RGN asked Markert for his take on whether the airlines currently moving on wireless charging are doing it so that they can advertise they're doing it, while still expecting customers to use their existing charging cables. "No, that's actually a good question, and I don't think it's for that reason," he said. "I just don't think it's going to be boutique-y and just something to have. I think they're looking at their customer base as carrying and expecting it."
digEcor weighs in
Known for its portable and now embedded IFE systems, digEcor is also in the in-seat power business, and eyeing wireless. But company CEO David Withers believes "we've got a couple of years before that becomes absolutely critical. There was a rumor for a little while that the new iPhone X was going to come out without a Lightning connector on the bottom and was going to be purely inductive charging. I think we all freaked out a little bit about that! But it's coming out with a Lightning connector, so the problem's gone away — but, at some point, though, that probably will happen, and we are going to have to make sure we've got a solution for that."
He added, "So, yes, Apple doing it [wireless charging] maybe makes it slightly more interesting, but I still don't think it mandates it. Now, a USB power on the seat increasingly becomes more and more critical. Any airline flying without USB power in three years time is going to be an exception. But, conductive charging, yes it's nice to have but it's but it's probably not essential."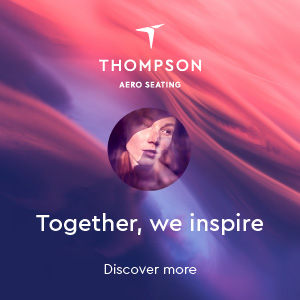 Most USB power on board aircraft is currently either Type A low power (with some Type A high power). But USB Type-C is indeed around the corner for all stakeholders in the in-seat power business, as digEcor suggested, and as Astronics' latest win with North American carriers underscores.
"I think what is going to see happen is [airlines] are going to go to Type C next," said Peabody. "And several things are going to drive Type C, [for instance] the proliferation of peripherals that need Type C so like your computer. Even though the new iPhone still has a Lightning connector, it is still a Type C power delivery. Fast charging is coming in the new phones; some of the new Samsung phones have it and that is going to take power delivery to Type C on that too. So I think that, that's what I see coming – wireless, Type C."
Aircraft interiors giant Zodiac Aerospace and indeed digEcor previously predicted that airlines will ultimately move to a paradigm whereby premium class passengers are offered 110V and USB-C outlets whilst economy class will be all USB-C. But Peabody warned that "every airline has its own personality".
"We know there are premium carriers that will get 110V, USB, multiple outlets in the seat and then moving down to the economy ones, the low-cost carriers that don't give anything,"  he noted in Long Beach. "And again it's a personal choice. I go hop on Alaska [Airlines] today and I've got this" 110V in economy class.
As passengers' power needs evolve, "what's the one thing that's constant? It's AC. You can always plug in AC and I think some airlines are going to buy it and some say, 'no I am just going to do whatever the latest is.'"
The trick for the industry will be to avoid an iPad eXport situation where suppliers and airlines innovate one way only for their efforts to be completely blindsided by a consumer electronics juggernaut like Apple. That's hard — Apple is, of course, notoriously closed-lipped about its plans. And that may well mean that a power provider with a modular system, enabling a Standard X charger to be swapped out relatively swiftly and easily for Standard Y, might have an advantage.
Additional reporting by John Walton
Related Articles: