LONG BEACH – Virtual Reality (VR) headsets have been the stuff gearhead dreams are made of since the modern concept of VR first sprung to life from the pages of Stanley G. Weinbaum's pulpy, sci-fi short story Pygmalion's Spectacles in the 1930s. And though VR took a huge leap forward in 2016 with the debut of commercially available VR headsets like the Oculus Rift, Sony Morpheus, and HTC Vive and limited rollouts of VR IFE solutions on a few forward-thinking commercial carriers like KLM, Lufthansa, and Air France, to date, the concept has not enjoyed widespread industry adoption.
But that could all be about to change thanks to SkyLights' announcement today that it will be unveiling its new, second generation immersive IFE solution, the AlloSky VR headset, at this week's APEX EXPO in Long Beach, California.
Co-created in partnership with immersive headset producer Allomind, AlloSky offers up an array of new features including full HD resolution (1080p each eye), a 60% weight reduction to its predecessor (the Bravo Theater), and state-of-the-art dioptric correction to cater to the eyesight of all passengers.
"In terms of the product; the AlloSky headset is a big advancement in terms of capability, design and customer experience," says SkyLights CEO David Dicko. "It has always been of fundamental importance to us to offer airlines an immersive-IFE solution that leverages the best immersive headset available for the inflight use case. We have now been able to do exactly that, using our experience from thousands of flights deployed with our current solution in the design of the AlloSky headset to meet the needs of passengers and airlines alike."
And though securing non-gaming VR content has been a significant hurdle for some, Dicko says SkyLights' longstanding partnerships with 20th Century Fox and Dreamworks and newly-minted deals with Warner Brothers, National Geographic, Lionsgate, and BBC to bring 2D, 3D, and carefully curated 180° content to users should make for a match made in IFE heaven.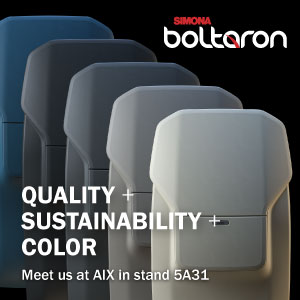 "Airline cabins on long haul flights provide the near-perfect opportunity for [the] widespread discovery and use of premium immersive technology," says Dicko. "Long haul passengers are captive and hungry for high-quality sit back and relax entertainment, or better still, lie back and relax entertainment, with a premium on entertainment that enables passengers to forget their environment. In working with airlines, [the AlloSky headset] gives passengers the opportunity to experience high quality immersive entertainment without the associated price tag. For the first time, it also presents airlines with the unique opportunity to actually lead the way in innovation and offer an experience that exceeds what is available on the ground. It's a stark departure from the tradition in the airline industry of catching up with what is already well established on the ground. It also offers a unique opportunity to set the airline passenger experience apart in a way that passengers will remember."
As part of the solution's inauguration SkyLights is running an early-access launch program with Air France, gategroup, AccorHotels, Corsair and Jetfly. Corair will launch AlloSky early next year in their new, full-flat business cabin and around that same time Air France is set to deploy the solution on their hipster-traveler-focused airline Joon.
On board Joon, the AlloSky headset will be available to longhaul, business class customers. It can be connected individually to each seat.
"Joon is a great match for the AlloSky launch," says Dicko. "Its tech-savvy, millennial clientele are experiential and experimental by nature. They are thirsty for high-quality entertainment and have high expectations from what is available on the ground. The experience AlloSky offers will not only meet, but also exceed their expectations with a new form of entertainment not otherwise available on the ground [and] transform their journey in a way they will definitely share with their friends."
Future social media ubiquity aside, Dicko says SkyLights' primary focus this time around was on offering passengers a premium immersive VR experience in the air. "The AlloSky is more premium, more comfortable and has streamlined logistics. We believe this is a breakthrough, making the future of inflight entertainment a reality today."
Related Articles: