LONG BEACH — Airbus is aiming for the Americas market with its new Airspace cabin for the A320 family as it unveils a detailed cabin mockup today at the Aircraft Interiors Expo. And Runway Girl Network can reveal that JetBlue Airways is the launch customer.
Airbus has secured suppliers for key aspects of the cabin, including Chinese interiors conglomerate AVIC's FACC arm for the bins, and is also newly announcing retrofit options for key parts of the Airspace cabin.
Runway Girl Network spoke with Airbus' Ingo Wuggetzer and Paul Edwards at the unveiling of the A320 family Airspace cabin at the Paris Air Show in June, and sat down at APEX with Wuggetzer for an update. Airbus is plainly and openly moving at speed with Airspace, just over a year since the widebody A330 and A350 Airspace brand was launched at the Aircraft Interiors Expo in Hamburg in spring 2016. "We want to be fast, and be transparent, to see that it's not only a concept, it's reality. Second, of course, we see a very strong market in the US, and that's why we thought APEX in Long Beach was the best place to do so," vice president for cabin marketing Wuggetzer told RGN.
"We are pushing hard to be ready for 2019 to deliver the bins, and we follow up a year later with the whole cabin — the whole package of Airspace will be delivered in 2020," Wuggetzer said. Airbus has evolved its thinking on this approach slightly, with the thinking at le Bourget less firm on the two step programme. This approach, Wuggetzer said, "was driven clearly by customer demand. There is really strong value for that feature (of the bin) especially. There is not enough space today, and this is clearly the benchmark in the industry, and that's why everybody wants it."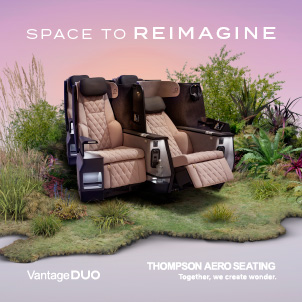 Airbus selected FACC for the bins "because of the experience they have with the current product, which was a clear advantage because we want to deliver not only on time but with a clear, robust product for our customers."
"We have customers for both steps, big customers, signed," for the Airspace introduction, Wuggetzer said. JetBlue is a North American launch customer. A second customer has been secured.
After the Paris Air Show, Wuggetzer told RGN, "we got a lot of feedback from leasing companies that we now create a concept that has a consistency between programmes. For them it's a very positive sign, because of spare parts, commonality in the fleet, that we now push within one year for three programmes all for the same design language, the same solutions, same technology that we also applied for those programmes."
"There's a clear preference for the package" from customers, Wuggetzer said. "The commonality is a standard that they want to see as soon as possible. The product is really driven by customer needs. We have signed a customer contract providing retrofit solutions, which is also interesting because that is really new that we have a new interior and people also retrofit elements like bins and so on. That was a really positive signal for us."
How much can be retrofit — the entire cabin? "You could, of course, but there are things that provide more value and are easier to do, and there are others may be less and harder to achieve," Wuggetzer admitted. "That's why our focus is mainly on the bin and on the new lighting system for retrofit. The sidewalls in general are more difficult because you have to change things behind it. It's not just a new design, because we gained another inch, so that's more difficult to do. The lightings and the bins are bringing most value."
Airbus is still working on the bin release mechanism, however, given the additional height of the cabin. "The height of the bin door to close is about the same as we have today in the A330. It's not really exceptional, but of course it's used a lot more. That's why we're thinking about some feature that makes it even easier than that" to close the bin, Wuggetzer said. "That's part of the development phase with the supplier that we just started, and there are several options and alternatives available at the moment, and we want to see what is the best solution that is simple, doesn't add any weight, and is robust."
Related Articles: