In April, Embraer announced Panasonic Avionics as the initial IFEC provider for the E-Jets E2. Now the OEM is further advancing the new airliner's offering by revealing Meggitt Polymers & Composites as its tri-band radome supplier and KID-Systeme's SKYfi Club as an alternative to Panasonic hardware for wireless entertainment streaming. Both will be available as line-fit options.
Based on proven Airline Network Architecture (ALNA) technology from Airbus (KID is a unit of the airframer), Embaer's SKYfi Club will stream content directly to personal devices. The KID-Systeme's deal includes a further option for customers to choose the SKYpower in-seat power and cabin power management system.
André Stein, director industry analysis and product strategy, Embraer Commercial Aviation, reckons the passenger experience aboard its aircraft is regarded as the industry benchmark and it's a position the company intends to keep. "The challenge is that airlines have different business models and passenger expectations change.
"Some airlines want to offer their passengers only Wi-Fi connectivity, others a more complete experience. The airlines don't look only at our airplane, they look at their fleet as a whole, and so having more than one solution means we can offer the airlines more choice."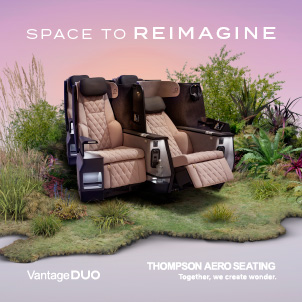 Meggit is designing an installation kit comprising universal radome and adaptor plate, skirt seal and fittings, designed to accommodate various antenna configurations, including compatibility with Ku and Ka-band equipment. The radome's multi-band provision is a clear declaration of Embraer's intent to offer alternative means of connectivity.
"We'll have more options for Internet as we move forwards, whether Ku-band, Ka-band or air-to-ground. There'll be a portfolio of options providing our customers with the flexibility to select the best fit for their fleet. We want to make sure the E2 can enter their fleets with the best options for them. In some regions the best fit could be Ku, in others Ka; in the US you have air-to-ground as a good option. And we've been watching carefully what Inmarsat is doing with air-to-ground in Europe."
The materials used in the Meggitt antenna avoid the need for Embraer to offer multiple radome options dependent upon customer connectivity choices, yet antennas vary in size and shape, so are customers at risk of their aircraft carrying a larger, heavier radome than they need? "We looked at optimizing radomes for different shapes and sizes of antenna and the benefits don't justify an alternative radome. The result is basically the same drag and weight."
On the subject of alternatives to Panasonic, Stein confirms an ongoing Ka-band bid selection process, but otherwise refuses to be drawn. "We're definitely looking at other options, but we've no timeframe for it while we continue listening carefully to our customers. The airplane is designed from the ground up for connectivity, so it's capable of offering more than anything we've done before. It allows us to select from a wide range of suppliers and respond to customer requests in future."
A less obvious benefit of the E2's inherent preparedness for connectivity is its attraction to leasing companies. "It means they can buy the provision for IFE and connectivity. They'll naturally be moving the airplane around between customers and if they need to add systems later on, the work is minimized. It's also attractive to an airline that's not sure of its future plans – the provision's there for a later decision."
Related Articles: