10:30pm: Fairdeal brings Bollywood to the world
Currently celebrating their 20th year in business and their 18th year at the APEX EXPO, Fairdeal Multimedia is the world's leading provider of Indian IFE content. Part of the Global Eagle group, Fairdeal's catalogue includes the latest Bollywood films as well as classics, art house, documentary and regional Indian movies in languages such as Tamil, Malayalam, Kannada, Telugu, Marathi, Punjabi, Bengali and Gujarati.
Visit Fairdeal Managing Director Vishal Chhabria and Jr. Managing Director Nameeta Chhabria at Booth 865 for more information on their stellar new lineup of films.

5:00pm: Panasonic demos how it's customizing the customer experience
Panasonic Avionics is helping passengers make decisions about customising their passenger experience before they even leave home, with a new demo integration between passengers' own tablets, the airline's app, and the seatback inflight entertainment screen.
Making early decisions about movies, inflight shopping, destination information and ancillary services is good news for both airlines and for passengers, and helps airlines spread positive brand exposure across a longer period of time.
Integration is big news at this year's APEX EXPO, where Panasonic Avionics' product marketing specialist Dillon Brady shows off the concept to Runway Girl Network's Mary Kirby at the company's booth at the APEX Expo.

4:30pm: Guestlogix unveils nextgen airline commerce app
Guestlogix is moving beyond point-of-sale and showing its next-generation airline commerce app, which includes not only the usual set of buy-on-board options for integration with the airline's app, but pre-flight shopping and ancillary buy-up too. Senior vice president for product and marketing showed Runway Girl Network around the new system, live at the APEX Expo.
The appeal for passengers is strong. Sitting at the gate and want priority boarding? Sold. Want to pre-book a drink? Sold — and the flight attendant serving you is notified how many you've already had.
Airlines, too, benefit from a new generation of management information, for flight attendants, for catering operators, and for headquarters. Clear, retail-style analytics help executives to make smart decisions based on real data. And it all integrates with devices passengers already trust and, in many cases, use to make payments with technologies like Apple Pay.

4:00pm: Bombardier working with Gogo, Panasonic for CSeries wired, wireless IFE
Bombardier Aircraft confirmed to RGN today — following questions around Gogo's new Vision Touch wireless tablet streaming product to be introduced on Delta's Bombardier CSeries aircraft (see RGN Premium) — that it is also working with Panasonic Avionics for both wired and wireless seatback inflight entertainment. Current operators have not selected any inflight entertainment for their CS100 or CS300 aircraft.
"The Bombardier C Series team is constantly monitoring trends in In-Flight Entertainment and Connectivity (IFEC) systems to be ready to respond to Customer requests," Bombardier's spokesperson said. "The team is actively working with Panasonic Avionics to complete development and certification of the eXW Wireless IFE System for delivery in 2017 and is also working on development of the eXConnect Ku-Band Connectivity System for delivery in the second half of 2018."
Further, the spokesperson noted, "the C Series team is working with Panasonic Avionics to offer the eX1 seat-back IFE system and has an architecture ready for deployment to support C Series Customer requests.  Other seat-back systems will be evaluated case-by-case based on Customer demand."
"As recently announced, the C Series team is also working with Gogo and Delta Air Lines to certify Gogo's 2Ku Connectivity System as well as the Gogo Vision Touch wireless seat-back IFE solution for delivery in 2018," the spokesperson said. "The C Series benefits from a flexible architecture that supports integration of multiple IFEC solutions, in parallel, within such a short timeframe."

1:30pm: Global Eagle's Alexis Steinman talks content across all travel touchpoints

11:35am: The moment Airbus unveiled Airspace for the A320

11:30am: Kontron forges new partnership to address China connectivity market
Kontron has inked an agreement with Air Esurfing, a fully owned subsidiary of Air Media online Group, to jointly explore China inflight connectivity market.  The Air Esurfing system solution will integrate Kontron's ACE Flight Server and Cab-N-Connect wireless access point for connectivity applications that utilize China's Ku-band and Ku/Ka-band HTS capacity. Kontron is also providing STC certification services to ensure that the new system is qualified to meet the safety and regulatory standards required for commercial aviation in China.
Kontron says its certified IFEC open platforms were selected for their ability to help reduce the complexity and costs associated with developing next-generation "connected aircraft" systems including new satcom applications. The new services from Air Esurfing are scheduled to be launched in early 2018 with pilot programs that will offer in-cabin video streaming and inflight Internet connectivity to passengers on China domestic flights.
"Kontron is very pleased to sign this cooperation agreement with Air Esurfing, who is a key player in the rapidly growing China IFE&C market, " says Andy Mason, VP of technology at Kontron America. "We can support this partnership with cabin and connectivity products already certified and flying with the Chinese airlines, plus the regional and global experience that enables fast time-to-market."
10:45am: Panasonic Avionics provides colour on IFEC earnings
Inflight connectivity is not profitable for Panasonic Avionics today, but the company says connectivity has brought value to the firm, which packages inflight entertainment systems with connectivity. "It's really important we get this business to be stable," says Panasonic's David Bruner in reference to connectivity revenues. More broadly, however, Panasonic says business is good. The firm expects to make $2.5 billion in revenue from inflight entertainment and connectivity in fiscal year 2017.

10:30am Rockwell Collins reveals new phased array antenna
Rockwell Collins is gearing up for when the OneWeb low earth orbit (LEO) constellation is live and able to support inflight connectivity. The firm today revealed its phased array antenna, which has been in the works for the last few years. Rockwell Collins tells RGN that the slim, low-profile antenna will support LEO service but also be capable of switching to GEO satellites in a shared network scenario. Here's a first look at the antenna on display.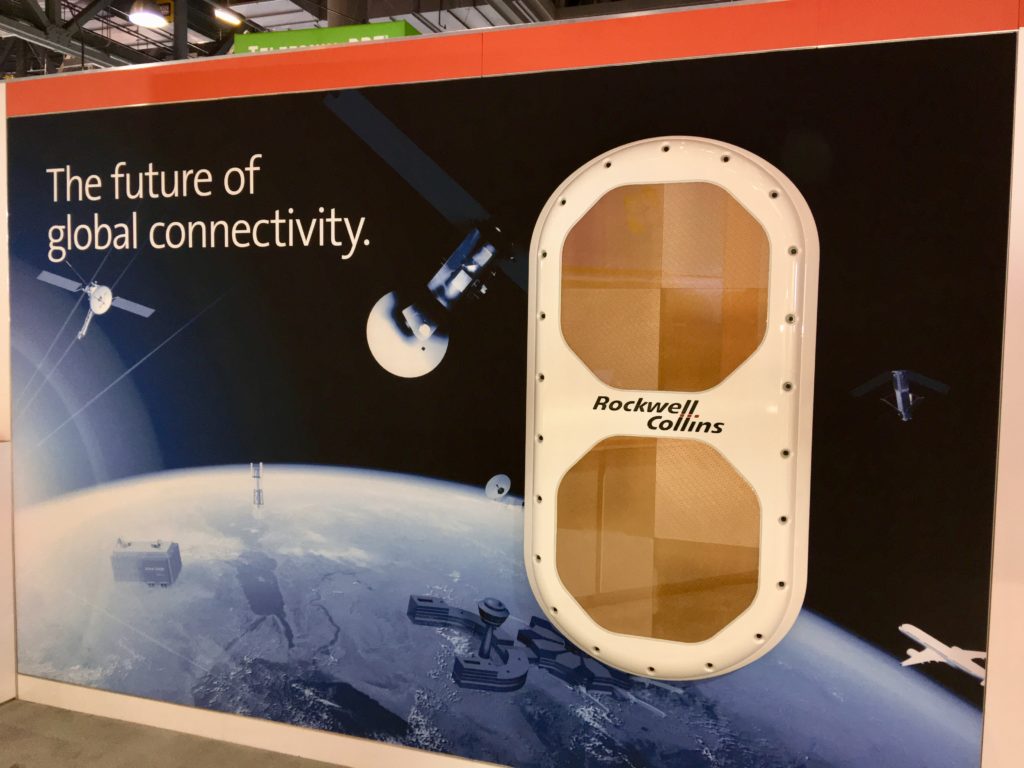 10:15am: Pain management solutions to be employed in-flight

10:00am: Airbus unveils Airspace for A320 family
Having spent years to develop a new interior for the A320 family, Airbus today unveiled its Airspace cabin for the type. See some initial photos of the mock-up here.

8:00am: Global Eagle's Adepoju talks early release of La La Land to airlines

6:45am: Kontron stays out of portable wifi game
Though Lufthansa Systems, AirFi and Telefonix PDT have jumped into the portable wifi game, hardware supplier Kontron says its position on such entertainment units has not changed. "Where Kontron is looking to go is not the portable route. What we're really looking for are deployments that are either leading into satellite or air-to-ground connectivity and we think those [portable units] are – at least for the foreseeable future – not aligned with a connectivity installation," Kontron VP system & program management, avionics, transportation & defense Andy Mason tells Runway Girl Network.
"You're not going to hook it up with a suitcase or something like that. Our concentration is working with Gogo, Global Eagle, Inmarsat, Lufthansa Systems, and others and supporting wireless IFE using our equipment, making that as easy as possible for customers, and supporting connectivity, supplying modmans [modem managers] and the cabin wifi system. I think the portable trend is reasonable; we are supporting some customers by selling components for them, and letting them build the system. So inside some of the systems, Kontron modules are there, so we support in that regard, but in regards to directly selling a portable system, we have other priorities. And to us there is some concern about the business case and potential safety risks involved."

6:40am: Telefonix on pace to deliver several thousand LRUs for Gogo 2Ku program
Gogo is hitting its stride in terms of 2Ku installations and counts no fewer than 1,800 aircraft commitments to the system. That's good news for Telefonix PDT given that its advanced airborne server is also being deployed.
Is Telefonix PDT ready for the ramp up? "Telefonix PDT is excited to be part of the Gogo 2Ku solution and we continue to work closely with Gogo to ensure success! We continually manage production demand for our customers in both the IFE and connectivity space, and, at the present time, we have more than sufficient capacity to support forecasted installations," says Telefonix PDT digital marketer Logan Fox. "In addition to the server …we are on pace to deliver more than 8,000 LRUs by the end of 2018."

6:00am: London School of Economics predicts IFC will generate additional $30b for airlines
Earlier this year, Inmarsat Aviation collaborated with the London School of Economics to investigate the potential economic value of inflight passenger connectivity from now until 2035. The London School of Economics has produced an extensive independent research study, 'Sky High Economics'. Highlights of the research study findings include:
Airlines stand to make an additional $30 billion through inflight connectivity by 2035
This will help stimulate an overall global market worth $130 billion(including the premium content, technology providers and advertisers)
In real terms, this means on average passengers will become $4 more valuable to airlines through ancillary revenues (an increase of nearly a quarter on current ancillary revenues which are worth $17 per passenger)
Dr Alexander Grous, from the Department of Media and Communications at LSE, has been leading the research. He says, "The opportunity available to airlines is enormous. The Sky High Economics study predicts the creation of a $130 billion market within the next two decades. Globally, if airlines can provide a reliable broadband connection, it will be the catalyst for rolling out more creative advertising, content and e-commerce packages. We will see innovative deals struck, partnerships formed and business models fundamentally changed for new players to lay claim to the $100 billion opportunity away from airlines. Broadband-enabled ancillary revenue has the potential to shape a whole new market and it's something airlines need to be planning for right now."

5:00am: SITAONAIR integrates first Singapore 777 GX; company proves key partner for airline