Last year saw new seatmakers bursting onto the scene, but this year was about refinements and development of the products they unveiled in 2016 — in partnership with industry stalwarts thirsty for innovation. Molon Labe, the startup seatmaker of the Side-Slip Seat, is one, and CEO Hank Scott tells Runway Girl Network what's new and improved.
"Since we last saw you," Scott says, the Side-Slip Seat has "passed product testing, and we made a couple of small changes to the design based on customer feedback from [the AIX Asia expo in Singapore]. The main one is we shortened the pan just about three quarters of an inch, which just made a little bit nicer accessibility when you go to really low pitches. And we worked on the reliability of the locking mechanism. We just wanted it to be a little bit smoother — it's as smooth as butter. You've just got to be reliable as hell."
Also now on offer: at-seat AC power, attached at an angle underneath the seat beam but with a tell-tale glowing light.
But with the Side-Slip Seat now on offer to airlines keen to make turnarounds faster, the next challenge is the Staggered Seat for longhaul or premium narrowbody operators, which Molon Labe started talking to RGN about in February.
The Staggered Seat enables airlines to minimise the discomfort of increasingly laterally dense seating rows by shifting alternate passengers downwards and backwards away from their neighbour, taking the all-important shoulder, elbow and hip touchpoints out of alignment with the next passenger, and increasing seat width of those staggered seats at the same time.
A side-benefit, and the reason why the seat had pride of place at the Panasonic Avionics stand, is that an 18" inflight entertainment screen can be installed on the seat that staggers, which will be the centre of a triple-set.
"We're getting a lot of traction on that. A lot of interest from the larger airlines and the legacy guys," Scott says. "The design philosophy there is we got together with Panasonic Avionics and  BMW Designworks and said, alright, let's see what they say."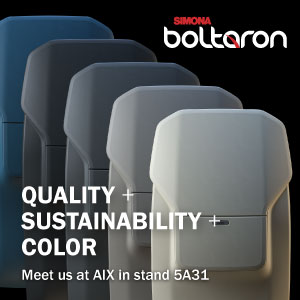 "We were surprised that we got the 18 inch monitor in. It was like, digitally it works, but it just no one can get their head around how it's going to work, and it did. And so, the beauty of that is that on the long haul, like these legacy carriers, they are looking at getting in early on the design iterations," Scott explains.
Compared with the Side-Slip seat, Scott notes, "it's the same subframe, same substructure, so it's going to pass testing. The extra weight up here," Scott says, pointing to the inflight entertainment screen, "will require a bit more analysis. NIAR [National Institute of Aviation Research] will do that for us. But the beauty is the growth of this basic frame. There's no real changes."
Notably, there's no exclusivity on the seat on the design partnership side, Scott says. But "as far as regional exclusivity, if an airline had the appropriate amount of interest and they wanted to pay, we're not going to milk people for it — I just want your business. But we would offer it. And we have for the short haul seat before. It's not a perfect business model, but when you're small, you can play that game."
The trick for this small seatmaker will be to see if sufficient airlines want to play.
Related Articles: