As inflight connectivity providers jockey for supremacy it is hard to ignore the position ViaSat has staked out in recent months. This success was highlighted during the company's most recent quarterly earnings call as both revenue (YoY increase of 40%) and order backlogs (800+ new install aircraft globally) showed significant strength. And with ViaSat's newest satellite, ViaSat-2, having successfully launched on 1 June, a significant bump in capacity and coverage area is coming. All of this combines to put ViaSat in a position that CEO Mark Dankberg believes is the envy of the IFC industry, so much so that ViaSat behaves rather differently from the others as it delivers service to an ever-growing collection of airlines.
Capacity is King
ViaSat's main claim is that it alone has sufficient total capacity in its individual satellites to deliver the level of service needed for high take rates on commercial aircraft at the densities seen around hub operations. Dankberg was clear on this point during a one-on-one discussion with RGN:
If the objective is just to serve a small number of people with wifi for $35 then you can do that with Ku-band. You can get enough bandwidth and the cost of the bandwidth is going to be sufficient. If the objective of connectivity is to connect all the passengers and to give them a good experience then you need way more bandwidth than is available at Ku-band and a better antenna isn't going to create enough efficiency on existing satellites to solve that problem… We bring in ViaSat-2 that has over 2 Gbps per beam covering major airport cities; that's how to do it, that's the only way to do it.
HTS Ku-band satellites offer more capacity and smaller spot beams than traditional Ku-band services, but Dankberg is quick to point out that, much like Ku-band can be layered with multiple satellites so too can Ka-band. "2 Gpbs is only one satellite, when we add in the others capacity keeps growing."
In order for the over 500 ViaSat Exede-supported aircraft flown by JetBlue and United to talk to ViaSat-2, however, onboard hardware upgrades will be required – an expense neither carrier has currently committed to. But future installs on American and Icelandair will have the gen 2 kit to accommodate their current flight routes.
In Europe, meanwhile, ViaSat is working on "getting the certifications done for the equipment" that will talk to the Eutelsat KA-SAT joint venture satellite, ViaSat director Don Buchman recently told RGN. "Getting installation packages done. Getting ready, you know getting ready [for] STCs [supplemental type certifications] this summer."
Finnair CEO Pekka Vauramo confirmed that Ka-band connectivity will be fitted to the carrier's short-haul fleet "very soon". Speaking with RGN and Leeham News at the IATA ATGM this week in Cancun, Vauramo said he is not concerned about trying to keep the service consistent with the Panasonic Ku connectivity on its long-haul aircraft. "[It's] not an issue because they are only short-haul, and long haul it's a different story altogether," he suggested.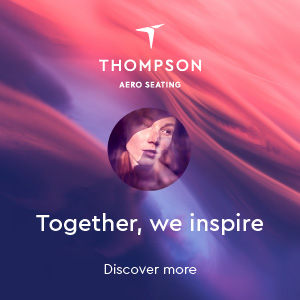 The summer is key for ViaSat to secure STCs as the installation pace is expected to ramp up starting in the fall. By early 2018 ViaSat expects to bring roughly 100 aircraft online per quarter as it works through its backlog.
Coverage area remains a factor that haunts ViaSat's Ka-band ecosystem, even as more satellites are launched. The ViaSat-3 constellation is the company's approach to delivering a global high-capacity footprint, but the ability to deliver full coverage remains in question.
ViaSat is proceeding with the satellite commitments only as it secures partners in each region to help fund the build, and a partner for the Asia region has not yet emerged. Dankberg hopes to have something secured by the end of the calendar year on that front.
Talking Antennae
Larger antennae deliver better efficiency. This general statement is not specific to any frequency band or technology; it is a simple matter of physics. The ThinKom Ku-band antenna Gogo uses for 2Ku has a large aperture, improving on the Megahertz to megabits conversion ratio and delivering on the efficiencies promised in service. Arguably ViaSat should pursue a similar path, seeking to place a larger aperture antenna on aircraft to deliver even better performance for consumers. But ViaSat sees the market differently.
Smaller is better for fitting more aircraft types and reducing the overall weight and drag profile on the planes. That is the approach ViaSat is taking, in large part because it sees bandwidth costs as significantly lower given the higher total capacity of its satellites. Said Dankberg to RGN:
When the bandwidth is so inexpensive and so plentiful you don't need such a big antenna, so we've used a smaller one. We're looking at flat panel antennae and wider versions of the antennae we have, antennae that would have some combination of less weight and drag. But we don't need them in order to get more bandwidth efficiency… As we get satellites that are more and more efficient, it will let us make antennae that are smaller and less efficient but still deliver lots of bandwidth at low costs.
Additional reporting by Mary Kirby
Related Articles: