Convertible seating is something of a holy grail for airlines, seatmakers, and airframers. With the multiple-year lead-time required between a decision to purchase seats for a factory-fresh aircraft and the delivery of that product to an airline for its customers, selecting a cabin mix can often feel closer to peering into a crystal ball than a precise #PaxEx forecasting science. Creating flexible cabins is a way for airlines to build in adaptability to their fleet planning, especially when taking a risk on a new product.
Within Europe, this results in Eurobusiness: a row of three economy seats that are sold as a pair of business class seats, in some cases with a flip-up or fold-down side table. British Airways' used to also winch sideways to make the seats being used wider. On Air New Zealand (and its licensee China Airlines), it's the Skycouch, where fully padded legrests in a row of three seats flip upwards to create a sofa plinth for passengers to curl up. On Air Astana, it's Economy Sleeper, which is like the Skycouch but without the flip-up legrests. Lufthansa takes a different approach, swapping out business class for economy seats to match seasonal variability in passenger demand. Other airlines, like Cathay Pacific, have a "strategic underutilisation" strategy where longhaul product is used on shorthaul routes.
But with the rise of premium economy on the one hand and the business class seat with direct aisle access on the other, Airbus is promoting a hybrid premium economy/business concept it calls Butterfly.
The idea, in essence, is an evolution of 2003's Virgin Atlantic Upper Class Suite, the first business class seat offering direct aisle access in a herringbone layout, and Zodiac's (then-Sicma) Cirrus seat from 2009 that reversed the herringbone. The difference is that instead of one seat between the aisle and sidewall pointing towards the window, Butterfly is a pair.
In premium economy mode, the seats recline, and may even move into a Z-bed position depending on pitch. In business mode, the seat function works as in premium economy, but only one passenger is seated in each pair. The seats then turn into beds, seemingly with a Virgin-style flip-forwards functionality. Passengers would then sleep with their heads towards the window and their feet towards the aisle, which is a positive for #PaxEx given that disturbances tend to come from the aisle.
The benefits seem very promising: airlines get to build in flexibility, but passengers get more of what they want on a particular route. Butterfly could be particularly useful for airlines like Virgin Atlantic that operate differently configured leisure- and business-heavy subfleets for different destinations. For those airlines with split regional/longhaul fleets, too, like Cathay Pacific or Singapore Airlines, Butterfly could offer a new way of thinking about differentiating seats and service on different lengths of trip — or, indeed, different price points.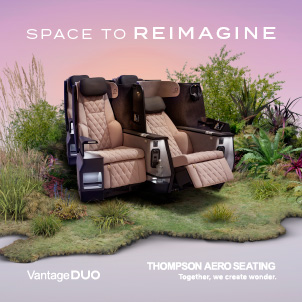 How much less could an airline charge a passenger for a Butterfly journey with the twelve-hour segment in fully flat mode, but the connecting two-hour flight in upright mode?
The trick will be setting passenger expectations in flight discovery, search and booking. Life may be full of surprises, but passengers are already often disappointed when they move between longhaul and shorthaul business class. Airlines might well have to build on the difference between Delta One or Polaris and domestic first, or the BA version of Club World and Club Europe, to help passengers understand what they're booking.
Butterfly's success may well depend on a dramatic rethink of what the differences are between today's business class and premium economy — and what the differences are between the business class and premium economy of the future.
Related Articles: