When LIFT by EnCore unveiled its first supplier-furnished Boeing 737 seats last year at the Aircraft Interiors Expo the reception was underwhelming. The seats felt a generation behind the rest, and were, as RGN's Seth Miller put it then, "simple, functional and cheap." An early 2017 redesign, however, suggested that the company wasn't content simply to rest on those laurels, and at AIX 2017, Runway Girl Network was deeply impressed by the company's update — and its foray into longhaul seating with its 787 product.
On the 737, the key improvement has been around knee space, and in particular the advances that LIFT by EnCore has made in moving the side supports away from the crucial crunch zone between knee and seatback. Shin clearance, too, is markedly improved, with even two of RGN's tallest journalists impressed by the amount of legroom available in the seat, even at relatively tight pitches.
Improvements have also been made in the informal but vital "eyeball to seatback" measurement, thanks to the carved out space that can host either a selection of inflight literature, a surprisingly large inflight entertainment screen, or — perhaps most surprising of all — nothing. It's remarkable to see a seatmaker making a statement by not cramming the eye level on tightly pitched seats with functionality, but adding an extra inch of visible space makes a surprising amount of difference to how closely hemmed in passengers feel.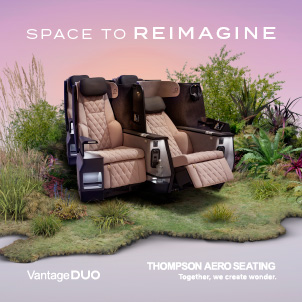 The true surprise, however, was downstairs in the carefully guarded 787 Dreamliner seat display room. Again, like the 737 seat, this product is intended for airlines without the desire or internal expertise to procure, design and produce a customised seat from existing suppliers.
While no photographs were allowed, and like Airbus's Geven seats, LIFT by EnCore hadn't included a sidewall for a real cabin feel, the two rows of three seats that were on show were truly spectacular.
It might be surprising to say that about a 3-3-3 Boeing 787 seat. Two years ago, this journalist penned a column titled "Why I tell people to avoid flying on a 787", largely down to the narrow seats in the almost ubiquitous 3-3-3 economy layout. But LIFT by EnCore has worked some engineering magic with these seats, which design director Tom Eaton told RGN is due to sculpting the seats to fit up against the sidewall in order to reach 17.7" across the seat pan. And this didn't feel like Southwest's narrow-armrest trick — it really felt like the seats were wider.
Shin clearance, too, was excellent, and has been drawn from the updated 737 seat. Also a positive: eye-pleasing (and circadian rhythm-adjusting) mood lighting behind the seemingly floating inflight entertainment screen, which was surrounded by a premium suede-like material. For something that is likely to be bang in front of your eyes for a significant amount of time, it's surprising how much difference touches like that make.
The design language, too, is harmonised with the 787: flowing, accelerating curves speak Dreamliner. In the seat fabric, too, LIFT by EnCore has been smart, with a wider weave and cleverly engineered micro-gaps to enable breathability around the centre part of the seat.
Again, without a sidewall (or even a clear rendering), judging the particular merits of the product in situ is impossible. It may be that the seat is jammed so tightly into the frame that it becomes uncomfortable. But it is notable that Boeing — and its practically in-house seatmaker — is acknowledging the narrow 787 seat problem that has plagued the Dreamliner since almost every economy class went 3-3-3, and doing something about it.
Related Articles: