Delta Air Lines went straight to Italy when it set out to bring a touch of pizzazz to its premium, international inflight dining experience.
Three years of development later and passengers in the carrier's Delta One and First Class cabins can now stir their tea with a Miriam Mirri love spoon after pouring it from a Kristiina Lassus ceramic teapot.
The Alessi for Delta 86-piece bespoke serviceware collection took to the skies on 1 April, marking the Italian design house's first significant foray into the airline market. The collection includes flatware, cutlery, glassware, ceramics and tabletop accessories, and was based on Alessi's existing on-the-ground dining range, which was drawn up by six internationally-renowned designers.
The challenge for the Alessi design team when modifying the collection for Delta was to maintain the elegance and uniqueness of the utensils while reducing their overall size and weight. It was a challenge the designers relished, as Leonard Hamersfeld, director, Buzz – which facilitated the partnership between Alessi and Delta – tells RGN.
"Constraints are not necessarily negative for experienced designers, since an aspect of industrial design is finding a solution to a problem that is both functional and aesthetic," says Hamersfeld.
"When customers eat in an airplane, they are not expecting the same kind of environment as when they are sitting at their table at home. One of our challenges was, in fact, trying to create a new kind of experience for customers that mirrors an at-home experience on the ground at 30,000 feet."
In addition to the heart-shaped love spoons – available in both red plastic and stainless steel – the collection features an ice bucket based on Ronan & Erwan Bouroullec's Ovale tableware range, carafes from Stefano Giovannoni's Mami range, and water caddies designed by Brazil's Fernando and Humberto Campana as part of their Blow Up range – presumably named before it was intended for use on an aircraft.
Servingware, such as tongs and stainless steel trays, come from Alessi's own in-house design range, UTA.
"We are very proud of this collaboration which gave us the opportunity to bring design to Delta customers. It opens the door to a new world in which we think our approach can really bring added value," says Hamersfeld.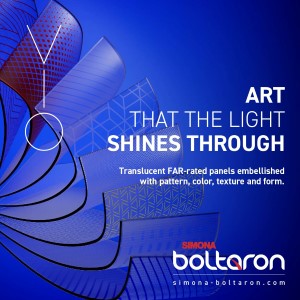 On announcing the collection's recent onboard debut, Delta's senior vice-president of in-flight service, Allison Ausband, said the collaboration with Alessi "allows us to bring an uncompromising level of elegance and service to the on-board experience".
Alessi president Alberto Alessi modestly described his company as "a natural choice for Delta", noting that "we have worked with some of the most exciting designers in our international network to create the most innovative and advanced in-flight collection in the contemporary design scene".
The Alessi for Delta collection will also be available in the airline's new premium economy cabin, Delta Premium Select, later this year.
For the rest of us back in coach, if we close our eyes tightly enough as we remove our plastic spoons from their cellophane wrappers and use them to transfer food into our mouths we could always imagine that they're heart-shaped love spoons. If we were so inclined.
Related Articles: